Innovations
Leading the Way By Exploring New Territory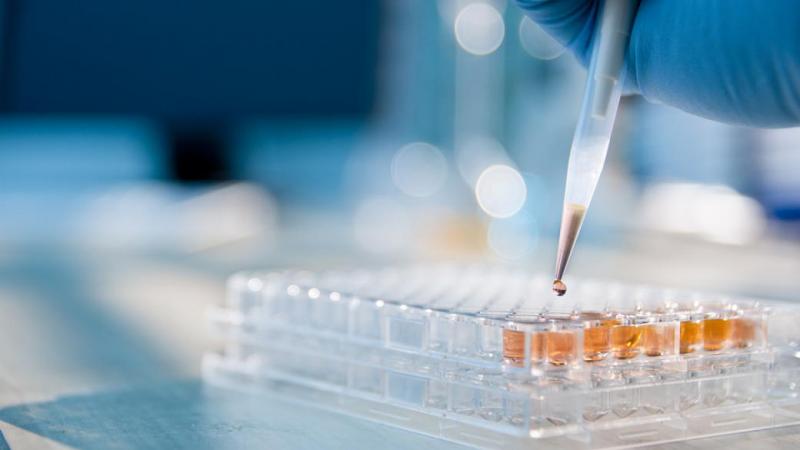 ColumbiaDoctors understands that research drives everything — without new knowledge, medicine cannot advance. Time and time again throughout our history, ColumbiaDoctors researchers have helped unlock new fields, rewrite how we view disease, and elevate standards of care. Our deep commitment to expanding our understanding of medicine can be seen in our rank for research funding, regularly among the highest in the nation. Our researchers collaborate with other leading minds across the institution and around the world. And despite the challenges of 2020, we continued to drive forward and explore new ground. Many focused their efforts on understanding COVID-19, helping the medical community to better understand this complex and challenging disease. 
---
Highlights
---
Lab Grown Cartilage-Bone Grafts Help Rebuild Damaged Joints
Gordana Vunjak-Novakovic, PhD, and a team of researchers have successfully grown cartilage-bone grafts in the lab using a patient's own cells, which can then be used to repair damaged joints.
Vunjak-Novakovic is a Columbia University Professor and Mikati Foundation Professor of Biomedical Engineering, and the Director of the Center for Dental and Craniofacial Research (CDCR) at CDM. Her multi-disciplinary team of researchers use innovative bioengineering techniques to grow combined cartilage and bone grafts in the lab. These grafts can then be implanted into patients with minimal side effects.
Read More About These Innovative Bioengineering Techniques
---
Impact of COVID-19 on Infants, Children, and Adolescents
Since the emergence of COVID-19 in early 2020 physician scientists in the Department of Pediatrics have focused on the myriad questions raised by the virus and its impact on infants, children, and adolescents. Researchers in almost every division in our department have collaborated with experts throughout Columbia's departments and schools, and at centers around the country and world.
---
For Pregnant Women with Heart Disease, Multidisciplinary Care May Be Essential
A new study by researchers from Columbia University Vagelos College of Physicians and Surgeons and NewYork-Presbyterian suggests that care from a multidisciplinary cardio-obstetrics team may improve pregnancy outcomes and reduce hospital readmission rates. "While cardiologists have been managing the care of pregnant women for decades, the notion of a dedicated cardio-obstetrics team is a recent development aimed at reducing maternal death rates due to cardiovascular disease," says Jennifer Haythe, MD, cardiology director of the cardio-obstetrics program at NYP/CUIMC and senior author of the study. "This study shows that programs like ours may help provide improved cardiovascular care to an otherwise underserved population, though more research is needed to evaluate the impact of these programs."
---
Deciphering the Genetic Drivers of Leukemia
Medical progress is made as researchers gradually illuminate the unknown. For the past 16 years Adolfo Ferrando, MD, PhD, has been uncovering the mysteries of leukemia, and showing why – despite huge gains in outcomes for most children with the disease – some still do less well and their disease recurs. Dr. Ferrando is associate director for Shared Resources at the Herbert Irving Comprehensive Cancer Center, and heads up a 10-member lab in CUIMC's Institute for Cancer Genetics. 
Read More About Dr. Ferrando's Research
---
Benchtop-to-Bedside Applications and Treatments for Breast Cancer
We spoke with Katherine Crew, MD, a physician-scientist whose work in breast cancer risk, prevention, and screening has helped move the needle in breast cancer research. Dr. Crew is a member of the Cancer Population Science research program at the Herbert Irving Comprehensive Cancer Center, associate professor of medicine and of epidemiology at Columbia University Irving Medical Center, and a medical oncologist at NewYork-Presbyterian Hospital.
---
$4 Million Research Grant for Pediatric Neuro-Oncology Launches Initiative for Drug Delivery Innovation
Columbia's pediatric hematology, oncology, and stem cell transplantation team is launching a groundbreaking research program in pediatric neuro-oncology. The Initiative for Drug Delivery Innovation in Childhood Brain Tumors is supported by a $4 million donation over two years from Gary M. Fegel, founder and chairman of the Fegel Family Foundation. 
Read More About Our New Initiative
---
Targeted Therapy Shows Promise for an Aggressive Form of Uterine Sarcoma
A clinical trial led by researchers at the Herbert Irving Comprehensive Cancer Center at NYP/CUIMC demonstrated the potential of targeted therapy in combination with chemotherapy to treat patients with uterine leiomyosarcoma, a rare and aggressive form of cancer. 
"This is a good example of research that went all the way from the laboratory to the clinic at Columbia," said Matthew Ingham, MD, assistant professor of medicine in the Division of Hematology and Oncology at Columbia and the trial's lead investigator.
---
Columbia Establishes Treatment Center and Clinical Trials Network for Lyme and Tick-Borne Diseases
A new center at Columbia University's Vagelos College of Physicians and Surgeons will provide specialized care for patients with Lyme disease and other tick-borne diseases. The Cohen Center for Health and Recovery from Tick-Borne Diseases has been established thanks to a $16 million gift from the Steven & Alexandra Cohen Foundation. The center will be the first in New York City to offer dedicated treatment for people with Lyme and related diseases. The foundation's gift will also fund a national clinical trials network that will focus on identifying more effective treatments for patients with Lyme and tick-borne diseases.
---
Innovations By the Numbers
Our Connect Patient Portal gives patients easier access to appointments, seamless check-ins, and now, we've expanded our self-service options for appointment scheduling online. ColumbiaDoctors' commitment to providing easier, faster access to our doctors and our services will expand in the year ahead with an expanded array of web-based services designed to make life simpler for our patients. Along with our partners at NewYork-Presbyterian and Weill Cornell Medicine, we will be leveraging technology and making even more expansive changes to better serve our patients. 
61.7% Payment Plans Created in Connect patient portal*
39.6% Appointments Checked In Using Self-Service*
7.3% Using Self-Service Appointment Scheduling*
9% Using Paperless Statements*
94.7% of patients rated their likelihood to recommend our virtual service as "Very Good" or "Good"
74% of All Visits Converted to Telehealth by April 2020 in Pandemic Response
*Aggregated across Columbia, NewYork-Presbyterian, and Weill Cornell Medicine