Ali Andre Mencin, MD
Board Certifications:
Pediatric Gastroenterology, Pediatrics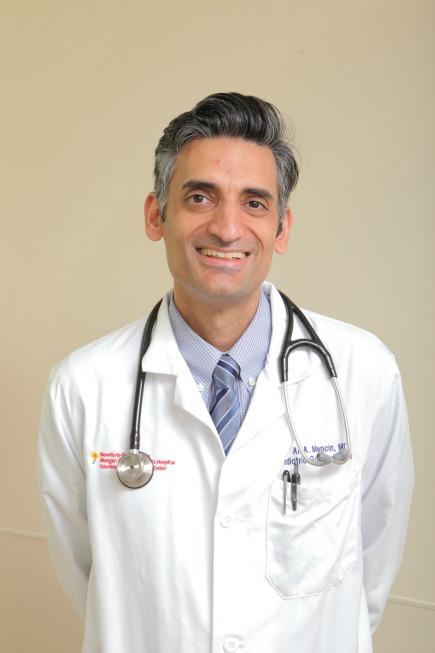 Appointments
Phone Appointments
New and Existing Patients:
For existing patients, login to make an appointment, view documentation or contact your care provider.
Credentials & Experience
Board Certifications
Pediatric Gastroenterology
Pediatrics
Clinical Expertise
Pediatric Nutrition
Constipation
Inflammatory Bowel Diseases (IBD)
Fatty Liver Disease, Non-Alcoholic
Pediatric Liver Disease-Acute
Pediatric Liver Disease-Chronic
Eosinophilic Esophagitis
Advanced Endoscopy
Specialties
Education & Training
Mount Sinai School of Medicine
Residency: Albert Einstein Medical Center
Fellowship: NewYork-Presbyterian Hospital/Columbia University Medical Center
About Ali Mencin
Dr. Ali Andre Mencin is an Associate Professor of Pediatrics and a general pediatric gastroenterologist recognized as a Castle Connolly Top Doctor as well as a New York Super Doctor. Dr. Mencin sees children with a range of digestive diseases including fatty liver disease, inflammatory bowel disease, eosinophilic esophagitis, reflux, abdominal pain, constipation, cyclic vomiting syndrome, feeding difficulties and polyposis syndromes. Dr. Mencin currently serves as the Director of the Pediatric Fatty Liver Clinic as well as the Director of Pediatric Endoscopy at Columbia.
Academic Titles
Assistant Professor of Pediatrics at CUMC
Administrative Positions
Medical Director of Children's Services, FPO
Director, Pediatric Endoscopy
Director, Pediatric Fatty Liver Clinic
Hospital Affiliations
NewYork-Presbyterian/Columbia
NewYork-Presbyterian/Morgan Stanley Children's Hospital
Insurance Accepted
Aetna
EPO
HMO
Medicare Managed Care
NY Signature
NYP Employee Plan
POS
PPO
Signature Administrators
Student Health
Affinity
Essential Plan
Medicaid Managed Care
Cigna
EPO
Great West
HMO
POS
PPO
Emblem/GHI
Medicare Managed Care
PPO
Emblem/HIP
ConnectiCare
EPO
Essential Plan
HMO
Medicaid Managed Care
Medicare Managed Care
POS
PPO
Select Care (Exchange)
Vytra
Empire Blue Cross Blue Shield
EPO
Medicare Managed Care
PPO
Empire Blue Cross Blue Shield HealthPlus
Child/Family Health Plus
Essential Plan
Medicaid Managed Care
Fidelis Care
Child/Family Health Plus
Medicaid Managed Care
Medicare Managed Care
Healthfirst
Child/Family Health Plus
Leaf (Exchange)
Medicaid Managed Care
Medicare Managed Care
MVP Health Care
Child/Family Health Plus
Essential Plan
HMO
Medicaid Managed Care
UnitedHealthcare
Columbia University Employee Plan
Compass (Exchange)
HMO
Medicaid (Community Plan)
Medicare Managed Care
POS
PPO
VNSNY CHOICE
Medicare Managed Care
SelectHealth
Special Needs Plan
WellCare
Medicaid Managed Care
Medicare Managed Care
*Please contact the provider's office directly to verify that your particular insurance is accepted.
Contact & Locations
1
3959 Broadway
Suite 702
New York, New York 10032
2
270 West 231st Street
Bronx, New York 10463
Research
Research Interests
Non Alcoholic Fatty Liver Disease (NAFLD)
Liver Fibrosis
Inflammatory Bowel Disease
Eosinophilic Gastrointestinal Disorders
Endoscopy and Capsule Endoscopy
Clinical Trials
NCT02093663 A Phase 3, Multicenter, Randomized, Double-blind Study to Determine the Safety and Efficacy of MMX Mesalamine/Mesalazine in Pediatric Subjects With Mild to Moderate Ulcerative Colitis, in Both Acute and Maintenance Phases
NCT02819323 A Safety and Efficacy Study of a Bowel Cleansing Preparation (BLI800) in Pediatric Subjects Undergoing Colonoscopy
Grants
CLINICAL RESEARCH ON NONALCOHOLIC FATTY LIVER DISEASE (Federal Gov)

Sep 1 2019 - Jun 30 2024
OPEN LABEL RANDOMIZED MULTICENTER STUDY TO ASSESS THE PHARMACOKINETIC AND PHARMACODYNAMIC PROFILE, SAFETY, AND TOLERABLITY OF TWO DOSE LEVELS OF ELAFIBRANOR IN CHILDREN AND ADOLESCENTS, 8-17 YEEARS OF AGE WITH NASH (P&S Industry Clinical Trial)

Apr 4 2019 - Apr 4 2024
LOSARTAN FOR THE TREATMENT OF PEDIATIRC NAFLD: A PHASE 2 RANDOMIZED, PLACEBO-CONTROLLEDTRIAL (STOP-NAFLD). (Federal Gov)

Jul 1 2017 - Jun 30 2020
PREVALENCE OF PEDIATRIC NONALCOHOLIC FATTY LIVER DISEASE IN NEW YORK CITY (Private)

Mar 1 2011 - Feb 28 2013
CHILD HEALTH RESEARCH CENTER CAREET DEVELOPMENT AWARD (Federal Gov)

May 28 2003 - Nov 30 2008
Selected Publications
Peer Reviewed Research Publications
Fernandes DM, Pantangi V, Azam M, Salomao M, Iuga AC, Lefkowitch JH, Gill J, Morotti R, Lavine JE, Mencin AA*. Pediatric Nonalcoholic Fatty Liver Disease in New York City: An Autopsy Study. J Pediatr. 2018 Sep;200:174-180. doi: 10.1016/j.jpeds.2018.04.047. Epub 2018 Jun 11. PMID: 29903531
Picoraro JA, Pierog A, Reilly NR, Mencin AA*. Gastrojejunal tube placement through an established gastrostomy via an endoscopic transgastric approach in a pediatric population. Gastrointest Endosc. 2015 Jul 28. PMID 26232359. Author Interview: http://www.giejournal.org/content/video_interviews 12/2015
Pierog A, Martinez M, Mencin A*. Outpatient endoscopic closure of persistent gastrocutaneous fistula with hemoclips in pediatric patients. Gastrointest Endosc. 2014 Dec;80(6):1190-3. PMID 25281501
Pierog A. Aspelund G, Farkouh-Karoleski C, Wu M, Kriger J, Wynn J, Krishnan U, Mencin A*. Predictors of low weight and tube feedings in children with congenital diaphragmatic hernia at one year of age. J Pediatr Gastroenterol Nutr.  2014 Oct;59(4):527-30. PMID: 24918983
Pierog A, Mencin A, Rizkalla-Reilly N. Fecal Microbiota Transplantation in Children with Recurrent Clostridium difficile Infection.  Pediatr Infect Dis J. 2014 Nov;33(11):1198-20. PMID: 24853539
Pierog A, Reilly N, Mencin A*.  A Novel Method of GJ tube placement in Children. Gastrointest Endosc. 2013 Oct;78(4):664-7. PMID: 23810325
Dapito DH, Mencin A (joint first author), Gwak GY, Pradere JP, Schwabe RF. Promotion of Hepatocellular Carcinoma by the Intestinal Microbiota and TLR4. Cancer Cell. 2012 Apr 17;21(4):504-16. PMID: 22516259
Kluwe J, Pradere J, Gwak G, Mencin A, De Minicis S, Osterreicher C, Colmenero J, Bataller R, Schwabe RF. Modulation of Hepatic Fibrosis by c-Jun-N-terminal Kinase Inhibition. Gastroenterology. 2010 Jan;138(1):347-59. PMID: 19782079
Kikuchi I, Uchinami H, Nanjo H, Hashimoto M, Nakajima A, Kume M, Mencin A, Yamamoto Y. Clinical and Prognostic Significance of Urinary Trypsin Inhibitor in Patients with Hepatocellular Carcinoma after Hepatectomy. Annals of Surgical Oncology. 2009 Oct;16(10):2805-17. PMID: 19636634
Mencin A, Seki E, Osawa Y, Brenner D. Alpha-1 Antitrypsin Z protein (PiZ) increases hepatic fibrosis in a murine model of cholestasis. Hepatology. 2007 Nov;46(5):1443-52. PMID: 17668872
Review Articles
Huang YY, Li L, Monteleone M, Ferrari L, States LJ, Riviello JJ, Kernie SG, Mencin AA, Gupta S, Sun LS. Use of Anesthesia for Imaging Studies and Interventional Procedures in Children. J Neurosurg Anesthesiol. 2016. Epub ahead of print. PMID 27564559
Mencin AA, Loomba R, Lavine JE. Caring for children with NAFLD and navigating their care into adulthood. Nat Rev Gastroenterol Hepatol. 2015 Nov;12(11):617-28. PMID 26323878
Mencin AA, Lavine JE. Advances in Pediatric Nonalcoholic Fatty Liver Disease. Pediatr Clin North Am. 2011 Dec;58(6):1375-92. PMID: 22093857
Mencin AA, Lavine JE. Nonalcoholic Fatty Liver Disease in Children.  Curr Opin Clin Nutr Metab Care. 2011 Mar;14(2):151-7. PMID: 21178608
Pradere JP, Troeger JS, Dapito DH, Mencin AA, Schwabe RF. Toll Like Receptor 4 and Hepatic Fibrogenesis. Semin Liver Dis. 2010 Aug;30(3):232-44. PMID: 20665376
Mencin A, Kluwe J, Schwabe R. Toll Like Receptors as Targets to Treat Chronic Liver Diseases. Gut. 2009 May;58(5):704-20. PMID: 19359436
Kluwe, J, Mencin A, Schwabe RF.  Toll-like receptor, inflammation and carcinogenesis. Journal of Molecular Medicine. 2009 Feb;87(2):125-38. PMID: 19089397
Braganza SF, Galvez MP, Mencin A, Ozuah PP. Weighting the appropriate uses of supplemental zinc. Contemporary Pediatrics. 2006 Jul: Published online
Mencin A., Adam H. Antibiotic Susceptibility Testing. Pediatrics in Review. 2004; 25: 110-111.
Case Reports
Pierog, A. Mencin A*. A Childhood Case of Eosinophilic Gastritis and Protein Losing Enteropathy.  Clin Pediatr (Phila). 2014 Mar;53(3):289-92s. 2013 PMID: 24351503
Weitz N, Patel V, Tlougan B, Mencin A. et al. Metastatic Cutaneous Involvement of Granulomatous Colitis in Hermansky-Pudlak Syndrome. Pediatr Dermatol. 2013 Nov-Dec;30(6):e278-80.  PMID: 22471786
Mencin A, DeFelice A, Marcowitz D, et al. An Unusual Cause of Severe Gastrointestinal Bleeding: Case Report and Review of the Pediatric Literature on Heterotopic Gastric Mucosa of the Biliary Tract.  Clinical Pediatrics. 2006 Sep;45(7):683-7. PMID: 16928850
Book Chapters
Mencin A, Lavine JE. "Chapter 22: Many of my obese patients have elevated liver chemistries—what should my approach be to this finding?" Curbside Consultation in Pediatric GI. Ed. Joel Rosh.MD. Thorofare: Slack Inc., 2013. 107-110.