Anthony N. Sireci, MD
Expertise in:
Clinical Genetics and Genomics (MD)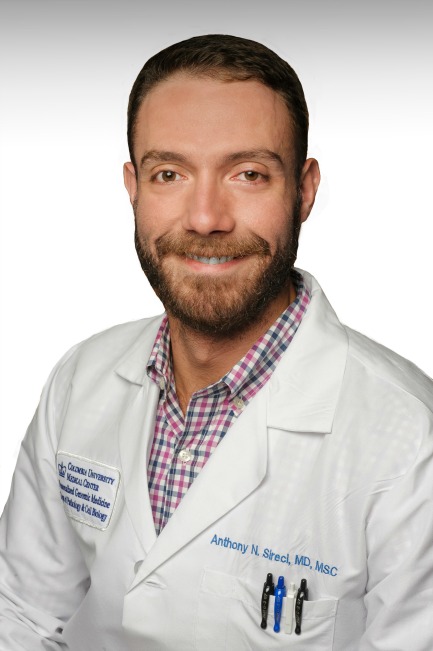 Appointments
For existing patients, login to make an appointment, view documentation or contact your care provider.
Credentials & Experience
Clinical Expertise
Clinical Genetics and Genomics (MD)
Clinical Chemistry
Laboratory Medicine
Cytogenetic Study
Genetic Testing
Genetic Disorders
Genetic Screening
Specialties
Education & Training
Johns Hopkins University School of Medicine
Residency: NewYork-Presbyterian Hospital/Columbia University Medical Center
About Anthony Sireci
Academic Titles
Assistant Professor of Pathology & Cell Biology at CUMC
Administrative Positions
Physician Manager and Assistant Director, Laboratory of Personalized Genomic Medicine
Assistant Director, Biochemical Genetics
Committee/Societies/Council Memberships
Vice-Chair, Pricing Sub-committee, Association for Molecular Pathology (AMP)
Member, American Association of Clinical Chemistry (AACC)
Hospital Affiliations
NewYork-Presbyterian/Columbia
Research
Selected Publications
Oberg, J.; Glade Bender, J.; Sulis, ML.; Pendrick, D.; Sireci, A.; Hsiao,S.; Turk, A.; Dela Cruz, F.; Hibshoosh,H.; Remotti,H.; Zybler, R.; Pang, J.; Diolaiti, D.; Koval, C.; Andrews, S.; Garvin, J.; Yamashiro, D.; Chung, W.; Emerson, S.; Nagy, P.; Mansukhani, M.; Kung, A. Implementation of Next Generation Sequencing into Pediatric hematology-Oncology Practice: moving beyond actionable alterations. Genome Med.
Sireci, A., Aggarwal, V., Turk, A., Gindin, T., Mansukahni, M., Hsiao, S. Clinical Genomic Profiling of a Diverse Array of Oncology Specimens at a Large Academic Medical Center: identification of targetable variants and experience with reimbursement. J Mol Diag.
Margolskee, E.; Bao, F.; de Gonzalez, AK.; Moreira, RK., Lagana, S.; Sireci, AN., Sepulveda, AR.; Remotti, H.; Lefkowitch, JH., Salomao, M. Hepatocellular adenoma classification: a comparative evaluation of immunohistochemistry and targeted mutational analysis. Diagn Pathol. (2016) March 9;11(1):27
Qiu, W.;  Tang, SM.; Lee, S.; Turk, AT.; Sireci, AN.; Qui, A., et. al.  Loss of Activin Receptor Type 1B Accelerates Development of Intraductal Papillary Mucinous Neoplasms in Mice with Activated KRAS. Gastroenterology. (2016) Jan; 150 (1): 218-228
Pham, H; Sireci, A.; Kim, C; Schwartz, J. Cost-effectiveness Analysis of Plasma vs. Recombinant Factor VIIa for Placing Intracranial Pressure Monitors in Pre-transplant Patients with Acute Liver Failure. Clinical and Applied Thrombosis and Hemostasis. (2014) March; 20(6); 607-614
Allen, A; Sireci, A; Colovai, A; Baghat, G; Alobeid, B. Early T-cell precursor leukemia/lymphoma in adults and children. Leukemia Research. (2013) September; 37(9):1027-34
Callan, E.; Hod, E.; Sireci, A.; Spitalnik, S.; Transfusion of 28 Day-Old Leukoreduced or Non-Leukoreduced Stored Red Blood Cells Induces an Inflammatory Response in Healthy Dogs. Vox Sang. (2013). Nov; 105(4); 319-27

McMillen, B; Bautista, J; Sireci, A,N; Stotler, B; Kratz,A. Low Accuracy of Manual White Blood Cell Count in Amniotic Fluid. J Obst and Gyn (2012). May;33(4):364-6

Narayan, S; Master, S.R; Sireci, AN; Bierl, C; Stanely, P; Li, C; Stanely, CA; Bennett, MJ Short-Chain 3-Hydroxyacyl-Coenzyme A Dehydrogenase Associates with a Protein Super-Complex Integrating Multiple Metabolic Pathways. PLoS (2012) Apr 9;7(4).

Hod EA, Brittenham GM, Billote GB, Francis RO, Ginzburg YZ, Hendrickson JE, Jhang J, Schwartz J, Sharma S, Sheth S, Sireci AN, Stephens HL, Stotler BA, Wojczyk BS, Zimring JC, Spitalnik SL. Transfusion of human volunteers with older, stored red blood cells produces extravascular hemolysis and circulating non-transferrin-bound iron. Blood. (2011) Dec 15;118(25):6675-82

 Hussein S, Gill KZ, Sireci AN, Colovai AI, Small T, Emmons FN, Murty VV, Bhagat G, Alobeid B. Aberrant T-cell antigen expression in B lymphoblastic leukaemia. Br J Haematol. ( 2011);155(4):449-56.

Sireci, A; Herlitz, L; Lee, K; Bautista, J; Kratz, A. Validation and Implementation of an Algorithm for Reporting the Automated Absolute Neutrophil Count From Selected Flagged Specimens. AJCP (2010); 134: 720-5.
Sireci, A; Schlaberg, R; Kratz, A. A Method for Optimizing and Validating Instrument- Specific Flagging Criteria. Arch Pathol and Lab Med (2010); 134; 1528-33.
Sireci, A; Crapanzano, J; Mansukhani, M; Wright, T; Babioc, A; Saqi, A.  Atypical Glandular Cells (AGC): ThinPrep Imaging System (TIS), Manual Screening (MS) and Correlation with Hybrid Capture 2 (HC2) HPV DNA Testing. Diag Cytopathol.(2010); 38:705-709.