Asad R. Siddiqi, DO
Board Certifications:
Physical Medicine and Rehabilitation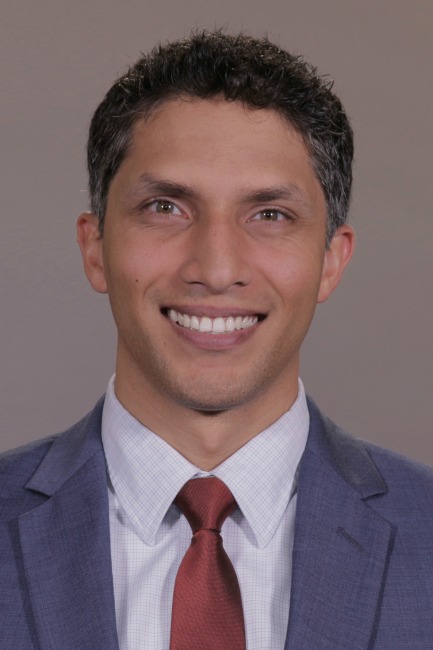 Appointments
Phone Appointments
New and Existing Patients:
For existing patients, login to make an appointment, view documentation or contact your care provider.
Credentials & Experience
Board Certifications
Physical Medicine and Rehabilitation
Clinical Expertise
Non-operative Sports Medicine
Tendinitis
Sports Medicine
Concussion
Ankle Pain
Ankle Injuries
Ankle Sprain
Adolescent Sports Injuries
Ankle Injury
Biceps Tendonitis
Carpal Tunnel Syndrome
Achilles Tendon Injury/Rupture
Arthrocentesis of Joints
Arthritis
Athletic Hip Injuries
Achilles Tendon
ACL Injury Tear
Adult Hip Arthritis
Arthritic Rehabilitation
Arthritis of Spine
Arthritis of the Back
Disorder of Shoulder Joint
Arthritis of the Foot
Musculoskeletal Ultrasound
Exercise Medicine
Elbow Pain
Disorders of the Shoulder
Femoroacetabular Impingement (FAI)
Disorder of Ligament
Arthritis of the Neck
Golfer's Elbow
Elbow Problem
Disorder of Ligament of Shoulder
Foot and Ankle Injuries
Injury of Muscle
Bursitis
Hip Bursitis
Foot & Ankle Injuries
Elbow Joint Pain
Foot Injections
Hamstring Tendonitis/Injury
Cervical Neck Pain
Cervical Pain (Neck)
Foot Pain
Abnormal Gait
Hip Pain
Hip Problem
Elbow Bursitis
Kinetic Chain Approach
Hip Injuries
Iliotibial Band Syndrome
Abnormality of Gait
Elbow Disorder
Back Injuries
Joint Ache
Cartilage Injury
Joint Injuries
Joint Pain
Joint Injections
Hip Disorders
Hip Problems
Head Injury
Diet/Exercise
Jumper's Knee
Meniscus Tear
Knee Injuries
Muscle Strain
Knee Pain
Knee Injury
Knee Disorders
Knee Arthritis
Knee & Shoulder Injury
Cervical Disc Herniation
Cervical Disc Herniations
Cervical Herniated Disc
Cervical Spine Disease
Cortisone Injection
Muscle Injuries
Disc Herniations
Muscle Pain
Knee Problem
Muscle Injury
Groin Pain
Meniscus Tears
Back Pain
Hamstring Tear
Hand & Wrist problems
Hand and Wrist Problems
Hand Weakness
Heel Spur
Heel Spurs
Image Guided Musculoskeletal Proc
Joint Pain and Sprains
Low Back Pain
Lower Back Pain
Lumbar Pain
Muscle Stiffness
Muscle/Ligament Disorder
Muscleoskeletal Injuries
Musculoskeletal Pain
Neck Pain
Neck Pain, Acute
Nerve Block
Nerve Blocks
Non-Surgical Approach to Back Pain
Patella Tendonitis
Patellar Tendinitis
Patellar Tendonitis
Rehabilitation Medicine
Tennis Elbow
Rotator Cuff Injury
Rotator Cuff Tear
Rotator Cuff Tendonitis
Runner's Knee
Sacroiliac Joint Pain
Sciatic nerve impingement
Shin Splints
Shoulder Arthritis
Shoulder Disorder
Shoulder Injury
Shoulder Pain
Shoulder Problem
Shoulder Problems
Shoulder Sprain
Shoulder Tendinitis
Shoulder Tendonitis
Shoulder/Knee Joint Problems
Sports Injuries
Sports Injuries of Female Athletes
Sports Injury
Sports Injury Rehabilitation
Sports Medicine Rehabilitation
Sprain
Sprains and Strains
Strain
Strains
Stress Fracture
Tear of Meniscus of Knee
Tear, Meniscus
Tendonitis
Tendonitis of the Wrist
Wrist Problems
Specialties
Education & Training
DO, 2011 A T Still University School of Osteopathic Medicine
Internship: 2012 Maimondes Medical Center
Residency: 2015 New York University, School of Medicine
Fellowship: 2016 Greenville Health System
About Asad Siddiqi
Asad Siddiqi, DO, CAQSM is an Assistant Professor of Rehabilitation and Regenerative Medicine at Columbia University Medical Center with board certification in rehabilitation medicine and primary care sports medicine. He specializes in the comprehensive management of acute and chronic sports injuries, concussion care, and injury prevention, and he serves as Team Physician for the City College of New York, The Hackley School, and the United Nations International School. He is an advocate for healthy lifestyles and physical activity promotion, and is a firm believer that everybody is an athlete.
Dr. Siddiqi completed his undergraduate education at New York University. While attending medical school at A.T. Still University – School of Osteopathic Medicine in Arizona, he cultivated an interest in sports medicine and functional optimization. He went on to complete an internship at Maimonides Medical Center and a residency in physical medicine and rehabilitation at New York University Medical Center – Rusk Rehabilitation. As a resident, he provided sideline and training room medical coverage for PSAL/CHSAA football, the New York City and Brooklyn marathons, the 2012 Ironman US Championships, LIU-Brooklyn athletics (NCAA Division I), St Joseph's College athletics (NCAA Division III), and various boxing and mixed-martial arts events throughout New York City. He also developed specialized interests in performing arts medicine through rotations at the Harkness Center for Dance Injuries and The Julliard School, as well as in adaptive and wheelchair sports through his work with the VA New York Harbor Healthcare System.
Dr. Siddiqi then pursued fellowship training in Primary Care Sports Medicine at the Steadman Hawkins Clinic of the Carolinas at Greenville Health System, where he served as team physician for local high schools, the Greenville Drive (Single-A Affiliate of the Boston Red Sox), North Greenville University athletics (NCAA Division II), and USA Karate. He was a member of the traveling medical staff for Team USA at the 2015 World Karate Federation Junior and Cadet Under-21 Championships in Jakarta, Indonesia. He also held a weekly performing arts medicine clinic at the South Carolina Governor's School for Arts and Humanities, focused on prevention and management of injuries in the budding visual and performing artist. Additionally, he attained certification as a regional classifier for the National Wheelchair Basketball Association.
Dr. Siddiqi believes in an integrated, multi-disciplinary approach to non-operative management and prevention of sports injuries. His knowledge of physical rehabilitation techniques is augmented by his use of ultrasound for diagnostic and interventional-guidance purposes. He maintains active membership in several professional societies including the American Medical Society for Sports Medicine and the Association of Academic Physiatrists, which allows him to stay on the cutting edge of evidence-based treatment principles. He works collaboratively with each patient to restore him or her to the highest level of function and desired activity.
Academic Titles
Assistant Professor of Rehabilitation and Regenerative Medicine
Committee/Societies/Council Memberships
American Medical Society for Sports Medicine
American College of Sports Medicine
American Osteopathic Association of Sports Medicine
Association of Academic Physiatrists
International Association of Dance Medicine and Sciences
American Institute of Ultrasound Medicine
Hospital Affiliations
NewYork-Presbyterian/Columbia
NewYork-Presbyterian/Weill Cornell
Insurance Accepted
Fidelis Care
Child/Family Health Plus
Medicaid Managed Care
Medicare Managed Care
*Please contact the provider's office directly to verify that your particular insurance is accepted.