Lindsay Rachel Freud, MD
Board Certifications:
Pediatric Cardiology, Pediatrics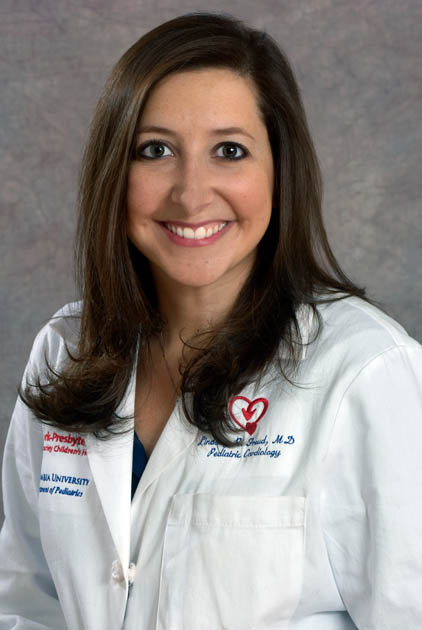 Schedule an Appointment
New and Existing Patients:
Connect Patient Portal
For existing patients, login to make an appointment, view documentation or contact your care provider.
Credentials & Experience
Board Certifications
Pediatric Cardiology
Pediatrics
Clinical Expertise
Echocardiography
Fetal Cardiology
Pediatric Cardiology
Pediatric Congenital Heart Disease
Specialties
Education & Training
MD, Harvard Medical School
Honors & Awards
2018: Research grant from the International 22q11.2 Foundation
2017: Colin Molloy Award from Colin's Kids Foundation for Congenital Heart Disease Research
2015: American Heart Association Abstract Travel Grant
2014: Von L. Meyer Research Award, Boston Children's Hospital
2013-2015: National Institutes of Health T32 Training Grant: Principles of Pediatric Cardiovascular Research
2013: Harvard Medical School Award for Excellence in Teaching
About Lindsay Freud
Dr. Freud is a pediatric and fetal cardiologist who joined the faculty at Columbia University Medical Center in 2015. She graduated summa cum laude from Duke University and received her medical degree from Harvard Medical School. She remained at Harvard for her residency in pediatrics, and after completing her pediatric cardiology fellowship in her hometown of Chicago at the Ann & Robert H. Lurie Children's Hospital, she returned to Harvard to pursue advanced cardiac imaging and research fellowships at Boston Children's Hospital.
Her research has centered on understanding the natural history of cardiac disease in utero and exploring novel applications for fetal cardiac therapy, playing a critical role on our Fetal Cardiac Intervention team. She also explores the impact of prenatal genetic diagnoses on perinatal care and management. Finally, Dr. Freud is interested in the peri-operative management of valve disorders and serves as the imaging specialist for our Congenital Heart Valve Center.
Academic Titles
Assistant Professor of Pediatrics at CUMC
Committee/Societies/Council Memberships
Fetal Heart Society, Chair of the Membership Committee
American Society of Echocardiography, Fellow
American Heart Association, Member
American College of Cardiology, Member
Hospital Affiliations
NewYork-Presbyterian / Columbia University Irving Medical Center
NewYork-Presbyterian Morgan Stanley Children's Hospital
Contact & Locations
1
3959 Broadway
New York, New York 10032
Research
Selected Publications
Freud LR, Escobar-Diaz MC, Kalish BT, Komarlu R, Jaeggi ET, Puchalski MD, Szwast AL, Morris SA, Levasseur SM, Huhta JC, Kavanaugh-McHugh A, Moon-Grady AJ, Donofrio MT, Michelfelder EC, Pruetz JD, Howley LW, van der Velde ME, Cuneo BF, Vernon MM, Ikemba CM, Kovalchin JP, Samai C, Satou GM, Selamet Tierney ES, Phoon CK, Silverman NH, McElhinney DB, Tworetzky W. Perinatal outcomes and predictors of mortality in fetuses with Ebstein anomaly or tricuspid valve dysplasia: A multi-center study. Circulation 2015;132(6):481-9.
Selamet Tierney ES, McElhinney DB, Freud LR, Tworetzky W, Escobar-Diaz MC, Komarlu R, Kalish BT, Silverman NH, Moon-Grady AJ. Assessment of Progressive Pathophysiology after Early Prenatal Diagnosis of the Ebstein Anomaly or Tricuspid Valve Dysplasia. Am J Cardiol 2017; 119(1): 106-111.
Freud LR, McElhinney DB, Marshall AC, Marx GR, Friedman KG, del Nido PJ, Emani SM, Lafranchi T, Silva V, Wilkins-Haug LE, Benson CB, Lock JE, Tworetzky W. Fetal aortic valvuloplasty for evolving hypoplastic left heart syndrome: Postnatal outcomes of the first 100 patients. Circulation 2014; 130(8):638-45.
Freud LR, Moon-Grady A, Escobar-Diaz MC, Gotteiner NL, Young LT, McElhinney DB, Tworetzky W. Low rate of prenatal diagnosis among neonates with critical aortic stenosis: Insight into the natural history in utero. Ultrasound Obstet Gyncol 2015; 45(3): 326-32.
Friedman KG, Freud LR, Escobar-Diaz-MC, Banka P, Emani S, Tworetzky W. Left ventricular remodeling and function in children with biventricular circulation after fetal aortic valvuloplasty. Pediatr Cardiol 2015;36(7):1502-9.
Laraja K, Sadhwani A, Tworetzky W, Marshall AC, Gauvreau K, Freud LR, Hass C, Dunbar Masterson C, Ware K, Lock JE, Lafranchi T, Wilkins-Haug LE, Newburger JW. Neurodevelopmental outcome in children after fetal cardiac intervention for aortic stenosis. J Pediatr 2017; 184: 130-136.
Friedman KG, Sleeper LA, Freud LR, Marshall AC, Godfrey ME, Drogosz M, Lafranchi T, Benson CB, Wilkins-Haug LE, Tworetzky W. Improved technical success, postnatal outcomes and refined predictors of outcome for fetal aortic valvuloplasty. Ultrasound Obstet Gyncol 2017; epub ahead of print.

Freud LR, Marx GR, Marshall AC, Tworetzky W, Emani SR. Assessment of the Melody valve in the mitral position in young children by echocardiography. J Thorac Cardiovasc Surg 2017; 153(1): 153-160.