Guy M. McKhann II, MD
Expertise in:
Neurosurgery, Brain & Spinal Tumors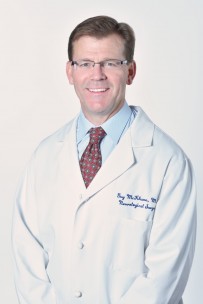 Appointments
Phone Appointments
New and Existing Patients:
For existing patients, login to make an appointment, view documentation or contact your care provider.
Credentials & Experience
Clinical Expertise
Trigeminal Neuralgia Surgery
Vascular Malformation
Neurosurgery
Brain & Spinal Tumors
Glioblastoma Multiforme
Gliomas
Hemangioblastoma
Hemifacial Spasm
Microvascular Decompression
Minimally Invasive (Endoscopic) Neurosurgery
Minimally Invasive Neurosurgery
Minimally Invasive Procedures
Minimally Invasive Spine Techniques
Neurofibromatosis
Neurological Surgery
Neurostimulation
Pediatric Epilepsy Surgery
Radiosurgery
Second Opinion
Stereotactic Neurosurgery
Stereotactic Surgery
Brain Tumor
Endoscopic Neurosurgery
Brain Abscess
Biopsies
Anaplastic Astrocytoma
Arachnoid Cyst
Craniotomy
Brain Cancer
Epilepsy Surgery
Meningioma
Benign Essential Tremor
Concussion
Trigeminal Neuralgia
Skull Base Surgery
Orbital Tumor
Movement Disorder
Dystonia
Adult Trauma
Astrocytoma
Cavernous Malformation
Stereotactic Radiosurgery
Skull Base Tumors
Hydrocephalus
Colloid Cyst of Third Ventricle
Brain Tumor Surgery
Seizure Disorder
Deep Brain Stimulation
Pineal Tumor
Minimally Invasive Brain Surgery
Microsurgery
Chiari Malformation
Functional Brain Mapping
Gamma Knife Radiosurgery
Shunts
Traumatic Brain Injury
Microvascular Neurosurgery
Cerebrospinal Fluid Conditions
Computer Assisted Surgery (CAS)
Parkinson's Disease
Head Injury
Specialties
Education & Training
Yale University School of Medicine
Residency: University of Washington Medical Center
Fellowship: University of Washington Medical Center
About Guy McKhann
Dr. McKhann graduated Phi Beta Kappa and Magna Cum Laude from Duke University, with Research Honors for his investigations into brain tumor immunobiology. He attended Yale School of Medicine where he was AOA, Cum Laude, a Farr Scholar, and one of five recipients of the medical school's highest thesis award. Dr. McKhann trained in Neurological Surgery at the University of Washington, as well as Atkinson Morley's Hospital in Wimbledon, England.
Dr. McKhann combines clinical skill and compassionate care to maximize patient outcomes. He treats patients with a variety of brain conditions including Brain Tumors, Epilepsy, Movement Disorders, Adult Hydrocephalus, Chiari Malformations, Cavernous Malformations, Trigeminal Neuralgia, and Neurotrauma. His areas of particular technical expertise include microneurosurgery, computer guided stereotactic neuronavigation, intraoperative awake brain mapping, neuroendoscopy, minimally invasive brain surgery, gamma knife radiosurgery, deep brain stimulation, and cerebrospinal fluid shunting.
Academic Titles
Associate Professor of Neurological Surgery at CUMC
Hospital Affiliations
NewYork-Presbyterian/Columbia
NewYork-Presbyterian/Lawrence Hospital
Insurance Accepted
Aetna
EPO
HMO
NY Signature
POS
PPO
Signature Administrators
Student Health
Cigna
EPO
Great West
HMO
POS
PPO
Empire Blue Cross Blue Shield
Blue Priority
EPO
HMO
NYP Employee Plan
POS
PPO
UnitedHealthcare
Columbia University Employee Plan
EPO
HMO
POS
PPO
*Please contact the provider's office directly to verify that your particular insurance is accepted.
Contact & Locations
1
710 West 168th Street
Suite 413
New York, New York 10032
Research
Dr. McKhann also works as a translational neuroscientist, running a laboratory that investigates epileptic development and treatment. In addition he helps direct a multidisciplinary team that studies the mechanisms of brain plasticity, recovery, and repair. His basic and clinical research has been funded by the National Institutes of Health, the American Association of Neurological Surgeons, the Klingenstein Foundation, the Charles A. Dana Foundation, the New York Academy of Medicine, Parents Against Childhood Epilepsy, and the Irving Center for Clinical Research.
Research Interests
Astrocyte function in epilepsy
Brain organization of language and motor function
Adult hydrocephalus
Grants
SEIZURE LOCALIZATION IN HUMANS: THE EFFECT OF INHIBITORY SUROUND ON THE EEG (Federal Gov)

Sep 1 2013 - Jun 30 2018
TARGETING THE MTOR PATHWAY IN GILOMA-ASSOCIATED EPILEPSY IN MICE AND HUMANS (Private)

Sep 1 2015 - Aug 31 2017
RADIOSURGERY VS LOBECTOMY FOR TEMPORAL LOBE EPILEPSY: PHASE 3 CLINICAL TRIAL (Federal Gov)

Jun 1 2014 - May 31 2015
RADIOSURGERY VS. LOBECTOMY FOR TEMPORAL LOBE EPILEPSY: PHASE 3 CLINICAL TRIAL (Federal Gov)

Jun 1 2011 - May 31 2012
ABERRANT ASTROCYTIC CONTROL OF NEURONAL EXCITABILITY IN TUBE ROUS SCLEROSIS: A POTENTIAL THERAPEUTIC TARGET IN TSC EPILEP (Private)

Jul 1 2008 - Jun 30 2011
HHMI FELLOWSHIP--REACTIVE GLIOSIS IN A RAT MODEL OF TEMPORAL LOBE EPILEPSY--CELLULAR LINEAGE AND ELECTROPHYSIOLOGIC... (Private)

Jul 1 2007 - Jun 30 2008
PLASTICITY IN THE MATURE BRAIN: PATTERNS OF CORTICAL REORGANIZATION FOLLOWING BRAIN LESION REMOVAL (Private)

May 1 2001 - Jan 1 2008