Jenna Bass, PhD
Expertise in:
Psychology, Women's Mental Health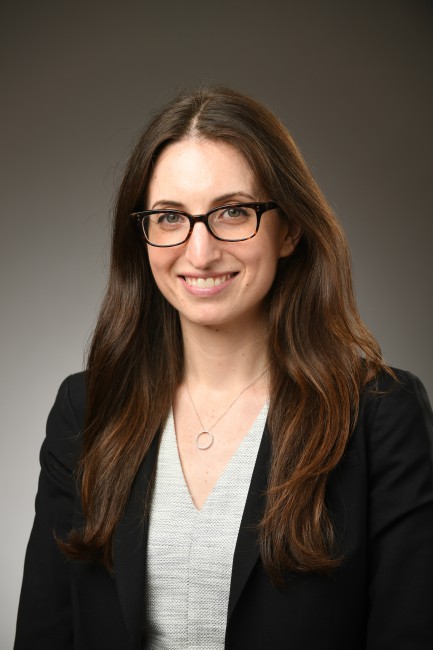 Appointments
For existing patients, login to make an appointment, view documentation or contact your care provider.
Credentials & Experience
Clinical Expertise
Women's Mental Health
Psychology
Psychological Aspects of Infertility
Postpartum Depression
Premenstrual Dysphoric Disorder
Post Menopausal Problems
Social Anxiety Disorder
Insomnia
Bulimia
Eating Disorder
Anxiety Disorder
Dialectical Behavior Therapy (DBT)
Psychodynamic Psychotherapy
Anxiety
Women's Mental Health
Depression
Cognitive-Behavior Therapy (CBT)
Anorexia
Bipolar Disorder
Generalized Anxiety Disorder
Panic Attacks
Panic Disorder
Psychotherapy
Relationship Problems
Stress Management
Mental Health
Adjustment Disorder
Work-Related Stress
Specialties
Education & Training
New School for Social Research
Residency: New York State Psychiatric Institute
About Jenna Bass
Jenna Slutsky Bass, PhD, is a licensed clinical psychologist at ColumbiaDoctors Psychiatry Uptown where she serves on the faculty as an Instructor in Clinical Psychology in Psychiatry. Her office is located at the Neurological Institute at Columbia University Medical Center (CUMC). Dr. Bass specializes in the treatment of adults with mood and anxiety disorders as well as individual and family transitions. She tailors her treatment to the individual's unique needs through thoughtfully integrating her advanced training in psychodynamic psychotherapy, Cognitive Behavioral Therapy (CBT), and Dialectical Behavior Therapy (DBT). Dr. Bass also has specialized training in treating issues related to reproductive and women's health including role transitions, fertility, pregnancy, and pregnancy loss.
Dr. Bass completed her doctorate in Clinical Psychology at The New School for Social Research. Prior to joining the faculty at CUMC, she completed both her pre-doctoral internship and post-doctoral fellowship in clinical psychology at New York-Presbyterian Hospital Columbia University Medical Center. Dr. Bass has also carried out research under the auspices of the University of Cambridge, in the UK, Columbia University, and The New School for Social Research. She has researched issues related to diverse family forms made possible by reproductive technologies, attachment theory, and various aspects of the interactions between the family, the parent-child relationship, and development. She is an author of several papers on the experiences of donor-conceived individuals and families made possible by gamete donation and surrogacy, providing her with expertise in addressing issues related to diverse family forms.
Academic Titles
Instructor in Medical Psychology (in Psychiatry) at CUMC
Hospital Affiliations
NewYork-Presbyterian/Columbia
Insurance Accepted
Aetna
EPO
HMO
Medicare Managed Care
NY Signature
NYP Employee Plan
POS
PPO
Signature Administrators
Student Health
UnitedHealthcare
Behavioral Health Columbia University Employee Plan
*Please contact the provider's office directly to verify that your particular insurance is accepted.
Contact & Locations
1
710 West 168th Street
New York, New York 10032
Research
Selected Publications
Golombok, S., Blake, L., Slutsky, J., Raffanello, E., Roman, G., & Ehrhardt, A. (inpress). Parenting and the adjustment of children born to gay fathers through surrogacy. Child Development.
http://onlinelibrary.wiley.com/doi/10.1111/cdev.12728/abstract
Slutsky, J., Jadva, V., Freeman, T., Persaud, S., Kramer, W., Steele, M., Steele, H., and Golombok, S. (2016). Integrating donor conception into identity: parent-child relationships and identity development in donor-conceived adolescents. Fertility and Sterility, 104(3), p. 739. DOI: http://dx.doi.org/10.1016/j.fertnster.2015.07.1123
http://www.fertstert.org/article/S0015-0282(16)30004-8/abstract
Blake, L., Carone, N., Slutsky, J., Raffanello, E., Ehrhardt, A., & Golombok, S. (2016). Gay fathers through surrogacy: Relationships with surrogates and egg donors and parental disclosure of children's origins. Fertility & Sterility, 106,1503-1509.
https://www.ncbi.nlm.nih.gov/pmc/articles/PMC5090043/
Freeman, T., Jadva, V., and Slutsky, J. (2016). "Sperm donors limited: psychosocial aspects of genetic connections and the regulation of offspring numbers" in S. Golombok, R. Scott, S. Wilkinson, M. J. Appleby, M. Richards, and S. Wilkinson (eds.) Regulating Reproductive Donation.
Persaud, S., Freeman, T., Jadva, V., Slutsky, J., Kramer, W., Steele, M., Steele, H. and Golombok, S. (2016). Adolescents conceived through donor insemination in mother-headed families: a qualitative study of motivations and experiences of contacting and meeting same-donor offspring. Children and Society. DOI: 10.1111/chso.12158
Slutsky, J. (2014), [Review of the book The Circle of Security Intervention, By B. Powell, G. Cooper, K. Hoffman, B. Marvin.] Infant and Child Development. DOI: 10.1002/icd.1839