Julia Iafrate, DO
Expertise in:
Physical Medicine and Rehabilitation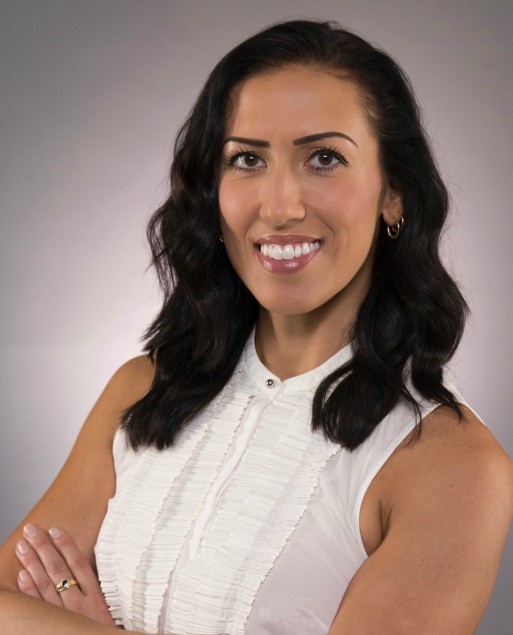 Appointments
Phone Appointments
New and Existing Patients:
For existing patients, login to make an appointment, view documentation or contact your care provider.
Credentials & Experience
Clinical Expertise
Physical Medicine and Rehabilitation
Dance
Dance Injury
Dance medicine
Dancer Pain
Elbow Fracture
Arthritis of Spine
Sports Medicine
Runner's Knee
Numbness
Muscle Strength Testing
Jumper's Knee
Golfer's Elbow
Elbow Disorder
Arthritis
Sports Injury Rehabilitation
Rotator Cuff Tendonitis
Neuropathy
Muscle Strain
Joint Symptoms
Global Health
Elbow Bursitis
Arm Weakness
Sports Injury
Rotator Cuff Tear
Neuromas
Muscle Stiffness
Joint Pain and Sprains
Ganglion Of Wrist
Doctor-Patient Communication
Ankle Sprain
Sports Injuries of Female Athletes
Rotator Cuff Injury
Neurological Rehabilitation
Muscle Problems
Joint Pain
Gait Analysis
Disorders of the Shoulder
Ankle Pain
Sports Injuries
Resident Education
Nerve Testing
Muscle Pain
Joint Injuries
Functional Exercise
Disorder of Shoulder Joint
Ankle Injury
Spondylosis
Rehabilitation Medicine
Nerve Problems
Muscle Injury
Joint Injections
Fractures
Disorder of Ligament of Shoulder
Ankle Injuries
Spondylolisthesis
Radiculopathy
Nerve Pain Due to Spinal Stenosis
Muscle Injuries
Integrated Medicine and Nutrition
Fracture Care
Disorder of Ligament
Ankle Fractures
Spine Rehabilitation
Public Health
Nerve Pain
Muscle Atrophy
Injury to Nerves
Fracture
Cervical Pain (Neck)
Disorder of Intervertebral Disc
Ankle Disorder
Young Adults
Spinal Pain
Preventative Medicine
Nerve Injury
Morton's Neuroma
Injury of Muscle
Forearm Fractures
Cervical Neck Pain
Diet/Exercise
Adult Hip Arthritis
Wrist Problems
Spinal Arthritis
Platelet Rich Plasma Therapy
Nerve Injuries
Minimally Invasive Techniques
Impingement Syndrome
Foot Pain
Cervical Herniated Disc
Diagnostic Ultrasound
Adolescent Sports Injuries
Weakness
Spinal and Head Injuries
Platelet Rich Plasma (PRP)
Nerve Disorder
Minimally Invasive Procedures
Image Guided Musculoskeletal Proc
Foot Injections
Cervical Disc Herniations
Degenerative Spine Disease
ACL Injury Tear
Ultrasound
Soft Tissue Injury
Plantar Fasciitis
Nerve Conduction Study
Meniscus Tears
Iliotibial Band Syndrome
Foot Fractures
Cervical Disc Herniation
Degenerative Spinal Disorder
Achilles Tendon Injury/Rupture
Trigger Point Therapy
Soft Tissue Injections
Physicals
Nerve Conduction Studies
Meniscus Tear
Hip Problems
Foot and Ankle Injuries
Cartilage Injury
Degenerative Lumbar Spine Disorders
Achilles Tendon
Trigger Point Injections
Shoulder/Knee Joint Problems
Physical Medicine and Rehabilitation
Nerve Conduction
Medical Manipulation
Hip Problem
Foot and Ankle Care
Carpal Tunnel Syndrome
Degenerative Lumbar Spinal Stenosis
Trigger Finger Therapy
Shoulder Tendonitis
Physiatry Consult
Nerve Blocks
Medical Ethics
Hip Pain
Foot & Ankle Trauma
Carpal Bones and Hand Fractures
Degenerative Cervical Spinal Stenosis
Trigger Finger Release
Shoulder Tendinitis
Peripheral Neuropathy
Nerve Block
Lumbar Spine Trauma
Hip Injuries
Foot & Ankle Orthopedics
Foot & Ankle Injuries
Bursitis
Custom Orthotics
Trigger Finger
Shoulder Sprain
Peripheral Nerve Disorder
Neck Pain, Acute
Lumbar Spinal Disorders
Hip Fracture
Flat Feet
Bulging Disc
Consults
Travel Health
Shoulder Problems
Peripheral Nerve Disease
Neck Pain
Lumbar Pain
Hip Dysplasia
Femoroacetabular Impingement (FAI)
Broken Toe
Consultations and Second Opinions
Tennis Elbow
Shoulder Problem
Percutaneous Interv Procedures
Neck and Lumbar Spine Problems
Lumbar Herniated Disc
Hip Disorders
Exercise Physiology
Broken Foot
Concussion
Tendonitis of the Wrist
Shoulder Pain
Pediatric Sports Medicine
Neck and Back Pain
Lumbar Disc Herniation
Hip Bursitis
Exercise Medicine
Braces (REHAB)
Cervical Spine Disease
Tendonitis
Shoulder Joint Instability
Patellar Tendonitis
Neck & Back Injuries
Lower Back Pain
Herniated Disc
Exercise
Biomechanics-Foot&Lower Extremities
Cervical Spinal Stenosis
Tendinitis
Shoulder Instability
Patellar Tendinitis
Myopathy
Low Back Pain
Heel Spurs
Executive Health
Biceps Tendonitis
Cervical Spinal Disorders
Stress Fracture of Tibia
Shoulder Injury
Patella Tendonitis
Musculoskeletal Ultrasound
Low Back and Neck Pain
Heel Spur
EMG (Electromyography)
Biceps and Triceps Tendon Ruptures
Stress Fracture of Hip
Shoulder Disorder
Patella Fracture
Musculoskeletal Rehabilitation
Low Back & Neck Pain
Heel Pain
EMG
Back Pain
Stress Fracture of Femur
Shoulder Dislocation
Overuse Injury
Musculoskeletal Pain
Leg Weakness
Hand Weakness
Electromyography (EMG)
Back Injuries
Stress Fracture
Shoulder Arthritis
Overuse Injuries (Athletes)
Musculoskeletal Imaging
Labral Tear of Shoulder
Hand Disorder
Electromyography
Athletic Hip Injuries
Strains
Shin Splints
Osteoarthritis
Musculoskeletal Disorder
Knee Problem
Hand and Wrist Problems
Electrodiagnostic Testing
Athlete's Feet
Strain
Second Opinions
Orthopedic Sports Medicine
Musculoskeletal Disease
Knee Pain
Hand and Upper Extremity Orthopedics
Electrodiagnostic Medicine
Arthritis Pain
Stenosis of Lumbosacral Spine
Second Opinion
Orthopedic Spine
Muscleoskeletal Injuries
Knee Injury
Hand & Wrist problems
Elbow Problem
Arthritis of the Neck
Sprains and Strains
Sciatica
Orthopedic Rehabilitation
Muscle/Ligament Disorder
Knee Injuries
Hand & Wrist - Upper Extremities
Elbow Pain
Arthritis of the Foot
Sprain
Sciatic nerve impingement
Orthopaedic Sports Medicine
Muscle Weakness
Knee Arthritis
Hamstring Tendonitis/Injury
Elbow Joint Pain
Arthritis of the Back
Sports Medicine Rehabilitation
Sacroiliac Joint Pain
Nutrition
Muscle Testing
Knee & Shoulder Injury
Hamstring Tear
Specialties
Education & Training
DO, 2012 Arizona College of Osteopathic Medicine
Internship: 2013 St Vincents Hospital
Residency: 2016 Mayo Clinic
Fellowship: 2017 University of Iowa Hospital & Clinics
About Julia Iafrate
Dr. Julia L. Iafrate ("Dr. J") is a native of Fonthill, Ontario, Canada. She attended college in Canada at McMaster University, graduating with an honors bachelor of science degree in Kinesiology. She later moved to the United States of America to pursue a career in medicine. She received her medical degree from Midwestern University - Arizona College of Osteopathic Medicine. She subsequently completed her residency in Physical Medicine and Rehabilitation at the Mayo Clinic, followed by a Sports Medicine Fellowship at the University of Iowa. During her fellowship she worked as team physician for the University of Iowa Hawkeyes football, men's basketball, and men's and women's gymnastics teams. Dr. Iafrate specializes in Sports and Dance Medicine. Her primary clinical interests include all types of musculoskeletal injuries, college and professional-level sports coverage, dance medicine, diagnostic and interventional ultrasound-guided procedures, global health and nutrition, and resident teaching. She works with multiple dance schools in the area and is one of the rotating team physicians for the USA Ski Team. In her spare time she enjoys traveling the world, dancing, rock climbing, and alpine skiing.
Academic Titles
Assistant Professor of Rehabilitation and Regenerative Medicine at CUMC
Hospital Affiliations
NewYork-Presbyterian/Morgan Stanley Children's Hospital
NewYork-Presbyterian/Columbia
NewYork-Presbyterian/Weill Cornell
Insurance Accepted
Aetna
EPO
HMO
Medicare Managed Care
NY Signature
NYP Employee Plan
POS
PPO
Signature Administrators
Student Health
Affinity
Essential Plan
Medicaid Managed Care
Cigna
EPO
Great West
HMO
POS
PPO
Emblem/GHI
Medicare Managed Care
PPO
Emblem/HIP
ConnectiCare
EPO
Essential Plan
HMO
Medicaid Managed Care
Medicare Managed Care
POS
PPO
Select Care (Exchange)
Vytra
Empire Blue Cross Blue Shield
Blue Access (Exchange)
EPO
Gatekeeper (Exchange)
HMO
Medicare Managed Care
Pathway (Exchange)
POS
PPO
Empire Blue Cross Blue Shield HealthPlus
Child/Family Health Plus
Essential Plan
Medicaid Managed Care
Fidelis Care
Child/Family Health Plus
Medicaid Managed Care
Medicare Managed Care
Healthfirst
Child/Family Health Plus
Leaf (Exchange)
Medicaid Managed Care
Medicare Managed Care
Oxford Health Plans
Freedom
Liberty
Medicare Managed Care
UnitedHealthcare
Columbia University Employee Plan
Compass (Exchange)
Essential Plan
HMO
Medicaid (Community Plan)
Medicare Managed Care
POS
PPO
VNSNY CHOICE
Medicare Managed Care
SelectHealth
WellCare
Medicaid Managed Care
Medicare Managed Care
*Please contact the provider's office directly to verify that your particular insurance is accepted.
Contact & Locations
1
180 Fort Washington Avenue
Suite 199
New York, New York 10032
2
601 West 113th Street
Suite 1A
New York, New York 10025
3
51 West 51st Street
Suite 375
New York, New York 10019