Justin S. Golub, MD
Board Certifications:
Otolaryngology, Neurotology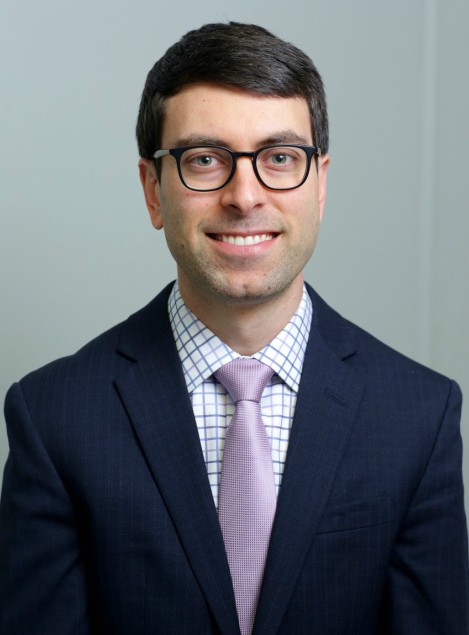 Appointments
Book Online
Participating DocASAP doctors have online booking available without the need for a myColumbiaDoctors account.
Phone Appointments
New and Existing Patients:
For existing patients, login to make an appointment, view documentation or contact your care provider.
Credentials & Experience
Board Certifications
Otolaryngology
Neurotology
Clinical Expertise
Endoscopic Surgery
Otology-Neurotology
Otosclerosis
Vertigo
Otolaryngology
Skull Base Tumors
Skull Base Surgery
Glomus Tumor
Cholesteatoma
Paraganglioma
Cochlear Implantation
Pediatric Otology
Stapedectomy
Stereotactic Radiosurgery
Tinnitus
Acoustic Neuroma
Bell's Palsy
Chordoma Tumor
Dizziness
Ear Drum Repair
Ear Infection
Ear Laser Surgery
Ear Surgery
Facial Nerve Disorders
Facial Nerve Surgery
Gamma Knife Radiosurgery
Tympanic Membrane Repair
Hearing Loss
Hemifacial Spasm
Implantation of Hearing Device In Temporal Bone
Mastoid Surgery
Meniere's Disease
Meningioma
Middle Ear Disease
Otitis Media
Specialties
Education & Training
MD, Emory University School of Medicine
Residency: University of Washington Medical Center
Fellowship: University of Cincinnati Medical Center
Honors & Awards
2015 Poster Award - American Academy of Audiology Annual Meeting, San Antonio, TX
2007 Best Poster Award - Honorable mention, Voice Foundation Annual Symposium, Philadelphia, PA
About Justin Golub
As a physician at Columbia, Dr. Golub is able to collaborate with a wide variety of renowned specialists to bring multiple areas of expertise to patient care.
Justin S. Golub, MD is an otologist/neurotologist, a specialist of the ear and the surrounding skull base. He provides both medical and surgical treatment of common disorders as well as rare, complex conditions. One of Dr. Golub's passions is introducing cutting edge treatments to the practice of otology, such as endoscopic ear surgery. He is actively engaged in clinical and translational research to improve patient care and outcomes.
Dr. Golub completed his medical training at Emory University School of Medicine, where he spent an additional year performing research in regenerative medicine at the Georgia Institute of Technology. He then pursued Otolaryngology-Head and Neck Surgery training at the University of Washington in Seattle, where he had additional research training on an NIH T32 grant. Afterwards, he completed a two-year accredited fellowship in Otology, Neurotology, and Skull Base Surgery at the University of Cincinnati and Cincinnati Children's Hospital Medical Center. A native New Yorker, Dr. Golub is excited to take care of patients at Columbia after spending seventeen years away in school and training.
Dr. Golub's practice is focused on disorders of the ears and surrounding structures of the skull. This includes hearing loss, infectious ear disease, inner ear balance problems, tumors, and skull base conditions such as vestibular schwannoma (acoustic neuroma).
He is actively involved in researching new techniques and technologies. Several areas of interest include minimally invasive and endoscopic ear surgery, cochlear implants and other implantable ear prostheses, and regenerative techniques such as gene therapy for hearing loss. Dr. Golub is also interested in age-related hearing loss.
He is the author of more than 30 peer-reviewed publications in otolaryngology and 20 book chapters. He has also co-edited three books, including a best-selling training guide.
As a physician at Columbia, Dr. Golub is able to collaborate with a wide variety of renowned specialists to bring multiple areas of expertise to patient care. For ear disorders, he works with audiologists, balance therapists, neurologists, and oral surgeons. For skull base disorders, he works closely with neurosurgery, radiation oncology, neuroradiology, and medical oncology.
Dr. Golub would be excited to meet you at either of his clinical locations in Riverdale, Bronx or at the main Columbia University Medical Center campus.
Academic Titles
Assistant Professor of Otolaryngology—Head & Neck Surgery
Committee/Societies/Council Memberships
2015-present, American Cochlear Implant Alliance
2015-present, American Auditory Society
2014-present, American Neurotology Society
2014-present, North American Skull Base Society
2013-present, Acoustic Neuroma Association
2010-present, Association for Research in Otolaryngology
2008-present, American Academy of Otolaryngology—Head and Neck Surgery
2007-present, American College of Surgeons
2004-present, American Medical Association
2001-present, Phi Beta Kappa Society
2012-2013, Society for Neuroscience
2004-2008, Tissue Engineering and Regenerative Medicine International Society
2002-2004, Tissue Engineering Society International
Hospital Affiliations
NewYork-Presbyterian/Lawrence Hospital
NewYork-Presbyterian/Columbia
NewYork-Presbyterian/Morgan Stanley Children's Hospital
Insurance Accepted
For billing questions, please call (212) 305-1972.
Aetna
EPO
HMO
Medicare Managed Care
NY Signature
POS
PPO
Signature Administrators
Student Health
Affinity
Access (Exchange)
Essential Plan
Medicaid Managed Care
Cigna
EPO
Great West
HMO
POS
PPO
Emblem/HIP
ConnectiCare
EPO
Essential Plan
HMO
Medicaid Managed Care
POS
PPO
Select Care (Exchange)
Vytra
Empire Blue Cross Blue Shield
Blue Priority
EPO
HMO
Medicare (Mediblue)
NYP Employee Plan
Pathway (Exchange)
POS
PPO
Empire Blue Cross Blue Shield HealthPlus
Child/Family Health Plus
Essential Plan
Medicaid Managed Care
Fidelis Care
Child/Family Health Plus
Medicaid Managed Care
Healthfirst
Child/Family Health Plus
Medicaid Managed Care
Local 1199
MagnaCare
Multiplan
POMCO
UnitedHealthcare
Columbia University Employee Plan
Compass (Exchange)
EPO
HMO
Medicaid (Community Plan)
POS
PPO
*Please contact the provider's office directly to verify that your particular insurance is accepted.
Contact & Locations
1
180 Fort Washington Avenue
New York, New York 10032
2
3050 Corlear Avenue
Suite 202
Bronx, New York 10463
Research
Research Interests
Age-related hearing loss
Cochlear implantation in older adults
Endoscopic and minimally invasive approaches to the ear and skull base
Hair cell regeneration for sensorineural hearing loss
Bioengineered prostheses for vestibular disorders and sensorineural hearing loss
Selected Publications
Selected Books:
Pasha R, Golub JS, eds. Otolaryngology—Head and Neck Surgery: Clinical Reference Guide, 4th ed. San Diego, CA: Plural Publishing. 2014.
Golub JS, Schmitt NC, eds. Otolaryngology Surgical Instrument Guide. San Diego, CA: Plural Publishing. 2012.

Selected Scientific Papers:
Golub, JS. Building an endoscopic ear surgery program. Curr Opin Otolaryngol Head Neck Surg. 2016.
Golub JS, Weber JD, Leach J, Zuccarello M, Pensak ML, Samy RN. Feasibility of the ultrasonic bone aspirator in retrosigmoid vestibular schwannoma removal. Otolaryngol Head Neck Surg. 2015. 153(3):427-32.
Weber JD, Samy RN, Nahata A, Zuccarello M, Pensak ML, Golub JS. Reduction of bone dust dispersion with an ultrasonic bone aspirator: implications for retrosigmoid vestibular schwannoma removal. Otolaryngol Head Neck Surg. 2015. 152(6): 1102-1107.
Phillips JO, Ling L, Nie K, Jameyson E, Phillips CM, Nowack AL, Golub JS, Rubinstein JT. Vestibular implantation and longitudinal electrical stimulation of the semicircular canal afferents in human subjects. J Neurophysiol. 2015. 113(10): 3866-3892.
Golub JS, Sharma A, Samy RN. A smartphone-optimized website for conveniently viewing otolaryngology journal abstracts. Otolaryngol Head Neck Surg. 2014. 151(6): 972-975.
Golub JS, Ling L, Bierer SM, Nie K, Nowack A, Shepherd SJ, Bierer SM, Jameyson E, Kaneko CR, Phillips JO, Rubinstein JT. Prosthetic implantation of the human vestibular system. Otol Neurotol. 2014. 35(1): 136-147.
Golub, JS, Nguyen T, Tong L, Hume C, Palmiter RD, Rubel EW, Stone, JS. Hair cell replacement in adult mouse utricles after targeted ablation of hair cells with diphtheria toxin. J Neurosci. 2012. 32(43): 15093-15105.
Golub JS, Won JH, Drennan WR, Worman TD, Rubinstein JT. Spectral and temporal measures in Hybrid cochlear implant users: on the mechanism of electroacoustic hearing benefits. Otol Neurotol. 2012. 33(2): 147-153.
Levenberg S, Golub JS, Amit M, Itskovitz-Eldor J, Langer R. Endothelial cells derived from human embryonic stem cells. Proc Natl Acad Sci. 2002. 99(7): 4391-4396.