Michael G. Kaiser, MD, FACS
Expertise in:
Spine Surgery, Brain & Spinal Tumors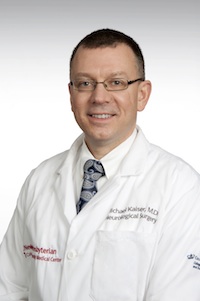 Appointments
Phone Appointments
New and Existing Patients:
For existing patients, login to make an appointment, view documentation or contact your care provider.
Credentials & Experience
Clinical Expertise
Spine Surgery
Brain & Spinal Tumors
Scoliosis
Scoliosis Fusion
Scoliosis Surgery
Cervical Pain (Neck)
Herniated Disc Surgery
Spinal Cord Injury
Benign Tumor of Spinal Cord
Cervical Spinal Stenosis
Kyphosis
Cervical Disc Herniation
Congenital Abnormalities
Cervical Spine Disease
Spinal Tumors
Cervical Fusion
Congenital Anomalies of Spine
Degenerative Cervical Spinal Stenosis
Back Pain
Stenosis
Neck Pain, Acute
Herniated Cervical Disc
Sciatica
Neck and Lumbar Spine Problems
Neck & Back Injuries
Herniated Disc, Cervical
Revision Spine Surgery
Spine (all aspects)
Low Back and Neck Pain
Trauma Reconstruction
Radiculopathy
Disorder of Intervertebral Disc
Spinal Stenosis
Low Back & Neck Pain
Spine Disorder
Spine Instrumentation Surgery
Artificial Disc Replacement
Lumbar Spine Trauma
Head and Neck Surgery
Arthritis of the Back
Neurosurgery
Minimally Invasive Spine Surgery
Lumbar Spinal Disorders
Head and Neck Reconstruction
Arthritis of the Neck
Neck Surgery
Cervical Neck Pain
Lumbar Herniated Disc
Head and Neck Cancers
Minimally Invasive Neurosurgery
Spine Cancer
Cervical Spinal Disorders
Lumbar Decompression
Head and Neck Cancer Surgery
Minimally Invasive Procedures
Spine Care
Cervical Spine Surgery
Herniated Lumbar Intervertebral Disc
Head and Neck Cancer
Minimally Invasive Techniques
Traumatic Spine Stabilization
Chiari Malformation
Degenerative Lumbar Spine Disorders
Head & Neck Tumors
Bulging Disc
Trauma Surgery
Complex Spine Surgery
Degenerative Lumbar Spinal Stenosis
Reconstructive Surgery
Disc Herniations
Trauma
Spine Surgery
Low Back Pain
Reconstructive Microsurgery
Disc Surgery
Tethered Cords
Complex Spine Instrumentation
Neck and Back Pain
Stenosis of Lumbosacral Spine
Microdiscectomy
Arnold-Chiari Malformation
Surgery
Spinal Instrumentation
Neck Pain
Spine Fractures
Lumbar Pain
Spondylolisthesis
Spinal Cord Tumor
Spinal Surgery
Tethered Cord Syndrome
Spinal Stenosis of Lumbar Region
Spine Tumors
Spine Fusion Surgery
Spinal Stenosis, Thoracic
Tethered Cord
Ankylosing Spondylitis
Spine Trauma
Degenerative Spine Disease
Spinal Stenosis Surgery
Spinal Neurosurgery
Spine Deformity
Lower Back Pain
Spinal Stenosis of Thoracic Region
Spinal Fusions
Spine Disorders
Lumbar Disc Herniation
Spinal Pain
Spinal Disorder
Spine Injuries
Microsurgery of the Spine
Spinal Neurological Surgery
Spinal Deformity
Spine Pain
Minimally Invasive Spine Techniques
Spinal Injury
Spinal Decompression
Spine Problems
Cervical and Lumbar Spine Surgery
Spinal Fusion
Spinal Arthritis
Artificial Disc
Cervical Disc Herniations
Spinal Fracture
Second Opinion
Complex Spinal Surgery
Vascular Malformation
Spinal Disorders
Minimally Invasive Cervical Spinal Surgery
Neck/Cervical Spine Surgery
Cervical & Lumbar Spine Surgery
Spinal Disease
Reconstructive Spine Surgery
Degenerative Spinal Disorder
Arthritis of Spine
Spinal and Head Injuries
Cervical Cancer
Disc Disorder
Arachnoid Cyst
Spinal Access Surgery
Minimally Invasive Surgery
Disc Replacement
Adult Scoliosis Surgery
Minimally Invasive Spinal Fusions
Cervical Herniated Disc
Herniated Disc
Congenital Spinal Malformation
Malignant Tumor of Spinal Cord
Specialties
Education & Training
Yale University School of Medicine
Internship: NewYork-Presbyterian Hospital/Columbia University Medical Center
Residency: NewYork-Presbyterian Hospital/Columbia University Medical Center
Fellowship: Emory University Hospital, GA
About Michael Kaiser
Dr. Kaiser is a board certified neurosurgeon and faculty member of the Neurosurgical Department at Columbia University with advanced subspecialty training in complex spinal surgery. Dr. Kaiser's clinical interests include cervical spondylotic myelopathy, cervical and lumbar degenerative disease, minimally invasive spine surgery, spine and spinal cord tumors. His research interests clinical guideline development, evidence based treatment algorithms, and clinical outcome analysis.
Dr. Kaiser is the Medical Director of the Valley Hospital Spine Center in New Jersey. He is an active member of numerous professional organizations including the American Association of Neurological Surgery, the Congress of Neurological Surgery, the AANS Joint Section on Spine & Peripheral Nerve, and the American College of Surgeons. He is presently a member of the editorial board for the Journal of Neurosurgery: Spine. He is an active member of the clinical guidelines committee of the Joint Section of Spine & Peripheral Nerve. Dr. Kaiser also serves as an ad hoc reviewer of two nationally recognized peer-reviewed spine journals. Dr. Kaiser has had over 75 publications accepted as peer reviewed clinical articles, book chapters, and meeting abstracts.
Academic Titles
Associate Professor of Neurological Surgery at CUMC
Administrative Positions
Associate Director, Spine Center
Hospital Affiliations
NewYork-Presbyterian/Columbia
Insurance Accepted
Aetna
EPO
HMO
NY Signature
POS
PPO
Signature Administrators
Student Health
Cigna
EPO
Great West
HMO
POS
PPO
Empire Blue Cross Blue Shield
Blue Priority
EPO
HMO
NYP Employee Plan
POS
PPO
UnitedHealthcare
Columbia University Employee Plan
EPO
HMO
POS
PPO
*Please contact the provider's office directly to verify that your particular insurance is accepted.
Contact & Locations
1
710 West 168th Street
New York, New York 10032
Research
Research Interests
Development of Motion Preservation Technology
Evidence based Treatment Algorithms
Clinical Outcome Analysis
Computer Simulation of the Cervical Spine
Grants
PROSPECTIVE RANDOMIZED CLINICAL INVESTIGATION OF THE SECURE (TM)-C CERVICAL ARTIFICIAL DISC: A PIVOTAL STUDY (P&S Industry Clinical Trial)

Mar 22 2006 - Sep 30 2010
KNOWLEDGE-BASED GENERATION OF PATIENT-SPECIFIC 3D MODELS OF THE CERVICAL SPINE (Private)

Jul 20 2007 - Jul 19 2009