Naiyer A. Rizvi, MD
Expertise in:
Medical Oncology, Lung Cancer, Esophageal Cancer, Cancer Care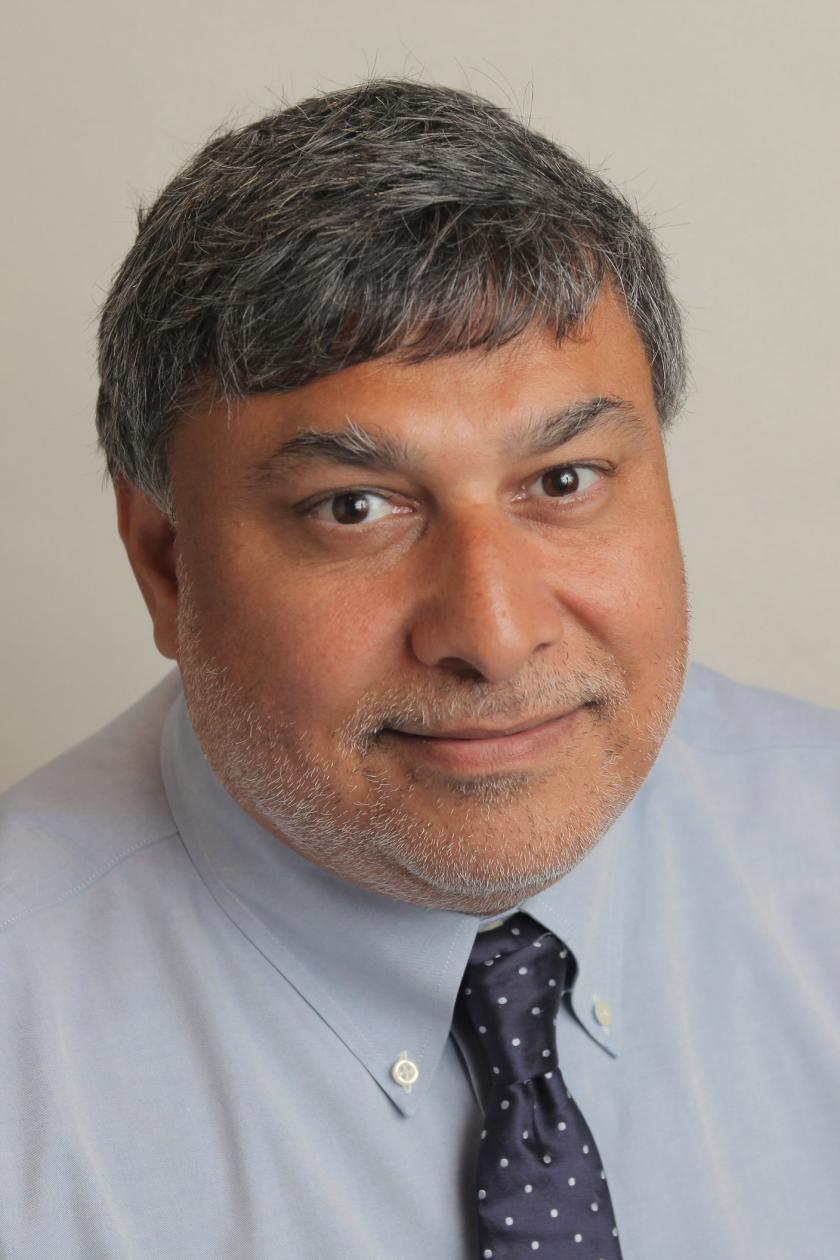 Appointments
For existing patients, login to make an appointment, view documentation or contact your care provider.
Credentials & Experience
Clinical Expertise
Lung Cancer
Esophageal Cancer
Cancer Care
Medical Oncology
Thoracic Oncology
Mesothelioma
Immunotherapy
Education & Training
MD, University of Manitoba Faculty of Medicine (Canada)
Residency: University of Manitoba Affiliated Hospital
Fellowship: Beth Israel Deaconess Medical Center/Harvard Medical School
About Naiyer Rizvi
Dr. Rizvi is the Price Family Professor of Medicine and Director of Thoracic Oncology as well as Co-Director of Cancer Immunotherapy at Columbia University Irving Medical Center. He is also the Research Director of the Price Family Comprehensive Center for Chest Care at New York-Presbyterian Hospital.
He is an internationally recognized leader in the treatment of lung cancer and immunotherapy drug development. His early clinical trial research played a significant role in the FDA approval of immune checkpoint inhibitors, for melanoma and lung cancer. His research focus is studying mechanisms of sensitivity and resistance to immunotherapy. Through genetic testing of tumors, he has been able to improve the understanding of why immune checkpoint inhibitors work in certain patients and why others do not respond.
He conducts clinical studies of novel immunotherapy drugs and immunotherapy combinations to help more patients in the fight against cancer. He receives funding from the National Institute of Health and Stand Up to Cancer for his research and his work has been published in high impact journals including Science, Nature and New England Journal of Medicine.
Academic Titles
Professor of Medicine at CUMC
Hospital Affiliations
NewYork-Presbyterian/Columbia
NewYork-Presbyterian/Lawrence Hospital
Insurance Accepted
Aetna
EPO
HMO
Medicare Managed Care
NY Signature
NYP Employee Plan
POS
PPO
Signature Administrators
Student Health
Affinity
Essential Plan
Medicaid Managed Care
Cigna
EPO
Great West
HMO
POS
PPO
Emblem/GHI
Medicare Managed Care
PPO
Emblem/HIP
ConnectiCare
EPO
Essential Plan
HMO
Medicaid Managed Care
Medicare Managed Care
POS
PPO
Select Care (Exchange)
Vytra
Empire Blue Cross Blue Shield
Blue Access (Exchange)
EPO
Gatekeeper (Exchange)
HMO
Medicare Managed Care
Pathway (Exchange)
POS
PPO
Empire Blue Cross Blue Shield HealthPlus
Child/Family Health Plus
Essential Plan
Medicaid Managed Care
Fidelis Care
Child/Family Health Plus
Medicaid Managed Care
Medicare Managed Care
Healthfirst
Child/Family Health Plus
Leaf (Exchange)
Medicaid Managed Care
Medicare Managed Care
Oxford Health Plans
Freedom
Liberty
Medicare Managed Care
UnitedHealthcare
Columbia University Employee Plan
Compass (Exchange)
Essential Plan
HMO
Medicaid (Community Plan)
Medicare Managed Care
POS
PPO
VNSNY CHOICE
Medicare Managed Care
SelectHealth
WellCare
Medicaid Managed Care
Medicare Managed Care
*Please contact the provider's office directly to verify that your particular insurance is accepted.
Contact & Locations
1
161 Fort Washington Avenue
New York, New York 10032
2
177 Fort Washington Avenue
New York, New York 10032
Research
Grants
TOWARDS PRECISION IMMUNOONCOLOGY: UNRAVELING THE GENOMICDETERMINANTS AND MECHANISMS UNDERLYING IMMUNOTHERAPY SENSITIVITY AND RESISTANCE (Federal Gov)

Sep 1 2018 - Aug 31 2025
A PHASE I/II, OPEN-LABEL, TWO PART STUDY OF GSK3359609 IN COMBINATION WITH TREMELIMUMAB IN PARTICIPANTS WITH SELECTED, ADVANCED SOLID TUMORS (P&S Industry Clinical Trial)

Jan 24 2019 - Jan 24 2024
A PHASE II, OPEN LABEL, RANDOMIZED, NON-COMPARATIVE TRIAL OF NIVOLUMAB ALONE OR IN COMBINATION WITH IPILIMUMAB FOR THE TREATMENT OF PATIENTS WITH ADVANCED HYPERMUTATED SOLID TUMORS DETECTED BY A BLOOD BASED ASSAY. (P&S Industry Clinical Trial)

Nov 20 2018 - Nov 20 2023
A RANDOMIZED, PHASE 3, OPEN-LABEL STUDY OF COMBINATIONS OF REGN2810 (ANTI-PD-1 ANTIBODY), PLATINUM-BASED DOUBLET CHEMOTHERAPY, AND IPILIMUMAB (ANTI-CTLA-4 ANTIBODY) VERSUS PEMBROLIZUMAB MONOTHERAPY IN FIRST-LINE TREATMENT OF PATIENTS (P&S Industry Clinical Trial)

Aug 28 2018 - Aug 28 2023
A PHASE I OPEN LABEL STUDY OF GSK3359609 ADMINISTERED ALONE AND IN COMBINATION WITH ANTICANCER AGENTS IN SUBJECTS WITH SELECTED ADVANCED SOLID TUMORS (P&S Industry Clinical Trial)

Jun 22 2018 - Jun 22 2023
AN OPEN-LABEL, MULTI-DRUG, BIOMARKER-DIRECTED, MULTI-CENTRE PHASE II UMBRELLA STUDY IN PATIENTS WITH NON-SMALL CELL LUNG CANCER, WHO PROGRESSED ON AN ANTI-PD-1/PD-L1 CONTAINING THERAPY (HUDSON). (P&S Industry Clinical Trial)

Jun 15 2018 - Jun 15 2023
A PHASE III, DOUBLE-BLINDED, MULTICENTER, RANDOMIZED STUDY EVALUATING THE EFFICACY AND SAFETY OF NEOADJUVANT TREATMENT WITH ATEZOLIZUMAB OR PLACEBO IN COMBINATION WITH PLATINUM-BASED CHEMOTHERAPY IN PATIENTS WITH RESECTABLE STAGE II, IIIA, OR SELECT IIIB (P&S Industry Clinical Trial)

Mar 6 2018 - Mar 6 2023
A PHASE IB/II, OPEN-LABEL, MULTICENTER, RANDOMIZED UMBRELLA STUDY EVALUATING THE EFFICACY AND SAFETY OF MULTIPLE IMMUNOTHERAPY-BASED TREATMENT COMBINATIONS IN PATIENTS WITH METASTATIC NON?SMALL CELL LUNG CANCER (MORPHEUS-LUNG) (P&S Industry Clinical Trial)

Feb 5 2018 - Feb 5 2023
A PHASE 1-2, OPEN-LABEL, DOSE-FINDING, PROOF OF CONCEPT, FIRST-IN-HUMAN STUDY TO EVALUATE THE SAFETY, TOLERABILITY, PHARMACOKINETICS, AND PHARMACODYNAMICS OF CX-2009 IN ADULTS WITH METASTATIC OR LOCALLY ADVANCED UNRESECTABLE SOLID TUMORS (P&S Industry Clinical Trial)

Dec 22 2017 - Dec 22 2022
A MULTICENTER STUDY TO EXPLORE THE MECHANISM OF ACQUIRED IMMUNE ESCAPE IN PATIENTS WITH METASTATIC CANCER PROGRESSING ON CHECKPOINT INHIBITOR THERAPY (P&S Industry Clinical Trial)

Nov 28 2017 - Nov 28 2022
A PHASE 1B, OPEN-LABEL, MULTI-CENTER, DOSE (P&S Industry Clinical Trial)

Oct 30 2017 - Oct 30 2022
AN OPEN-LABEL, DOSE-FINDING AND PROOF OF CONCEPT STUDY OF THE PD-L1 PROBODYTM THERAPEUTIC, CX-072, AS MONOTHERAPY AND IN COMBINATION WITH YERVOY (IPILIMUMAB) OR WITH ZELBORAF (VEMURAFENIB) IN SUBJECTS WITH ADVANCED (P&S Industry Clinical Trial)

Mar 21 2017 - Mar 21 2022
ELUCIDATING GENETICS OF RESPONSE TO IMMUNE CHECKPOINT BLOCKADE IN LUNG CANCER (Federal Gov)

Jan 18 2017 - Dec 31 2021
A PHASE 1/1B, OPEN-LABEL, MULTICENTER, REPEAT-DOSE, DOSE- SELECTION STUDY OF CPI-444 AS SINGLE AGENT AND IN COMBINATION WITH ATEZOLIZUMAB IN PATIENTS WITH SELECTED INCURABLE CANCERS (P&S Industry Clinical Trial)

Jun 20 2016 - Jun 20 2021
A PHASE II, NON-COMPARATIVE, OPEN LABEL, MULTI-CENTRE, INTERNATIONAL STUDY OF MEDI4736, IN PATIENTS WITH LOCALLY ADVANCED OR METASTATIC NON-SMALL CELL LUNG CANCER (STAGE IIIB-IV) WHO HAVE RECEIVED AT LEAST TWO PRIOR SYSTEMIC (P&S Industry Clinical Trial)

Mar 24 2015 - Mar 24 2020
PROTOCOL CA209153: A PHASE IIIB/IV SAFETY TRIAL OF NIVOLUMAB (BMS-936558) IN SUBJECTS WITH ADVANCED OR METASTATIC NON-SMALL CELL LUNG CANCER WHO HAVE PROGRESSED DURING OR AFTER RECEIVING AT LEAST ONE PRIOR SYSTEMIC REGIMEN (P&S Industry Clinical Trial)

Mar 3 2015 - Mar 3 2020
A PHASE I/II DOSE ESCALATION AND COHORT EXPANSION STUDY OF THE SAFETY, TOLERABILITY AND EFFICACY OF ANTI-CD27 ANTIBODY (VARLILUMAB) ADMINISTERED IN COMBINATION WITH ANTI-PD-1 (NIVOLUMAB) IN ADVANCED REFRACTORY SOLID TUMORS (P&S Industry Clinical Trial)

Feb 17 2015 - Feb 17 2020
EVALUATION OF ERLOTIB AS A NEOADJUVANT THERAPY IN STAGE III NSCLC PATIENTS WITH EGFR MUTATIONS (EVENT TRIAL) PROTOCOL (P&S Industry Clinical Trial)

Jul 10 2014 - Jul 10 2019
CHARACTERIZING GENETIC AND IMMUNE PREDICTORS OF RESPONSE TO IMMUNOTHERAPY IN PATIENTS WITH SMALL CELL LUNG CANCER (Private)

Aug 2 2017 - Aug 1 2018
TARGETING KRAS MUTANT LUNG CANCERS (Private)

Aug 1 2015 - Jul 31 2018