Quan V. (Donny) Hoang, MD, PhD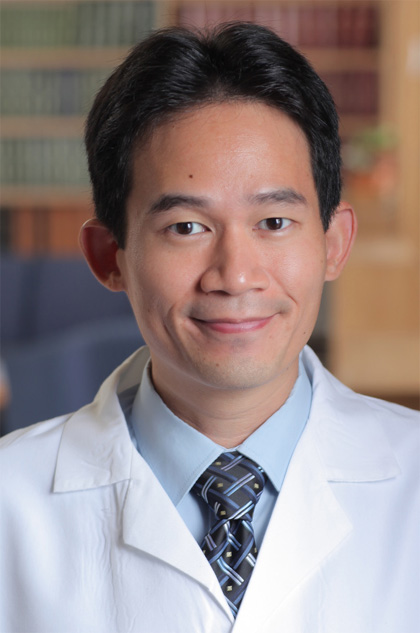 Appointments
Phone Appointments
New and Existing Patients:
For existing patients, login to make an appointment, view documentation or contact your care provider.
Credentials & Experience
Clinical Expertise
Myopia
Retinal Disorders
Retina and Vitreous Surgery
Macular Disorder
Vitreoretinal Disorder
Specialties
Education & Training
University of Illinois College of Medicine
Internship: Northwestern University Hospital
Residency: Eye and Ear Infirmary-University of IL
Fellowship: Columbia University / Vitreous Retina Macula Consultants of NY
Honors & Awards
2014-2019 NIH/NEI, K08 Mentored Clinical Scientist Research Career Development Award
2014-2016 NIH/NEI, R21 Grant, co-investigator
2014-2018 Research to Prevent Blindness Career Development Award
2014-2017 Joseph Connors Private Grant
2013-2016 NIH Clinical LRP Awardee
2013-2016 Louis V. Gerstner Jr. Scholar Career Development Award
2013-2015 K12 Clinical Translational Sciences K12 Mentored Career Development Award
2013-2015 AR Peacock Trust Private Foundation Grant
2013-2015 JR Peacock Trust Private Foundation Grant
2010 Illinois Eye and Ear Infirmary Top Resident Research Award
2009 Top Resident Research Award- Chicago Ophthalmological Society Beem-Fisher Award
2009 Illinois Society for the Prevention of Blindness Research Grant
2006 Outstanding Thesis Award in the Life Sciences, UIC Graduate College
2005 Grass Fellowship in the Neurosciences, Marine Biological Laboratory
2004 National Eye Institute fellowship program: Fundamental Issues in Vision Research
2004 Top Speaker, UTMB National Student Research Forum, Anatomy/Neuroscience
2003 Ruth L. Kirschstein National Research Service Award
2003 Society for Neuroscience/ Eli Lily Graduate Student Award
1996 Northwestern University Undergraduate Research Grant
1996 Shemin Undergraduate Research Fellowship
1993 National Academy of Science, Space & Technology Scholarship
About Quan Hoang
Quan V. Donny Hoang, M.D., Ph.D. is a nationally recognized physician and researcher specializing in the treatment of retinal disorders.
Dr. Hoang went to Northwestern University where he received a triple major with honors in Chemistry, Biology and Integrated Science. He then received his joint M.D. and Ph.D. in Neuroscience from the University of Illinois at Chicago where he was awarded the 2005 Grass Fellowship at the Marine Biological Laboratory and the 2006 Top Thesis award in the Life Sciences before completing his residency at the University of Illinois Eye and Ear Infirmary under Drs. William Mieler and Dmitri Azar. Dr. Hoang completed in fellowship in vitreo-retinal surgery at Columbia University Medical Center and the Vitreous, Retina, Macula Consultants of New York (VRMNY) under the joint direction of Dr. Stanley Chang and Dr. Lawrence Yannuzzi.
Dr. Hoang is a well-published physician scientist with over 40 peer-reviewed articles and over 70 abstracts. His current research projects focus on pathologic myopia, specifically clinical studies employing multimodal imaging to better assess myopic staphyloma progression as well as pre-clinical studies utilizing scleral collagen crosslinking as a novel therapeutic intervention.
Academic Titles
Assistant Professor of Ophthalmology at CUMC
Hospital Affiliations
NewYork-Presbyterian/Columbia
Insurance Accepted
Aetna
EPO
HMO
Medicare Managed Care
NY Signature
POS
PPO
Signature Administrators
Student Health
Cigna
EPO
Great West
HMO
POS
PPO
Emblem/GHI
HMO
Medicare Managed Care
PPO
Emblem/HIP
ConnectiCare
EPO
Essential Plan
HMO
Medicaid Managed Care
Medicare Managed Care
POS
PPO
Select Care (Exchange)
Vytra
Empire Blue Cross Blue Shield
Blue Priority
EPO
HMO
Medicare (Mediblue)
NYP Employee Plan
Pathway (Exchange)
POS
PPO
Medicare
Traditional Medicare (NY)
Oxford Health Plans
Freedom
Liberty
Medicare Managed Care
UnitedHealthcare
Columbia University Employee Plan
Compass (Exchange)
EPO
HMO
Medicare Managed Care
POS
PPO
*Please contact the provider's office directly to verify that your particular insurance is accepted.
Contact & Locations
1
635 West 165th Street
New York, New York 10032
Research
The Hoang laboratory implements a translational research program consisting of:
identifying the type of patients with extreme near-sightedness (pathologic myopia) that are at the greatest risk of permanent vision loss, discovering novel treatments to stunt myopia progression to avoid the vision-threatening changes, and eventually applying these novel treatments to at-risk patients.
Pathologic myopia, or extreme nearsightedness, is a leading cause of blindness and health disparity worldwide. It has been estimated that up to 2.3 billion people are myopic globally and the numbers are rising. Presently, myopia affects at least 33 percent of adults in the United States and as high as 80 percent in Southeast Asia. Although minimal levels of near-sightedness are considered a minor inconvenience, high (pathologic) myopia can lead to irreversible vision loss. Myopia is often due to excessive eye elongation. Pathologic myopia occurs at extreme levels of lifelong, progressive eye elongation and subsequent eye wall (sclera) thinning, which allows for localized outpouchings (called staphyloma). It is a breakdown in the structural integrity of the collagen component in the eye wall that may underlie myopic progression and precede irreversible vision loss.
The first step in identifying pathologic myopia patients at greatest risk of vision loss is to perform multimodal imaging and in vivo biomechanical testing to establish a quantitative measure of the stiffness of the posterior eye wall. This goal is achieved by a combination of imaging modalities such as optical coherence tomography, ultrasonongraphy and magnetic resonance imaging with the eye at rest as well as during biomechanical stress-strain experiments.
Concurrently, novel therapeutic approaches are explored in preclinical studies in animal models where non-light-activated chemicals are applied in vivo to crosslink the collagen in eye walls to act as a mortar, stiffening the wall and stunting eye elongation (and progression of nearsightedness). These two approaches together will arrive at an in vivo quantitative measure to identify the type of pathologic myopia patients that would most benefit from our novel treatment, once animal trials are completed.
Lab Members:
Quan Wen, M.D. (Associate Research Scientist)
Alexander Vu, M.S. (Medical student)
Albert Xing (Graduate student)
Adin Reisner (Graduate student)
Elona Gavazi M.D. (Fellow)
Research Interests
Novel approaches toward the diagnosis and treatment of pathologic myopia.
Scleral collagen-crosslinking
Multimodal imaging (OCT, US, MRI) of staphylomatous pathologic myopia
In vivo measurement of scleral elastic modulus
Grants
NOVEL APPROACHES IN THE THERAPY OF PATHOLOGIC MYOPIA (Federal Gov)

Sep 1 2014 - Aug 31 2019
CAREER DEVELOPMENT AWARD (Private)

Jul 1 2014 - Dec 31 2017
CLINICAL AND TRANSLATIONAL SCIENCE AWARD (Federal Gov)

Sep 30 2006 - Jun 30 2016
Selected Publications
Hoang QV, Chen CL, Garcia-Arumi J, Sherwood PR and Chang S. Radius of curvature changes in spontaneous improvement of foveoschisis in highly myopic eyes. Br J Ophthalmol. 2016 Feb;100(2):222-6.
Jung JJ, Hoang QV, Ridley-Lane ML, Sebrow DB, Dhrami-Gavazi E and Chang S. Long-term Retrospecitve Analysis of Visual Acuity and Optical Coherence Tomographic Changes after Single Versus Double Peeling During Vitrectomy for Macular Epiretinal Membranes. Retina. 2016. (in press)
Rohrbach D, Hoang QV, Wen Q, McFadden SA, Silverman RH, Mamou J. Fine-resolution elastic-property maps of myopic sclera by means of acoustic microscopy. Ultrasonics Symposium, IEEE International. 2015:1- 4.
Piekutowska-Abramczuk D, Kocyła-Karczmarewicz B, et al. Hoang QV, Silverman RH… Schon EA  and Pronicka E. No Evidence for Association of SCO2 Heterozygosity with High-Grade Myopia or Other Diseases with Possible Mitochondrial Dysfunction. J Inherited Metab Dis Rep. 2015 Oct 2. [Epub ahead of print]
Dolz-Marco R, Hoang QV, Gallego-Pinazo R and Chang S. Assessment of the Significance of Cystic Changes after Epiretinal Membrane Surgery with Internal Limiting Membrane Removal. Retina. 2015 Oct 7. [Epub ahead of print].
Jung JJ, Hoang QV, Arain MZ and Chang S. Aflibercept Anti-Vascular Endothelial Growth Factor Therapy in Vitrectomized Eyes with Neovascular Age-Related Macular Degeneration. Acta Ophthalmol. 2015 Sep 24. [Epub ahead of print]
Freund KB, Hoang QV, Saroj N and Thompson D. Intraocular Pressure in Patients with Neovascular Age-Related Macular Degeneration Receiving Intravitreal Aflibercept or Ranibizumab. Ophthalmology 2015 Sep;122:1802-10.
Hoang QV and Freund KB. Reply: Utility of the "Pitchfork Sign" in Choroidal Neovascular Membrane Secondary to Choroidal Osteoma. Retina. 2015 Mar;35(3):e24.
Pang CE, Mrejen S, Hoang QV, Sorenson JA and Freund KB. Association between needle size, post-injection reflux, and intraocular pressure spikes following intravitreal injections. Retina. 2015 Jul;35(7):1401-6.
Sepulveda G, Chang S, Freund KB, Park S and Hoang QV. Late Recurrence of Myopic Foveoschisis After Successful Repair with Primary Vitrectomy and Membrane Peeling. Retina. 2014 Sep;34(9):1841-7.
Li Y, Wu WH, Hsu CW, Nguyen HV, Tsai YT, Chan L, Nagasaki T, Maumenee IH, Yannuzzi LA, Hoang QV, Hua H, Egli D, Tsang SH. Gene Therapy in Patient-specific Stem Cell Lines and a Preclinical Model of Retinitis Pigmentosa With Membrane Frizzled-related Protein Defects. Mol Ther. 2014 Sep;22(9):1688-97.
Rahimy E, Freund KB, Larsen M, Spaide RF, Costa RA, Hoang Q, Christakopoulos C, Munch IC, Sarraf D. Multilayered Pigment Epithelial Detachment in Neovascular Age-Related Macular Degeneration. Retina. 2014 Jul;34(7):1289-95.
Kim M, Takaoka A, Hoang QV, Trokel SL and Paik DC. Pharmacologic alternatives to riboflavin photochemical corneal cross-linking: a comparison study of cell toxicity thresholds. Invest Ophthalmol Vis Sci. 2014 Apr 10;55(5):3247-57.
Hoang QV, Jung JJ, Mrejen S and Freund KB. Influence of Axial Length and Degree of Injection Reflux on Sustained Intraocular Pressure Elevation Due to Intravitreal Anti-Vascular Endothelial Growth Factor Therapy. Retina. 2014 Mar;34(3):519-24.
Hu J, Hoang QV, Chau FY, Blair MP and Lim JI. Intravitreal Anti-Vascular Endothelial Growth Factor for Choroidal Neovascularization in Ocular Histoplasmosis. Retinal Cases and Brief Reports. 2014:8(1):24-9.
Warrow D, Hoang QV and Freund KB. Pachychoroid Pigment Epitheliopathy. Retina. 2013 Sep;33(8):1659-72.
Hoang QV, Cunningham ET, Sorenson JA and Freund KB. The "Pitchfork Sign" – A Distinctive Optical Coherence Tomography Finding in Inflammatory Choroidal Neovascularization. Retina. 2013 May;33:1049-55.
Chang S, Gregory-Roberts E, Laud KL, Park S and Hoang QV. The Charles L. Schepens Lecture: Is Double Peeling Necessary in Vitrectomy for Macular Pucker? JAMA Ophthalmol. 2013 Apr 1;131(4):525-30.
Hoang QV, Gallego-Pinazo R and Yannuzzi LA. Long-term Follow-up of Acute Zonal Occult Outer Retinopathy. Retina. 2013. (in press)
Hoang QV, Tsuang AJ, Gelman R, Mendonca LS, DellaTorre KE, Jung JJ and Freund KB. Clinical Predictors of Sustained Intraocular Pressure Elevation from Intravitreal Anti-VEGF Therapy for Neovascular AMD. Retina. 2013 Jan;33(1):179-87.
Hoang QV, Savinsky-Strauss D and Freund KB. Imaging in the Diagnosis and Management of Acute Idiopathic Maculopathy. Int Ophthalmol Clin. 2012 Fall;52(4):263-8.
Hoang QV, Mendonca LS, DellaTorre KE, Jung JJ, Tsuang AJ and Freund KB. Multivariate Analysis of Clinical Predictors of Sustained Intraocular Pressure Elevation from Intravitreal Anti-VEGF Therapy for Neovascular AMD. Ophthalmology. 2012 Feb;119(2):321-6.
Hoang QV, Freund KB, Klancnik JM, Sorenson JA, Cunningham ET and Yannuzzi LA. Focal Retinal Phlebitis. Retina. 2012 Jan;32(1):120-6.
Hoang QV, Chau FY, Blair MP and Shapiro MJ. Nasal Dragging of the Retina and Temporal Arcades in Retinopathy of Prematurity. Retinal Cases and Brief Reports. Spring 2011:5(2):165-166.
Hoang QV, Chau FY, Shahidi M and Lim JI. Central Macular Splaying and Outer Retinal Thinning in Asymptomatic Sickle Cell Patients by Spectral Domain Optical Coherence Tomography. Am J Ophth. 2011 Jun;151(6):990-994.e1.
Hoang QV, Blair MP, Rahmani B, Galasso JM and Shapiro MJ. Multiple Retinal Holes and Peripheral Nonperfusion in Muscle-Eye-Brain Disease. Arch Ophthalmol. 2011 Mar;129(3):373-5.
Hoang QV, Chau FY, Shahidi M, Miller MT and Blair MP. Macular Thinning Associated with Unilateral Optic Nerve Hypoplasia. Ophthalmic Surg Lasers Imaging. 2011 Feb 1;42:e6-9.
Hoang QV, Simon DM and Goldstein DA. Approach to Recurrent CMV Disease and Antiviral Resistance. Graefes Arch Clin Exp Ophthalmol. 2011 Jan;249(1):149.
Hoang QV, Blair MP and Shapiro MJ. Anomalous Retinal Vasculature in a Patient with a History of Aortic Coarctation. Retinal Cases and Brief Reports. Winter 2011:5(1):79-81.
Hoang QV, Kiernan DF, Chau FY, Shapiro MJ and Blair MP. Fluorescein Angiography of Recurrent Retinopathy of Prematurity after Initial Intravitreal Bevacizumab. Arch Ophthalmol. 2010 Aug;128(8):1080-1.
Hoang QV, Simon DM, Kumar GN, Oh F and Goldstein DA. Recurrent CMV Retinitis in a Non-HIV Patient with Drug-Resistent CMV. Graefes Arch Clin Exp Ophthalmol. 2010 May;248(5):737-40.
Hoang QV, Qian H and Ripps H. Functional Analysis of Hemichannels and Gap-Junctional Channels Formed by Connexins 43 and 46. Molecular Vision. 2010 Jul 15;16:1343-52.
Bajic D, Hoang QV, Nakajima S, and Nakajima Y. Dissociated histaminergic neuron cultures from the tuberomammillary nucleus of rats: culture methods and ghrelin effects. J Neurosci Methods. 2004; 132:177-184.
Hoang QV, Zhao P, Nakajima S, and Nakajima Y. Orexin (Hypocretin) Effects on Constitutively Active Inward Rectifier K+ Channels in Cultured Nucleus Basalis Neurons. J Neurophysiology. 2004; 92:3183-91.
Hoang QV, Bajic D, Yanagisawa M, Nakajima S, and Nakajima Y. Effects of Orexin (Hypocretin) on GIRK Channels. J Neurophysiology. 2003; 90:693-702.
Hoang QV, Linsenmeier RA, Chung CK, and Curcio CA. Photoreceptor Inner Segments in Monkey and Human Retina: Mitochondrial Density, Optics, and Regional Variation. Visual Neuroscience. 2002;19:395-407. (cover)