Richard C. E. Anderson, MD
Expertise in:
Pediatric Neurological Surgery, Spine Surgery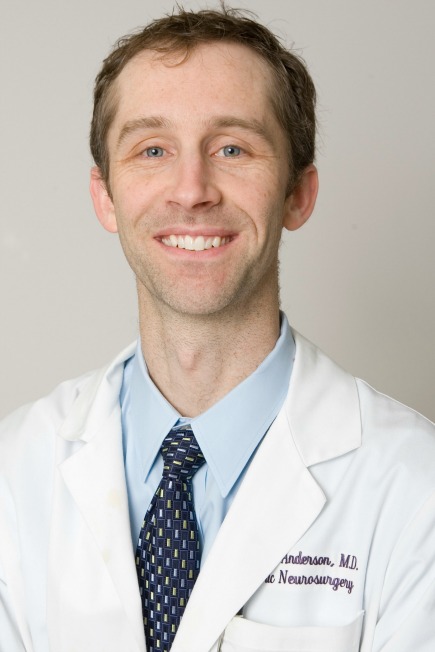 Appointments
Phone Appointments
New and Existing Patients:
For existing patients, login to make an appointment, view documentation or contact your care provider.
Credentials & Experience
Clinical Expertise
Spine Surgery
Pediatric Neurological Surgery
Complex Spine Instrumentation
Spinal Fracture
Hydrocephalus
Brain Stem Glioma
Lower Back Pain
Neuromuscular Scoliosis
Spinal Decompression
Herniated Disc Surgery
Brain Cancer
Spine Tumors
Cervical Fusion
Skull Base Tumors
Herniated Disc
Brain Abscess
Cervical Disc Herniation
Complex Spinal Surgery
Skull Base Surgery
Hemangioblastoma
Biopsies
Congenital Spinal Malformation
Spine Surgery
Shunts
Head Trauma
Back Pain
Cervical & Lumbar Spine Surgery
Cervical Neck Pain
Revision Spine Surgery
Gliomas
Astrocytoma
Spinal Neurosurgery
Complex Spine Surgery
Reconstructive Spine Surgery
Glioblastoma Multiforme
Arteriovenous Malformation (AVM)
Spondylolisthesis
Vascular Malformation
Radiosurgery
Gamma Knife Radiosurgery
Arteriovenous Fistula
Pediatric Spine Surgery
Neurosurgery
Pituitary Tumors
Gamma Knife
Anaplastic Astrocytoma
Scoliosis
Vascular Radiology
Pituitary Surgery
Endoscopic Procedures
Achondroplasia
Scoliosis Fusion
Traumatic Brain Injury
Pituitary Disease
Endoscopic Neurosurgery
Spine Trauma
Tethered Cords
Pineal Tumor
Endoscopic Craniopharyngioma Surgery
Spinal Cord Tumor
Syringomyelia
Pediatric Spine Deformities
Dural Arteriovenous Malformation
Pediatric Neurological Surgery
Stereotactic Surgery
Pediatric Epilepsy Surgery
Disorder of Intervertebral Disc
Spinal Disorder
Stereotactic Radiosurgery
Pediatric Aneurysms
Craniotomy
Adolescent Idiopathic Scoliosis
Stereotactic Neurosurgery
Neurological Surgery
Craniosynostosis
Cervical Spine Surgery
Stenosis
Neck/Cervical Spine Surgery
Craniopharyngioma Surgery
Trigeminal Neuralgia Surgery
Spondylisthesis
Neck Surgery
Craniofacial Surgery
Trauma Surgery
Spine Problems
Neck and Lumbar Spine Problems
Congenital Anomalies of Spine
Trauma
Spine Pain
Minimally Invasive Techniques
Concussion
Second Opinion
Spine Instrumentation Surgery
Minimally Invasive Surgery
Colloid Cyst of Third Ventricle
Pediatric Tumors
Pediatric Cerebral Palsy
Spine Injury
Minimally Invasive Spine Techniques
Childhood Medulloblastoma
Kyphosis
Spine Injuries
Minimally Invasive Spine Surgery
Cervical Pain (Neck)
Juvenile Scoliosis
Spine Disorder
Minimally Invasive Procedures
Cerebrovascular Malformation
Neurofibromatosis
Spine Cancer
Minimally Invasive Neurosurgery
Cerebrovascular Dural AV Fistula
Minimally Invasive Pediatric Surgery
Spinal Vascular Malformation
Minimally Invasive Brain Surgery
Cerebrovascular Disease
Spinal Cord Injury
Spinal Tumors
Minimally Invasive (Endoscopic) Neurosurgery
Cerebrospinal Fluid Conditions
Scoliosis Surgery
Spinal Surgery
Microvascular Neurosurgery
Cerebral Vascular Malformation
Pediatric Neurosurgery
Spinal Stenosis
Microsurgery of the Spine
Cerebral Vascular Disease
Spinal Deformity
Spinal Instrumentation
Microsurgery
Cerebral Aneurysm & Tumors
Brain Tumor
Spinal Injury
Lumbar Spinal Disorders
Cavernous Malformation
Surgery
Cervical Spinal Disorders
Spinal Fusion
Lumbar Disc Herniation
Brain Tumor Surgery
Pediatric Surgery
Traumatic Spine Stabilization
Vascular Pediatric Neurosurgery
Arachnoid Cyst
Cerebral Palsy
Chiari Malformation
Craniofacial Abnormalities
Head Injury
Medulloblastoma
Moyamoya Syndrome
Pediatric Epilepsy
Pediatric Hydrocephalus
Pediatric Seizures
Pediatric Trauma
Pediatric Brain Tumors
Spasticity
Spina Bifida
Tethered Cord
Spine Deformity
Specialties
Education & Training
Johns Hopkins University School of Medicine
Internship: NewYork-Presbyterian Hospital/Columbia University Medical Center
Residency: NewYork-Presbyterian Hospital/Columbia University Medical Center
Fellowship: Primary Childrens Medical Center, University of Utah
About Richard C. Anderson
After completing his neurosurgical training at Johns Hopkins University, Columbia University and the University of Utah, Dr. Anderson's focus has been exclusively on the care of children. Practicing at one of the top children's hospitals in the country, children receive the best possible care from a multidisciplinary team of dedicated pediatric specialists.
While practicing a broad range of pediatric neurosurgery, Dr. Anderson's research interests in the immunology of pediatric brain tumors and biomechanics of the pediatric spine mirror his extensive clinical training in pediatric brain tumors and spinal disorders. For family convenience, Dr. Anderson sees patients in multiple office locations including Manhattan, NY; Ridgewood, NJ; Paterson, NJ; and Stamford, CT.
Special Interests include pediatric spinal instrumentation ( congenital malformations, trauma and deformity), pediatric spasticity (rhizotomy and Baclofen pumps), brain tumors, and neuroendoscopy.
Academic Titles
Assistant Professor of Neurological Surgery at CUMC
Committee/Societies/Council Memberships
American Association of Neurological Surgeons
Congress of Neurological Surgeons
AANS/CNS Joint Section on Tumors
Hospital Affiliations
NewYork-Presbyterian/Columbia
NewYork-Presbyterian/Morgan Stanley Children's Hospital
Insurance Accepted
Aetna
EPO
HMO
NY Signature
POS
PPO
Signature Administrators
Student Health
Affinity
Essential Plan
Medicaid Managed Care
Cigna
EPO
Great West
HMO
POS
PPO
Empire Blue Cross Blue Shield
Blue Priority
EPO
HMO
NYP Employee Plan
POS
PPO
Healthfirst
Child/Family Health Plus
Medicaid Managed Care
UnitedHealthcare
Columbia University Employee Plan
Compass (Exchange)
EPO
HMO
POS
PPO
*Please contact the provider's office directly to verify that your particular insurance is accepted.
Contact & Locations
1
710 West 168th Street
Suite 2-213
New York, New York 10032
2
1200 East Ridgewood Avenue
Ridgewood, New Jersey 07450
Research
Research Interests
Immunology of pediatric brain tumors
Grants
THE PARK-REEVES SYRINGOMYELIA RESEARCH CONSORTUM PROTOCOL # PR1891 (Private)

Mar 28 2014 - Mar 28 2015
TUMOR ASSOCIATE MONOCYTES/MICROGLIA ARE A REQUISITE TARGET FOR IMMUNOTHERAPY IN MALIGNANT GLIOMAS (Private)

May 1 2012 - Apr 30 2013