Roger Allen Maxfield, MD
Expertise in:
Cancer Care, Lung Cancer, Pulmonary Disease Medicine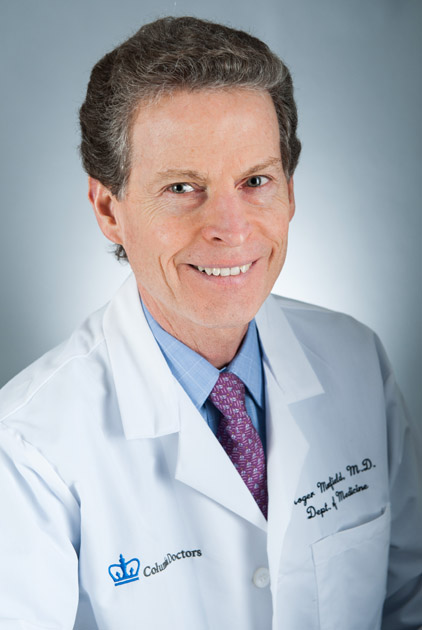 Schedule an Appointment
New and Existing Patients:
Connect Patient Portal
For existing patients, login to make an appointment, view documentation or contact your care provider.
Credentials & Experience
Clinical Expertise
Asthma
Brachytherapy
Chronic Obstructive Pulmonary Disease (COPD)
Electrocautery
Emphysema
Hypertension
Interventional Bronchoscopy
Laser Surgery
Lung Volume Reduction Surgery (LVRS)
Occupational Lung Disease
Pneumonia
Pulmonary Infectious Diseases
Radiation Therapy
Education & Training
Brown University School of Medicine, Providence, RI
Internship: Georgetown University Hospital
Residency: Georgetown University Hospital
Fellowship: Bellevue Hospital
Honors & Awards
USPHS National Health Service Corps Award for dedicated and outstanding service
Ewig Award for outstanding teaching 2011-2012
Fellowship in American College of Physicians
Fellowship in American College of Chest Physicians
Best Doctors in America® 2001-2016 editions
America's Top Doctors®, 9th-14th editions, 2016 editions, 2017 editions
Top Doctors: New York Metro Area, 1st-18th editions, 2017 edition
New York Magazine Best Doctors: 6/5/00, 6/15/09, 6/14/10, 06/13/11, 6/11/12, 5/30/16
New York Super Doctors: 2008-2017
Hall of Fame: 2017
About Roger Maxfield
Dr. Maxfield treats patients with a wide range of pulmonary diseases, including asthma, emphysema, lung cancer, and pulmonary infections. He has a special interest in interventional bronchoscopy including balloon dilatation, stent insertion, brachytherapy (endobronchial radiotherapy), argon plasma coagulation (non-contact electrocautery), and lung volume reduction surgery including bronchoscopic lung volume reduction for advanced emphysema.
Dr. Maxfield is a federally certified B-Reader for interpreting chest x-rays for pneumoconiosis (National Institute of Occupational Safety and Health). He is involved in clinical trials studying bronchoscopic insertion of one-way valves, stents, and coils for treatment of advanced emphysema.
Academic Titles
Professor of Medicine at CUMC
Hospital Affiliations
NewYork-Presbyterian / Columbia University Irving Medical Center
Insurance Accepted
UnitedHealthcare
Columbia University Employee Plan
*Please contact the provider's office directly to verify that your particular insurance is accepted.
Contact & Locations
1
51 West 51st Street
New York, New York 10019
Research
Investigating bronchoscopic lung volume reduction and other bronchoscopic treatments for advanced emphysema
Research Interests
Bronchoscopic Lung Volume Reductions
Lung Volume Reduction Surgery
Selected Publications
Sterman DH, Mehta AC, Wood DE, Mathur P, McKenna RJ Jr, Ost DE, Truwit JD, Oiaz P, Wahidi MM, Cerfolio R, Maxfield R, Musani AI, Gildea T, Sheski F, Machuzak M, Haas AR, Gonzalez HX, Springmeyer SC, for the mv Valve US Pilot Trial Research Team. A Multicenter Pilot Study of a Bronchial Valve for the Treatment of Severe Emphysema. Respiration 2010; 79:222-233
Phillips M, Altorki N, Austin JH, Cameron RB, Cataneo RN, Kloss R, Maxfield RA, Munawar MI, Pass HI, Rashid A, Rom WN, Schmitt P, Wai J. Detection of lung cancer using weighted digital analysis of breath biomarkers. Clinica Chimica Acta 2008; 393:7684
Lederer OJ, Thomashow BM, Ginsburg ME, Austin JH, Bartels MN, Yip CK, Jellen PA, Brogan FL, Kawut SM, Maxfield RA, DiMango AM, Simonelli PF, Gorenstin LA, Pearson GD, Sonett JR. Lung Volume Reduction Surgery for Pulmonary Emphysema: Improvement of the Body Mass Index, Airflow Obstruction, Dyspnea, and Exercise Capacity Index after One Year. J Thorac Cardiovasc Surg 2007; 133:1434-8
Phillips M, Altorki N, Austin JHM, Cameron RB, Cataneo RN, Greenberg J, Kloss R, Maxfield RA, et al. Prediction of Lung Cancer Using Volatile Biomarkers in Breath. Cancer Biomarkers 2007; 3: 95-109
Maxfield RA. New and Emerging Minimally Invasive Techniques for Lung Volume Reduction. Chest 2004; 125:777-83
Phillips M, Cataneo RN, Cummin ARC, Gagliardi AJ, Gleeson K, Greenberg J, Maxfield RA, and Rom WN. Detection of Lung Cancer with Volatile Markers in the Breath. Chest 2003; 123: 2115-2123
Maxfield RA. Therapeutic bronchoscopy: Advances in managing lung cancer. J Respir Dis 2001; 22:376-385
Lange DJ, Murphy PL, Maxfield RA, Skarvala AM, Riedel G. Management of Patients with Amyotrophic Lateral Sclerosis. J. Neuro Rehab 1994; 8:21-28
Maxfield, RA and Aranda CP. The Value of Fiberoptic Bronchoscopy in the Diagnosis of Pancoast's Tumor. New York State Joumal of Medicine 1987: 87:326-9
Maxfield RA, Sorkin B, Fazzini EP, Rapoport DM, Stetson WM, and Goldring RM. Respiratory Failure in Patients with Acquired Immunodeficiency Syndrome and Pneumocystis Carinii Pneumonia. Crit Care Med 1986; 14:443-9
Frank C. Sciurba, MD; Gerard J. Criner, MD; Charlie Strange, MD; Pallav L. Shah, MD; Gaetane Michaud, MD; Timothy A. Connolly, MD;Gaëtan Deslée, MD; William P. Tillis, MD; Antoine Delage, MD; Charles-Hugo Marquette, MD, PhD; Ganesh Krishna, MD; Ravi Kalhan, MD; J. Scott Ferguson, MD; Michael Jantz, MD; Fabien Maldonado, MD; Robert McKenna, MD; Adnan Majid, MD; Navdeep Rai, MD; Steven Gay, MD; Mark T. Dransfield, MD; Luis Angel, MD; Roger Maxfield, MD; Felix J. F. Herth, MD; Momen M.Wahidi, MD; Atul Mehta, MD; Dirk-Jan Slebos, MD, PhD; for the RENEW Study Research Group. Effect of Endobronchial Coils vs Usual Care on Exercise Tolerance in Patients with Severe Emphysema The RENEW Randomized Clinical Trial. JAMA. 2016;315(20):2178-2189.
Jonas J. Heymann, MD, William A. Bulman, MD, Roger A. Maxfield, MD, Charles A. Powell, MD, Balazs Halmos, MD, Joshua Sonett, MD, Nike T. Beaubier, MD, John P. Crapanzano, MD, Mahesh M. Mansukhani, MD, Anjali Saqi, MD, MBA. Molecular testing guidelines for lung adenocarcinoma: Utility of cell blocks and concordance between fine-needle aspiration cytology and histology samples. CytoJournal 2014;11:12.
Julissa Jurado, MD, Anjali Saqi, MD, MBA, Roger Maxfield, MD, Alexis Newmark, BS, Matt Lavelle, MSE, Matthew Bacchetta, MD, Lyall Gorenstein, MD, Frank Dovidio, MD, Mark E. Ginsburg, MD, Joshua Sonett, MD, and William Bulman, MD. The Efficacy of EBUS-Guided Transbronchial Needle Aspiration for Molecular Testing in Lung Adenocarcinoma. Ann Thorac Surg 2013;96:1196-1202.
Brenner K, Bulman W, Maxfield R. Bronchoscopic Lung Volume Reduction. Lung Health Professional 2013; 3:22-25.
Ginsburg ME, Thomashow BM, Yip CK, DiMango AM, Maxfield RA, Bartels MN, Jellen P, Bulman WA, Lederer D, Brogan FL, Gorenstein LA, Sonett JR. Lung volume reduction surgery using the NETT selection criteria. Ann Thorac Surg 2011; 91:1556-60