Stephen M. Lagana, MD
Expertise in:
Pathology - Anatomic, Gastrointestinal Pathology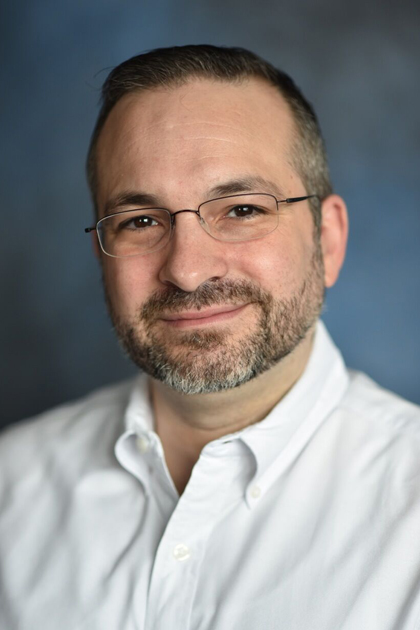 Schedule an Appointment
Connect Patient Portal
For existing patients, login to make an appointment, view documentation or contact your care provider.
Credentials & Experience
Clinical Expertise
Celiac Disease
Hepatocellular Carcinoma
Inflammatory Bowel Diseases (IBD)
Liver Biopsy
Liver Pathology
Liver Tumors
Surgical Pathology
Specialties
Education & Training
Residency: NewYork-Presbyterian Hospital/Columbia University Medical Center
About Stephen Lagana
I am a surgical pathologist with sub-specialty expertise in GI and liver pathology. I am also the Quality Assurance Director for Anatomic Pathology. I graduated from University of Pittsburgh School of Medicine and performed my residency and fellowship at Columbia University.
Email: sml2179@cumc.columbia.edu
Academic Titles
Associate Professor of Pathology & Cell Biology at CUMC
Committee/Societies/Council Memberships
USCAP
CAP
Roger Haggitt GI Pathology Society
NY Path Society
Hospital Affiliations
NewYork-Presbyterian / Columbia University Irving Medical Center
Insurance Accepted
Aetna
EPO
HMO
Medicare Managed Care
NYP Employee Plan
NY Signature
POS
PPO
Signature Administrators
Student Health
AgeWell
Medicare Managed Care
Special Needs Plan
Capital District Physician Health Plan
Capital District Physician Health Plan
Cigna
EPO
Great West
HMO
POS
PPO
Emblem/GHI
Medicare Managed Care
PPO
Emblem/HIP
ConnectiCare
EPO
Essential Plan
HMO
Medicaid Managed Care
Medicare Managed Care
POS
PPO
Select Care (Exchange)
Vytra
Empire Blue Cross/Blue Shield
EPO
Medicare Managed Care
PPO
MVP Health Care
Child/Family Health Plus
Essential Plan
HMO
Medicaid Managed Care
UnitedHealthcare
Columbia University Employee Plan
Compass (Exchange)
HMO
Medicaid (Community Plan)
Medicare Managed Care
POS
PPO
*Please contact the provider's office directly to verify that your particular insurance is accepted.
Research
Research Interests
I am interested in non-neoplastic small bowel disease (e.g. celiac disease) and liver neoplasia.
Selected Publications
Gonzalez RS, Lagana SM, Szeto O, Arnold CA. Challenges in Diagnosing Medication Resins in Surgical Pathology Specimens: A Crystal-Clear Review Guide. Arch Pathol Lab Med. 2017 Feb 7. doi: 10.5858/arpa.
Hemant Varma, Phyllis L. Faust, Alejandro D. Iglesias, Stephen M. Lagana, Karen Wou, Michio Hirano, Salvatore DiMauro, Mahesh M. Mansukani, Kirsten E. Hoff, Peter L. Nagy, William C. Copeland, Ali B. Naini. Whole exome sequencing identifies a homozygous POLG2 missense variant in an infant with fulminant hepatic failure and mitochondrial DNA depletion. Eur J Med Gen. 2016 http://dx.doi.org/10.1016/j.ejmg.2016.08.012
Sung D, Iuga AC, Kato T, Martinez M, Remotti HE, Lagana SM.
Crypt Apoptotic Body Counts in Normal Ileal Biopsies Overlap with Graft Versus Host Disease and Acute Cellular Rejection of Small Bowel Allografts. Hum Pathol. 2016 May 28. pii: S0046-8177(16)30098-3. doi: 10.1016/j.humpath.2016.05.017. [Epub ahead of print] PMID: 27246175
Elizabeth Margolskee; Fei Bao; Anne Koehne de Gonzalez; Roger K Moreira; Stephen M Lagana; Anthony N Sireci; Antonia R Sepulveda; Helen E Remotti; Jay H Lefkowitch; Marcela Salomao, MD. Hepatocellular Adenoma Classification: A Comparative Evaluation of Immunohistochemistry and Targeted Mutational Analysis. Diagn Pathol. 2016 Mar 9;11(1):27. doi: 10.1186/s13000-016-0475-5.

Nina Burbure, Benjamin Lebwohl, Peter H.R. Green, Carolina Arguelles-Grande, Govind Bhagat, Stephen M. Lagana. Olmesartan Associated Sprue-like Enteropathy: a Systematic Review with Emphasis on Histopathology. Hum Pathol. 2016 Apr;50:127-34. doi: 10.1016/j.humpath.2015.12.001.
Taylor SA, Vittorio JM, Martinez M, Fester KA, Lagana SM, Lobritto SJ, Ovchinsky N. Anakinra-Induced Acute Liver Failure in an Adolescent Patient with Still's Disease. Pharmacotherapy. 2016 Jan 9. doi: 10.1002/phar.1677
Lefkowitch J, Lagana SM, Kato T. Hepatocellular Carcinoma in Noncirrhotic Liver with Glycogenotic Foci: Basic Science Meets Genomic Medicine. Semin Liver Dis. 2015 Nov;35(4):450-6. doi: 10.1055/s-0035-1568986
Stephen Lagana, Susan Hsiao, Fei Bao, Antonia Sepulveda, Roger Moreira, Jay Lefkowitch and Helen Remotti. HepPar-1 and Arginase-1 Immunohistochemistry in Adenocarcinoma of the Small Intestine and Ampullary Region. Archives of Pathology & Laboratory Medicine Jun 2015, Vol. 139, No. 6 (June 2015) pp. 791-795
Armando, Del Portillo, Stephen M, Lagana, Yuan, Yao, Takeshi, Uehara, Nirag, Jhala, Tapan, Ganguly, Peter, Nagy, Jorge, Gutierrez, Aesis, Luna, Julian, Abrams, Yang, Liu, Randall, Brand, Jorge L, Sepulveda, Gary W, Falk, Antonia R, Sepulveda. Evaluation of Mutational Testing of Pre-neoplastic Barrett's Mucosa by Next Generation Sequencing of FFPE Endoscopic Samples for Detection of Concurrent Dysplasia and Adenocarcinoma in Barrett's Esophagus. J Mol Diagn. 2015 Jul;17(4):412-9.
Anne K Koehne de Gonzalez, Marcela A Salomao and Stephen M Lagana. Current concepts in the immunohistochemical evaluation of liver tumors
World J Hepatol 7(10):1403-1411. Published online 2015 June 08. doi: 10.4254/wjh.v7.i10.1403
Lagana SM, Salomao M, Remotti HE, Knisely A.S., Moreira RK. Bile Salt Export Pump: a Sensitive and Specific Immunohistochemical Marker of Hepatocellular Carcinoma. Histopathology. 2015 Mar;66(4):598-602. doi: 10.1111/his.12601.
Melissa Latorre MD, Stephen M. Lagana MD, Daniel E. Freedberg MD, Benjamin Lebwohl MD, Govind Bhagat MD, Suzanne K. Lewis MD, Peter H.R. Green MD. Endoscopic biopsy technique in the diagnosis of celiac disease: one bite or two? Gastrointest Endosc. 2015 Jan 29. pii: S0016-5107(14)02380-3
Lagana SM, Braunstein ED, Arguelles-Grande C, Bhagat G, Green PH, Lebwohl B. Sprue-like histology in patients with abdominal pain taking olmesartan compared with other angiotensin receptor blockers. J Clin Pathol. 2015 Jan;68(1):29-32. doi: 10.1136/jclinpath-2014-202615.
Hanna RF, Ward TJ, Chow DS, Lagana SM, Moreira RK, Emond JC, Weintraub JL, Prince MR. An evaluation of the sensitivity of MRI at detecting hepatocellular carcinoma in cirrhotic patients utilizing an explant reference standard.Clin Imaging. 2014 Jun 4. pii: S0899-7071(14)
Hanna RF, Finkelstone LA, Chow DS, Miloushev VZ, Escudero MR, Lagana SM, Prince MR. Nephrogenic systemic fibrosis risk and liver disease. Int J Nephrol. 2014;2014:679605. doi: 10.1155/2014/679605. Epub 2014 Mar 23.PMID:24778878
Chen, X., Lagana, SM., Poneros, J., Kato, T., Remotti, F., He, H., Kaminsky, D. and Hamele-Bena, D. (2013), Cytological diagnosis of angiosarcoma arising in an immunosuppressed patient 6 years after multi-visceral transplantation. Diagn. Cytopathol.. doi: 10.1002/dc.23068
Lagana SM, Moreira, RK, Remotti HE, Bao F. Glutamine synthetase, Heat-shock Protein 70 and Glypican-3 in Intra-hepatic Cholangiocarcinoma and Tumors Metastatic to Liver. Appl Immunohistochem Mol Morphol. 2013 May;21(3):254-7. doi: 10.1097/PAI.0b013e3182642c9c.
Lagana SM, Salomao M, Bao F, Moreira RK, Lefkowitch, J, Remotti HE. Utility of an Immunohistochemical Panel Consisting of Glypican-3, Heat Shock Protein-70, and Glutamine Synthetase in the Distinction of Low-grade Hepatocellular Carcinoma from Hepatocellular Adenoma. Appl Immunohistochem Mol Morphol. 2013 Mar;21(2):170-6. doi: 10.1097/PAI.0b013e31825d527f.
Lagana SM, Taub RN, Borczuk AC. Utility of Glucose Transporter 1 in the Distinction of Benign and Malignant Thoracic and Abdominal Mesothelial Lesions. Arch Pathol Lab Med. 2012 Jul;136(7):804-9. doi: 10.5858/arpa.2011-0219-OA.
Guo-Xia Tong, Lorenzo Memeo, Cristina Colarossi, Diane Hamele-Bena, Cristina Magi-Galluzzi, Ming Zhou, Stephen M. Lagana, Lara Harik, Jennifer M. Oliver-Krasinski, Mahesh Mansukhani, Lorenzo Falcone, Hanina Hibshoosh, and Kathleen O'Toole. PAX8 and PAX2 Immunostaining Facilitates the Diagnosis of Primary Epithelial Neoplasms of the Male Genital Tract. Am J Surg Pathol. 2011 Oct;35(10):1473-83.
Lagana SM, Hanna RF, Borczuk AC. Pleomorphic (Spindle and Squamous Cell) Carcinoma Arising in a Peripheral Mixed Squamous and Glandular Papilloma in a 70 Year Old Man. Arch Pathol Lab Med. 2011 Oct;135(10):1353-6.
Lagana SM, Moreira RK, Lefkowitch JH. Hepatic Granulomas: Pathogenesis and Differential Diagnosis. Clin Liver Dis. 2010 Nov;14(4):605-17.PMID: 21055685
Lagana S, Parwani AV, Nichols L. Cardiac Sarcoidosis. A Pathology Focused Review. Arch Pathol Lab Med. 2010 Jul;134(7):1039-46.
Nichols L, Lagana S, Parwani A. Coronary Artery Aneurysm: a Review and Hypothesis Regarding Etiology. Arch Pathol Lab Med. 2008 May;132(5):823-8. Review.
London B, Michalec M, Mehdi H, Zhu X, Kerchner L, Sanyal S, Viswanathan PC, Pfahnl AE, Shang LL, Madhusudanan M, Baty CJ, Lagana S, Aleong R, Gutmann R, Ackerman MJ, McNamara DM, Weiss R, Dudley SC Jr. Mutation in glycerol-3-phosphate dehydrogenase 1 like gene (GPD1-L) decreases cardiac Na+ current and causes inherited arrhythmias. Circulation. 2007 Nov 13;116(20):2260-8.