Vasco M. Lopes, PsyD
Expertise in:
Psychology, Depression, Child Psychiatry / Psychology, Attention Disorders, Anxiety Disorders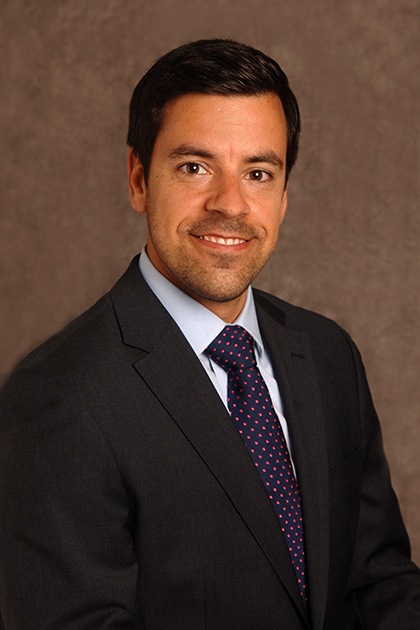 Appointments
Phone Appointments
New and Existing Patients:
For existing patients, login to make an appointment, view documentation or contact your care provider.
Credentials & Experience
Clinical Expertise
Psychology
Depression
Child Psychiatry / Psychology
Attention Disorders
Anxiety Disorders
Child Psychology
Child and Adolescent Psychology
Child/Adolescent Psychology
School & Learning Problems
Emotional Disorder
ADHD (Attention Deficit Hyperactivity Disorder)
Psychotherapy
Generalized Anxiety Disorder
Panic Disorder
Social Anxiety Disorder
Mental Health
Adjustment Disorder
Specialties
Education & Training
PsyD, St John's University
Fellowship: Fordham University
Honors & Awards
2005  Member of Psi-Chi-National Honor Society for Psychology
2006  Graduated With Honors:  Cum Laude
2006  Member of the National Dean's List
About Vasco Lopes
Vasco Lopes, PsyD, is a licensed clinical psychologist and certified school psychologist with a specialty in the evaluation and treatment of children and adolescents with attention-deficit hyperactivity disorder (ADHD), disruptive behaviors, aggression, severe temper tantrums, and emotional dysregulation. He has experience treating children through various modes of intervention including parent management training, teacher behavioral consultation, and cognitive behavior therapy. Dr. Lopes typically treats children with a multi-modal approach-focusing on giving parents and teachers the tools needed to help their child thrive and children the coping skills needed to best manage their behavior and emotions.
Dr. Lopes earned his doctorate in school psychology from St. John's University in 2011 and completed an APA-approved pre-doctoral internship at Andrus, a day and residential treatment center for children with severe emotional disturbances. Dr. Lopes was part of a team charged with developing and leading the first school-wide positive behavior intervention and supports (PBIS) program at Andrus. Dr. Lopes went on to complete a clinical and research fellowship in the Pediatric Emotion Regulation Laboratory (PERL) at Fordham University where he developed a specialization in diagnosing and treating children with severe emotional dysregulation.
Most recently, Dr. Lopes has served as a staff psychologist at the Child Mind Institute, in their ADHD and Disruptive Behavior Disorder Center. Dr. Lopes specialized in evidence-based treatments for disruptive behavior disorder and severe emotional dysregulation, including Parent Management Training (PMT), Parent-Child Interaction Therapy (PCIT), and cognitive behavior therapy. Dr. Lopes also developed a long-term collaboration with schools in the community, including Harlem Village Academy, and used evidence-based treatments to train teachers how to manage disruptive classroom behavior in at-risk students.
Dr. Lopes has co-authored several publications on topics related to child psychopathology, including a leading article in the American Journal of Psychiatry on a new child psychiatric disorder-Disruptive Mood Dysregulation Disorder. He has also published a research article on ADHD and disruptive behavior disorders in the Journal of Child and Adolescent Psychopharmacology and a book chapter on pediatric social phobia. Dr. Lopes has also presented to various professional and parent groups on topics related to childhood ADHD, disruptive behaviors, emotional dysregulation, and parenting behaviors, and has made several media appearances, including HuffPost Live, ABC Eyewitness News, and the Katie Couric Show.
Academic Titles
Instructor of Medical Psychology (in Psychiatry) at CUMC
Committee/Societies/Council Memberships
American Psychological Association (APA)
Association for Behavioral and Cognitive Therapies (ABCT)
Hospital Affiliations
NewYork-Presbyterian/Morgan Stanley Children's Hospital
NewYork-Presbyterian/Columbia
Insurance Accepted
UnitedHealthcare
Behavioral Health Columbia University Employee Plan
*Please contact the provider's office directly to verify that your particular insurance is accepted.
Contact & Locations
1
3 Columbus Circle
Suite 1425
New York, New York 10019
Research
Selected Publications
Holzer, B. & Lopes, V., & Lehman, R. (2013). Combination use of Atomoxetine and Olazapine in children and adolescents with ADHD and Disruptive Behaviors Disorder. Journal of Child and Adolescent Psychopharmacology.
Roy, A., Klein, R., & Lopes, V. (2014). Diagnosis and Treatment of Disruptive Mood Dysregulation Disorder. American Journal of Psychiatry, 171, (9), 918-924.
Lopes, V. & Albano, A.M. (2013). Pediatric Social Phobia. In R. Vasa & A.K. Roy, (2013) ed. Pediatric Anxiety Disorders. Humana Press.