Wendy K. Chung, MD, PhD
Board Certifications:
Clinical Genetics and Genomics (MD), Clinical Molecular Genetics and Genomics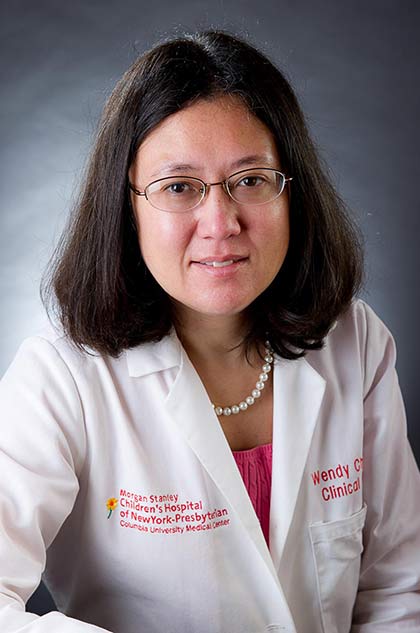 Appointments
Phone Appointments
New and Existing Patients:
For existing patients, login to make an appointment, view documentation or contact your care provider.
Credentials & Experience
Board Certifications
Clinical Genetics and Genomics (MD)
Clinical Molecular Genetics and Genomics
Clinical Expertise
Cancer Care
Inborn Metabolism Disorder
Cleft Palate With Cleft Lip
Congenital Heart Disease
Seizures
Cancer Genetics
Arrhythmia
Genetic Counseling
Mental Retardation
Pediatric Seizures
Abdominal Hernia
Pancreatic Cancer
Pediatric Mental Retardation
Pulmonary Hypertension
Specialties
Education & Training
Weill Cornell Medical College
Internship: NewYork-Presbyterian Hospital/Columbia University Medical Center
Residency: NewYork-Presbyterian Hospital/Columbia University Medical Center
Fellowship: NewYork-Presbyterian Hospital/Columbia University Medical Center
About Wendy Chung
Dr. Chung is a board certified clinical geneticist with a PhD in molecular genetics. She received her MD from Cornell University and her PhD from The Rockefeller University. She is director of the clinical genetics program at Columbia University, a co-director of the molecular genetics diagnostics lab, and heads a research laboratory in the division of molecular genetics investigating the genetic bases for a variety of Mendelian and complex traits.
Academic Titles
Associate Professor of Pediatrics (in Medicine)
Hospital Affiliations
NewYork-Presbyterian/Columbia
Insurance Accepted
Aetna
EPO
HMO
Medicare Managed Care
NY Signature
POS
PPO
Signature Administrators
Student Health
Affinity
Access (Exchange)
Essential Plan
Medicaid Managed Care
Cigna
EPO
Great West
HMO
POS
PPO
Emblem/HIP
ConnectiCare
EPO
Essential Plan
HMO
Medicaid Managed Care
POS
PPO
Select Care (Exchange)
Vytra
Empire Blue Cross Blue Shield
Blue Priority
EPO
HMO
Medicare (Mediblue)
NYP Employee Plan
Pathway (Exchange)
POS
PPO
Empire Blue Cross Blue Shield HealthPlus
Child/Family Health Plus
Essential Plan
Medicaid Managed Care
Fidelis Care
Child/Family Health Plus
Medicaid Managed Care
Healthfirst
Child/Family Health Plus
Medicaid Managed Care
Local 1199
MagnaCare
Medicare
Multiplan
POMCO
UnitedHealthcare
Columbia University Employee Plan
Compass (Exchange)
EPO
HMO
Medicaid (Community Plan)
POS
PPO
The Empire Plan (NYSHIP)
*Please contact the provider's office directly to verify that your particular insurance is accepted.
Contact & Locations
1
1150 St. Nicholas Avenue
New York, New York 10032
Research
Dr. Wendy Chung is a human geneticist whose current research activities include efforts to identify genes and their relevant allelic variants related to the development of congenital diaphragmatic hernia, congenital cardiac malformations including heterotaxy, hypoplastic left heart syndrome, cardiac septal defects, cardiomyopathies, and congenital and acquired long QT syndromes.
In genetic studies of arrhythmias, the patient's personal history of inciting triggers, T wave morphology on ECG, and the family history are used to choose candidate genes for linkage analysis when possible and mutation identification in one of the genes/loci identified to date in long QT syndrome.
In genetic studies of hypertrophic cardiomyopathy, the patient's history of age of onset, other associated medical problems, and family history are used to choose candidate genes for mutation identification. In studies of congenital heart disease and congenital diaphragmatic hernias, the probands are studied by comparative genomic hybridization to detect genomic alterations such as insertions or deletions on a genome wide basis. Then candidate genes are selected based upon their roles in embryonic diaphragmatic and cardiac development and screened for mutations by high throughput sequencing. Genotype-phenotype correlations are then made by comparing clinical features and outcome based on genetic etiology of a disease. Another area of research includes the identification of genes related to obesity and type 2 diabetes in mice and humans.
Dr. Chung and associates have mapped and cloned naturally occurring spontaneous mutations in the mouse causing both monogenic forms of obesity (tubby and diabetes) as well as a suppressor of obesity called mahoganoid. We have also identified 25 quantitative trait loci (QTLs) that interact with monogenic forms of obesity to produce varying degrees of diabetes susceptibility. We have made congenic lines for most of these QTLs and have identified a QTL for diabetes call Lisch-like.
In parallel with these rodent studies, Dr. Chung is a participant in large ongoing human genetic studies to identify the genetic susceptibility to obesity and diabetes in humans. In collaboration with investigators around the world, we have access to over 100,000 human subjects phenotyped for adiposity and have developed high throughput methods for sequencing large genomic regions for regulatory variants and have identified novel contiguous gene deletions associated with syndromic forms of obesity.
We are also studying the molecular mechanism by which the genes FTO/FTM recently identified through large genome wide association studies cause increased adiposity. We have identified novel mutations in the Wolframin gene causing a rare autosomal recessive form of diabetes mellitus and characterized the uniparental disomy of chromosome 6 in neonates with transient neonatal diabetes. In addition, families with maturity onset diabetes of the young (MODY) and have identified a rare neonatal complication of hypoglycemia associated with MODY.
Dr. Chung also provide the molecular genetics core services for the Obesity Research Center, Diabetes and Endocrine Research Center, Pediatric Neuromuscular Clinical Research Network studying spinal muscular atrophy, and the Pediatric Heart Network.
Grants
COLUMBIA/CORNELL/HARLEM HOSPITAL PRECISION MEDICINE INITIATIVE HPO (Federal Gov)

Jul 6 2016 - Jun 30 2021
NRSA TRAINING CORE (Federal Gov)

Jul 1 2016 - May 31 2021
CLINICAL AND TRANSLATIONAL SCIENCE AWARD (Federal Gov)

Jul 1 2016 - May 31 2021
THE VIROME OF MANHATTAN: A TESTBED FOR RADICALLY ADVANCING UNDERSTANDING AND FORECAST OF VIRAL RESPIRATORY INFECTIONS (Federal Gov)

Jan 1 2016 - Mar 6 2019
FUNCTIONAL IMAGING AND EATING BEHAVIOR AMONG FTO GENOTYPES IN PRE-OBESES CHILDREN (Federal Gov)

Sep 18 2013 - Aug 31 2018
CENTER FOR RESEARCH ON ETHICAL, LEGAL AND SOCIAL IMPLICATIONS OF PSYCHIATRIC, NEUROLOGIC AND BEHAVIORAL GENETICS (Federal Gov)

May 3 2013 - May 31 2018
DIABETES AND ENDOCRINOLOGY RESEARCH CENTER (Federal Gov)

Mar 15 2013 - Jan 31 2018
THE DISCOVER PROGRAM FOR UNDIAGNOSED DISEASES (Private)

Nov 1 2016 - Oct 31 2017
BREAST CANCER FAMILY REGISTRY COHORT - NY COHORT (Federal Gov)

Sep 12 2012 - Aug 31 2017
SIMONS VARIATION IN INDIVIDUALS PROJECT (SIMONS VIP) (Private)

Aug 1 2011 - Jul 31 2017
HORMONAL, METABOLIC AND SIGNALING INTERACTIONS IN PAH (Federal Gov)

Jul 1 2016 - Jun 30 2017
PRENATAL CYTOGENETIC DIAGNOSIS USING COMPARATIVE GENOMIC HYBRIDIZATION MICROARRAY (Federal Gov)

Jun 8 2007 - May 31 2017
GENES, ENVIRONMENT AND BREAST CANCER RISK: THE 15 YEAR FOLLOW-UP OF THE PROF-SC (TERRY/HOPPER) (Federal Gov)

Jul 1 2011 - Apr 30 2017
ADMINISTRATIVE COORDINATING CENTER (ACC) FOR THE NHLBI CARDIOVASCULAR DEVELOPMENT (CVDC) AND PEDIATRIC CARDIAC GENOMICS (PCGC) CONSORTIA (Federal Gov)

Mar 1 2016 - Dec 31 2016
LEGACY: A COHORT OF YOUTH IN FAMILIES FROM THE BREAST CANCER FAMILY REGISTRY (Federal Gov)

Jan 10 2011 - Dec 31 2016
NEWBORN SCREENING FOR SPINAL MUSCULAR ATROPHY (Private)

Jul 1 2014 - Jun 30 2016
THE GOALS AND PRACTICES FOR NEXT GENERATION PRENATAL TESTING (Federal Gov)

Aug 10 2015 - May 31 2016
PSYCHOSOCIAL IMPACT OF GENETICS IN EPILEPSY (Federal Gov)

Apr 1 2012 - Mar 31 2016
NEW YORK NUTRITION OBESITY RESEARCH CENTER (Federal Gov)

Dec 1 1996 - Mar 31 2016
MOLECULAR APPROACHES TO GENE IDENTIFICATION IN CONGENITAL HEART DISEASE (Federal Gov)

Sep 30 2009 - Jan 31 2016
SMA FOUNDATION CENTER GRANT (Private)

Jul 1 2015 - Dec 31 2015
WHOLE EXOME SEQUENCING AS A DISCOVERY AND DIAGNOSTIC TOOL IN FAMILIAL DIABETES EMILY BREIDBART, M.D. (Private)

Jun 1 2014 - Dec 31 2015
RETURNING GENETIC RESEARCH PANEL RESULTS FOR BREAST CANCER SUSCEPTIBILITY (Federal Gov)

Sep 9 2014 - Aug 31 2015
IMPACT OF RETURN OF INCIDENTAL GENETIC TEST RESULTS TO RESEARCH PARTICIPANTS IN THE GENOMIC ERA (Federal Gov)

Sep 23 2011 - Aug 31 2015
STEERING COMMITTEE CHAIR FOR THE PEDIATRIC CARDIAC GENOMICS CONSORTIUM (PCGC) (Federal Gov)

Oct 1 2010 - Jul 31 2015
PEDIATRIC NEUROMUSCULAR CLINICAL RESEARCH NETWORK FOR SMA (Private)

Jul 1 2012 - Jun 30 2015
NYORC MOLECULAR GENETICS/MOLECULAR BIOLOGY CORE (Federal Gov)

Jun 10 2011 - Dec 31 2014
MOLECULAR GENETIC ANALYSIS OF HUMAN OBESITY (Federal Gov)

Dec 1 2008 - Nov 30 2014
CHALLENGES OF INFORMED CONSENT IN RETURN OF DATA FROM GENOMIC RESEARCH (Federal Gov)

Sep 23 2011 - Aug 31 2014
IMPACT OF RETURN OF INCIDENTAL GENETIC TEST RESULTS TO RESEARCH PARTICIPANTS IN THE GENOMIC ERA (Federal Gov)

Sep 23 2011 - Aug 31 2014
IDENTIFICATION OF NOVEL GENES FOR CONGENITAL DIAPHRAGMATIC HERNIA (Federal Gov)

Sep 29 2008 - Jun 30 2014
CENTER FOR ELSI RESEARCH ON PSYCHIATRIC, NEUROLOGIC, AND BEHAVIORAL GENETICS (Federal Gov)

Jun 1 2010 - Apr 30 2014
CONFIRMATION CORE THE CONGENITAL HEART DISEASE GENETIC NETWORK STUDY (CHD GENES) FOR THE PEDIATRIC CARDIAC GENOMICS CONSORTIUM (PCGC) (Federal Gov)

Jun 1 2012 - Feb 28 2014
EXOME SEQUENCING TO IDENTIFY NOVEL CAUSES OF INFANTILE HYPERTROPHIC CARDIOMYOPATHY (Private)

Mar 1 2011 - Dec 31 2013
HORMONAL, METABOLIC AND SIGNALING INTERACTIONS IN PAH (Federal Gov)

Sep 1 2012 - Jun 30 2013
SC CHAIR - CONGENITAL HEART DISEASE GENETIC NETWORK STUDY (CHD GENES) (Federal Gov)

Jun 1 2012 - May 31 2013
CHANGE: CHANGING HEALTH CARE AND NURSING THROUGH GENETICS (Private)

Sep 1 2009 - Feb 28 2013
IDENTIFICATION OF NOVEL BREAST CANCER SUSCEPTIBILITY GENES (Private)

Aug 1 2007 - Jul 31 2011
CHEMOPREVENTION OF BASAL CELL CARCINOMAS WITH TAZAROTENE (Federal Gov)

Jul 1 2007 - Jun 30 2011
LYSOSOMAL STORAGE DISORDERS EDUCATION GRANT (Private)

Jan 1 2008 - Dec 31 2009
EFFECTS OF THE HISTONE DEACETYLASE INHIBITOR LBH589 ON IN VI TRO TRANSCRIPTION AND TRANSLATION OF SUR (Private)

Oct 15 2007 - Apr 14 2009