Krzysztof Kiryluk, MD
Board Certifications:
Nephrology, Internal Medicine
Not Accepting New Patients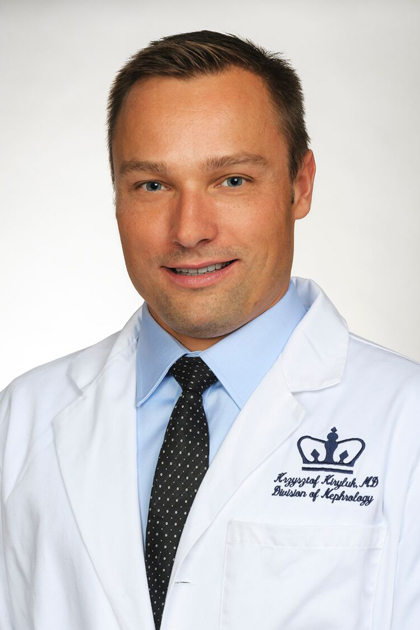 Appointments
For existing patients, login to make an appointment, view documentation or contact your care provider.
Credentials & Experience
Board Certifications
Nephrology
Internal Medicine
Clinical Expertise
Clinical Molecular Genetics
Nephrology
Genetic Disorder
Kidney Disease
Glomerulonephritis
Glomerular Diseases and Nephrotic Syndrome
Critical Care Medicine
Hypertension
Specialties
Education & Training
Columbia University College of Physicians and Surgeons
Residency: Massachusetts General Hospital
Fellowship: NewYork-Presbyterian Hospital/Columbia University Medical Center
Honors & Awards
Alpha Omega Alpha
2000  The ASCP Award for Academic Excellence & Achievement
2002  Scholarly Resources and Pathology Creative Collaboration Award
2002  Dr. Meierhof Prize for Outstanding Achievement in Pathology
2006  Irving Institute-Mailman School of Public Health POR Scholarship
2008  Daland Fellow in Clinical Investigation, American Philosophical Society
2009  Young Investigator Award, American Society of Hypertension
2011  Zambetti Fellowship, Columbia University
2014  Carl W. Gottschalk Research Scholar, American Society of Nephrology
2015  Herbert Irving Assistant Professorship, Columbia University
About Krzysztof Kiryluk
Dr. Krzysztof Kiryluk is a physician-scientist in the Division of Nephrology, Department of Medicine at Columbia University. He received his medical degree at the Columbia College of Physicians & Surgeons, completed his residency in Internal Medicine at the Massachusetts General Hospital, Harvard University, and Nephrology fellowship at the NewYork-Presbyterian Hospital, Columbia University. Dr. Kiryluk specializes in the treatment of chronic kidney disease, glomerulonephritis, and inherited kidney disorders. 
Dr. Kiryluk holds the Herbert Irving Assistant Professorship at Columbia University. His research aims to define genetic factors contributing to the risk of kidney disease. Dr. Kiryluk leads several large collaborative national and international genetic studies of glomerular disorders. He has authored multiple publications and is an active member of the American Society of Human Genetics, American Society of Nephrology, and International Society of Nephrology. He is a recipient of several prestigious fellowship awards, including the Carl W. Gottschalk Research Scholar Award from the American Society of Nephrology and the Daland Fellowship from the American Philosphical Society. Dr. Kiryluk's research has been supported by federal grants from the National Institute of Diabetes and Digestive and Kidney Disease, National Center for Advancing Translational Sciences, and private foundations.
Academic Titles
Assistant Professor of Medicine at CUMC
Committee/Societies/Council Memberships
American Society of Human Genetics
International Society of Nephrology
American Society of Nephrology
Kidney International editorial board
Frontiers in Medicine editorial board
CureGN Ancillary Study Committee Co-Chair
NIH DDK-D Study Section Member
Hospital Affiliations
NewYork-Presbyterian/Columbia
Insurance Accepted
Aetna
EPO
HMO
Medicare Managed Care
NY Signature
POS
PPO
Signature Administrators
Student Health
Affinity
Essential Plan
Medicaid Managed Care
Medicare Managed Care
Cigna
EPO
Great West
HMO
POS
PPO
Emblem/GHI
HMO
Medicare Managed Care
PPO
Emblem/HIP
ConnectiCare
EPO
Essential Plan
HMO
Medicaid Managed Care
Medicare Managed Care
POS
PPO
Select Care (Exchange)
Vytra
Empire Blue Cross Blue Shield
Blue Priority
EPO
HMO
Medicare (Mediblue)
NYP Employee Plan
Pathway (Exchange)
POS
PPO
Empire Blue Cross Blue Shield HealthPlus
Child/Family Health Plus
Essential Plan
Medicaid Managed Care
Fidelis Care
Child/Family Health Plus
Medicaid Managed Care
Medicare Managed Care
Healthfirst
Child/Family Health Plus
Medicaid Managed Care
Medicare Managed Care
Oxford Health Plans
Freedom
Liberty
Medicare Managed Care
UnitedHealthcare
Columbia University Employee Plan
Compass (Exchange)
EPO
Essential Plan
HMO
Medicaid (Community Plan)
Medicare Managed Care
POS
PPO
VNSNY CHOICE
Medicare Managed Care
SelectHealth
WellCare
Medicaid Managed Care
Medicare Managed Care
*Please contact the provider's office directly to verify that your particular insurance is accepted.
Contact & Locations
1
1150 St. Nicholas Avenue
412
New York, New York 10032
Research
Our studies aim at discovery of genes and pathways involved in the pathogenesis of kidney disease. We focus on the genetic architecture of glomerular disorders, including IgA nephropathy, membranous nephropathy, C3 glomerulopathy, and focal segmental glomerulosclerosis. We are also interested in human population genetics and the effects of ancestral backgroud on the risk of kidney disease among diverse populations worldwide. Our lab works on the mapping of common genetic variation predisposing to kidney injury in general population, as well as the identification of causal mutations in rare forms of familial kidney disorders. We use state-of-the-art genetic approaches and novel statistical and computational methods, including genome-wide association mapping, analysis of human copy number variation, linkage mapping, genome sequencing, construction of transcriptional gene regulatory networks, and the generation of animal models to study the consequences of pathogenic mutations. Through our work, we aim to improve the existing diagnostic tools, personalize and refine disease treatments, and lay the basis for development of novel effective therapies. 
Research Interests
Genetics of IgA nephropathy and other glomerular disorders
Genetics of kidney and urinary tract malformations
C3 glomerulopathy and genetic regulation of the complement system
Personalized genomics of solid organ transplantation
Grants
GWAS-based pathogenesis model of IgA nephropathy, Carl W. Gottschalk Research Scholar Grant, ASN Foundation for Kidney Research.
Donor-recipient genomic incompatibilities in solid organ transplantation, New York Presbyterian Hospital Translational Grant Program.
Kidney Dashboard: An Integrated Support Tool for Clinical Care and Research of Kidney Disorders, CTSA/DBMI Pilot Award.
GENOMICS OF GLOMERULAR DISEASE (Federal Gov)

Jun 14 2018 - May 31 2023
2/2 APOL1 LONG-TERM KIDNEY TRANSPLANTATION OUTCOMES NETWORK- CLINICAL CENTER (Federal Gov)

Sep 25 2017 - May 31 2022
CLINICAL AND TRANSLATIONAL SCIENCE AWARD (Federal Gov)

Jul 1 2016 - May 31 2021
GENETICS OF IGA NEPHROPATHY BY INTEGRATIVE NETWORK-BASED ASSOCIATION STUDIES (Federal Gov)

Jun 17 2015 - Mar 31 2020
KIDNEY PRECISION MEDICINE PROGRAM (KPMP): COLUMBIA AKI RECRUITMENTSITE (Federal Gov)

Sep 15 2017 - Jun 30 2019
ELUCIDATING IGA NEPHROPATHY THROUGH GENETIC STUDIES OF IGA1 GLYCOSYLATION (Federal Gov)

Sep 15 2014 - Jun 30 2019
ADVANCING CLINICAL RESEARCH IN PRIMARY GLOMERULAR DISEASES (Federal Gov)

Sep 16 2013 - May 31 2019
ANCESTRY, GENETIC RISK AND HEALTH DISPARITIES IN GLOMERULAR DISEASES (Federal Gov)

Jul 10 2014 - Apr 30 2019
DISCOVERY AND FINE MAPPING OF SUSCEPTIBILITY LOCI FOR IGA NEPHROPATHY (Federal Gov)

Sep 26 2012 - Aug 31 2018
GWAS FOLLOW-UP STUDIES IN THE COLUMBIA LGA NEPHROPATHY COHORT (Private)

Apr 30 2015 - Apr 30 2016
DONOR-RECIPIENT GENOMIC INCOMPATIBILITIES IN SOLID ORGAN TRANSPLANTATION (NY State Gov)

Jan 1 2015 - Dec 31 2015
QUANTITATIVE GENETICS OF DEFECTIVE IGA1 GLYCOSYLATION IN IGA NEPHROPATHY (Federal Gov)

Jan 1 2011 - Dec 31 2015
GWAS-BASED PTHOGENESIS MODEL OF LGA NEPHROPATHY (Private)

Jul 1 2014 - Jun 30 2015
POPULATION BASED STUDY OF SERUM IGA, IGA1 AND GALACTOSE-DEFICIENT IGA1 LEVELS (Federal Gov)

Jul 1 2013 - Jun 30 2015
IDENTIFICATION OF GENE(S) FOR VESICOURETERAL REFLUX (Private)

Jul 1 2008 - Jun 30 2010
INTRAVENOUS COCAINE ABUSE TREATMENT--A LABORATORY MODEL (Federal Gov)

Jan 1 1990 - May 31 2010
Selected Publications
Kiryluk K, Moldoveanu Z, Sanders JT, Eison TM, Suzuki H, Julian BA, Novak J, Gharavi AG, Wyatt RJ. (2011) Aberrant glycosylation of IgA1 is inherited in pediatric IgA nephropathy and Henoch-Schönlein purpura nephritis. Kidney International 80:79-87
Kiryluk K, Li Y, Sanna-Cherchi S, Rohanizadegan M, Suzuki H, Eitner F, Snyder HJ, Choi M, Hou P, Scolari F, Izzi C, Gigante M, Gesualdo L, Savoldi S, Amoroso A, Cusi D, Zamboli P, Julian BA, Novak J, Wyatt RJ, Mucha K, Perola M, Kristiansson K, et al. (2012) Geographic differences in genetic susceptibility to IgA nephropathy: GWAS replication study and geospatial risk analysis. PLoS Genetics 8(6):e1002765
Gharavi AG, Kiryluk K, Choi M, Li Y, Hou P, Xie J, Sanna-Cherchi S, Men CJ, Julian BA, Wyatt RJ, Novak J, He JC, Wang H, Lv J, Zhu L, Wang W, Wang Z, Yasuno K, Gunel M, Mane S, Umlauf S, Tikhonova I, Beerman I, Savoldi S, Magistroni R, Ghiggeri GM, et al. (2011) Genome wide association study identifies susceptibility loci for IgA nephropathy. Nature Genetics 43:321–327
Papeta N, Kiryluk K, Patel A, Sterken R, Kacak N, Snyder HJ, Imus PH, Mhatre AN, Lawani AK, Julian BA, Wyatt RJ, Novak J, Wyatt CM, Ross MJ, Winston JA, Klotman ME, Cohen DJ, Appel GB, D'Agati VD, Klotman PE, Gharavi AG. (2011) APOL1 genetic variants significantly increase susceptibility to focal segmental glomerulosclerosis and HIV-1 associated nephropathy but not IgA nephropathy in African Americans. JASN 22 (11):1991-6
Sanna-Cherchi S, Kiryluk K, Burgess KE, Bodria M, Sampson MG, Hadley D, Nees SN, Verbitsky M, Perry BJ, Sterken R, Lozanovski VJ, Materna-Kiryluk A, Barlassina C, Kini A, Corbani V, Carrea A, Somenzi D, Murtas C, et al. (2012) Copy-number Disorders Are a Common Cause of Congenital Kidney Malformations. AJHG 91(6):987-97
Kiryluk K, Novak J, Gharavi AG. (2013) Genetics of IgA Nephropathy: Insight from the Genetic Studies. Ann Rev Medicine 64:339-56
Sanna-Cherchi S, Sampogna RV, Papeta N, Burgess KE, Nees SN, Perry BJ, Choi M, Bodria M, Liu Y, Weng PL, Lozanovski VJ, Verbitsky M, Lugani F, Sterken R, Paragas N, Caridi G, Kiryluk K, Al-Awqati Q, D'Agati VD, Drummond IA, Tasic V, Lifton RP, et al. (2013) Mutations in DSTYK and dominant urinary tract malformations. NEJM 369(7):621-9
Materna-Kiryluk A, Kiryluk K, Burgess KE, Bieleninik A, Sanna-Cherchi S, Gharavi AG, Latos-Bielenska A. (2014) The emerging role of genomics in the diagnosis and workup of congenital urinary tract defects: a novel deletion syndrome on chromosome 3q13.31-22.1. Pediatr Nephrol. 29(2):257-67
Kiryluk K and Novak J. (2014) The Genetics and immunobiology of IgA nephropathy. JCI 124(6):2325-32
Kiryluk K, Li Y, Scolari F, Sanna-Cherchi S, Choi M, Verbitsky M, Fasel D, Lata S, Prakash S, Shapiro S, Fischman C, Snyder HJ, Appel G, Izzi C, Viola BF, Dallera N, Del Vecchio L, Barlassina C, Salvi E, Bertinetto FE, Amoroso A, Savoldi S, Rocchietti M, Amore A, Peruzzi L, Coppo R, Salvadori M, Ravani P, Magistroni R, Ghiggeri GM, Caridi G, Bodria M, Lugani F, Allegri L, Delsante M, Maiorana M, Magnano A, Frasca G, Boer E, Boscutti G, Ponticelli C, Mignani R, Marcantoni C, Di Landro D, Santoro D, Pani A, Polci R, Feriozzi S, Chicca S, Galliani M, Gigante M, Gesualdo L, Zamboli P, Battaglia GG, Garozzo M, Maixnerová D, Tesar V, Eitner F, Rauen T, Floege J, Kovacs T, Nagy J, Mucha K, Pączek L, Zaniew M, Mizerska-Wasiak M, Roszkowska-Blaim M, Pawlaczyk K, Gale D, Barratt J, Thibaudin L, Berthoux F, Canaud G, Boland A, Metzger M, Panzer U, Suzuki H, Goto S, Narita I, Caliskan Y, Xie J, Hou P, Chen N, Zhang H, Wyatt RJ, Novak J, Julian BA, Feehally J, Stengel B, Cusi D, Lifton RP, Gharavi AG. Discovery of new risk loci for IgA nephropathy implicates genes involved in immunity against intestinal pathogens. Nature Genetics 2014 doi: 10.1038/ng.3118.
---