Pediatric Cochlear Implants
Make an Appointment
Our team is here to help you make an appointment with the specialists that you need.
The mission of the pediatric cochlear implant program provides a comprehensive team approach to patient-centered care for children with severe to profound hearing loss. Our cochlear implant team comprises otologists, pediatric audiologists, a speech-language pathologist, an education specialist, and a cochlear implant coordinator. You and your child are also an important part of the team.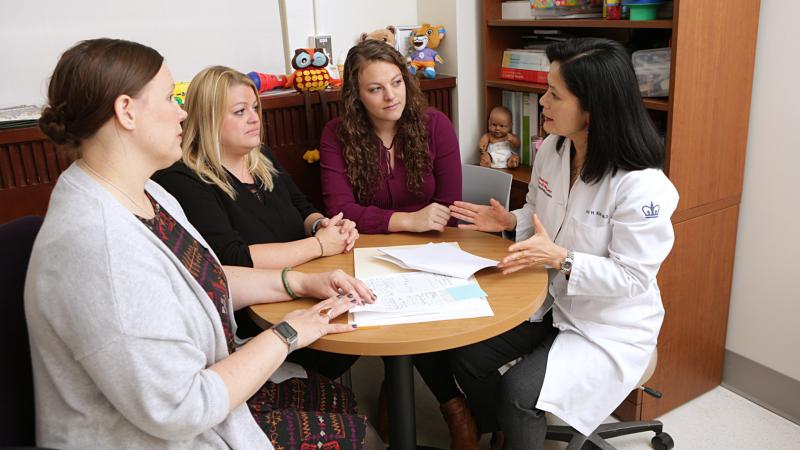 Comprehensive Evaluation
We will conduct a series of evaluations in order to determine whether your child is a good candidate for a cochlear implant. Our team has extensive experience with children who may have difficulty with testing, and we will work closely with you throughout the evaluation process. Our assessment may include:
Audiological evaluation: Our evaluation begins with assessing your child's hearing. Depending on the age of your child, this may be done through un-sedated or sedated auditory brainstem response (ABR) testing, visual reinforcement audiometry (VRA), conditioned play audiometry (CPA), or standard audiometry. Additional physiological measurements such as tympanometry, acoustic reflex testing, and otoacoustic emissions may also be conducted.
Aided testing: We will conduct further testing to determine if your child is receiving sufficient benefit from hearing aids.
Speech and language evaluation: Your child will undergo a speech and language evaluation with our speech-language pathologist, who specializes in determining if a child with hearing loss is meeting his or her speech and language developmental milestones.
Education evaluation: Your child will also undergo an evaluation by our education specialist, who helps determine what supports your child may need to succeed in school. This may involve an observation of your child at school.
Otologic evaluation: Your child will receive a medical evaluation by one of our ear specialists to determine the etiology of your child's hearing loss. This may involve additional medical tests including, imaging such as an MRI or CT scan, genetics testing, ophthalmology evaluation, and cardiology evaluation.
After all of the evaluations are complete, the cochlear implant team meets to determine if your child is a candidate for a cochlear implant. If your child is a candidate and you would like to move forward, a specific cochlear implant is selected. We work with all three FDA-approved cochlear implant companies (Advanced Bionics, Cochlear Americas, and Med-El).
Then, it is time to schedule cochlear implant surgery, which is generally an outpatient procedure. 
Helping Your Child Hear with a Cochlear Implant
Approximately one month after the surgery, you and your child will return so we can activate or "turn on" the cochlear implant. Learning to hear with a cochlear implant is an ongoing process, and we work closely with your child to monitor their progress.
Follow-up programming sessions: After the activation, your child will need additional programming sessions to fine-tune the cochlear implant.
Post-implant evaluations: Both your child's audiologist and speech-language pathologist will continually monitor his or her auditory and language development. Formal evaluations are conducted annually to make sure your child is making appropriate progress.
Speech therapy/Aural rehabilitation: We provide listening and spoken language-focused therapy for children who use hearing devices. Our therapist is a Listening and Spoken Language Certified Auditory Verbal Therapist (LSLS Cert. AVT) and Speech-Language Pathologist (SLP). She will help build auditory skills with your child.