Pediatric Gastrointestinal Motility Center
Make an Appointment
Our team is here to help you make an appointment with the specialists that you need.
When your child's digestive system isn't working properly, he or she may experience uncomfortable symptoms, including vomiting, diarrhea, constipation, and abdominal pain. Motility disorders refer to a group of conditions that all stem from problems with the muscles and nerves that control the movement of food through the esophagus, stomach, small intestine, and colon.
The Pediatric Gastrointestinal Motility Center, located in NewYork-Presbyterian Morgan Stanley Children's Hospital, is one of only a few centers in the country that provides multidisciplinary care and comprehensive testing, consultation, and treatment of infants, children, teens, and young adults with motility disorders. 
Our team works closely with referring pediatricians and pediatric gastroenterologists when their young patients with suspected gastrointestinal motility disorders require further help. Our goal is to help you understand the reasons for your child's symptoms and to improve your child's quality of life.
We provide second opinions to families whose children have been diagnosed with a motility disorder and are seeking further help.
Expert Diagnosis of Motility Disorders
Motility disorders are challenging to diagnose. The symptoms your child may be experiencing – abdominal pain or bloating, constipation, nausea, fecal incontinence, or diarrhea – can have a range causes including a genetic condition, anatomic malformation, allergy, or metabolic issue.
A series of precise diagnostic tests will help us determine the cause of your child's symptoms. The Motility Center offers a full range of the most up-to-date diagnostic procedures, including:
Esophageal manometry
Anorectal manometry
Antro-duodenal manometry
Colonic manometry
Bravo® wireless pH monitoring
pH impedance testing
Endoscopy
Some diagnostic procedures require a hospital stay. Our team will coordinate your child's care so that visits are kept to a minimum. A child life specialist is always available to help your child understand our evaluation and any necessary treatment or procedure.
Our Approach to Treatment for Motility Disorders
Depending on your child's diagnosis, treatment may include medication, non-pharmacologic interventions, therapeutic endoscopy, behavioral therapy, or surgery. Our experts offer a highly customized approach to patient care along with the latest and most advanced treatments. We work closely with Columbia's pediatric psychologists, psychiatrists, surgeons, dietitians, and physical therapists to create a comprehensive treatment plan that will address your child's physical and emotional needs. 
Our approach to motility disorders is holistic, with a focus on all aspects of your child's physical and psychological health. We use medical and behavioral therapies as our first line of treatment. If surgery becomes necessary, your child will be in the care of a world-renowned pediatric surgical team with some of the best outcomes in the country.
Our team is at the forefront of advances in care for pediatric motility disorders and we are often involved in pioneering new treatments and therapies. We are the first pediatric center in the New York metropolitan area to offer the EndoFLIP, a cutting-edge technology that is used in the evaluation and treatment of children with esophageal motor disorders and strictures. 
Motility disorders require long-term monitoring, and our center is designed to care for your child throughout childhood and adolescence, with a focus on transitioning our patients to adult care.
What to Expect From Your First Visit
Your first appointment with a specialist at the Motility Center will begin with a full medical exam and history. We want to understand what symptoms your child is experiencing and for how long. If your child has not already had all of the necessary initial tests we will schedule them for you. Initial tests may include:
Upper GI series
Endoscopy
Bloodwork
Stool tests
Gastric emptying scan
Depending on the results of these tests, we may schedule more specialized testing so that we can determine the exact cause of your child's symptoms. We will help coordinate testing to minimize visits and hospital stays.
Conditions We Treat
Specialists at the Pediatric Gastrointestinal Motility Center evaluate and manage a wide range of conditions including: 
Irritable bowel syndrome
Gastroparesis
Pediatric intestinal pseudo-obstruction
Achalasia and other esophageal motor disorders 
Anorectal malformations
Fecal incontinence 
Locations
CUMC/NewYork-Presbyterian Morgan Stanley Children's Hospital
United States
Open location in Google Maps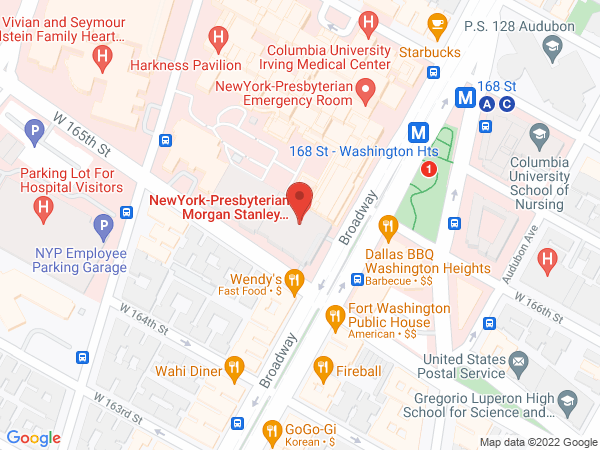 Open location in Google Maps