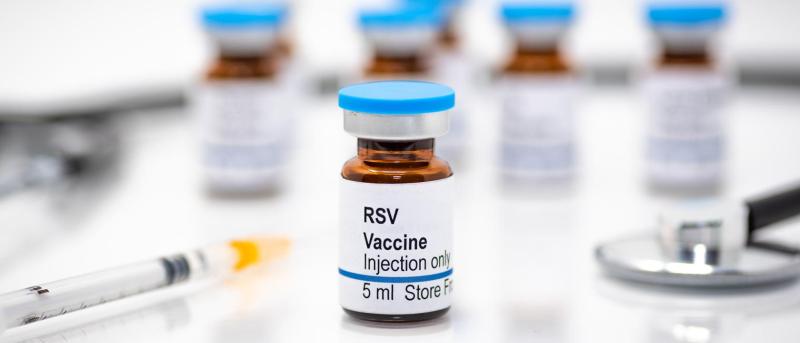 Everything You Need to Know About the RSV Vaccine
Respiratory syncytial virus, known as RSV, is a lung infection. For most healthy adults, an RSV infection is mild, but RSV is highly contagious and can lead to pneumonia and bronchiolitis, which inflames airways and clogs them with mucus.
There's been a lot of attention on RSV cases in babies and children, but anyone can get RSV. It can cause severe infection, especially in premature infants, babies younger than 12 months, older adults, people with heart and lung disease, and anyone with a weak immune system. 
"In most people, RSV is similar to a cold, but that's not true for everyone," says family medicine doctor Anita Beecham Robinson, MD. "However, in certain people, particularly infants, older adults, and individuals with chronic medical conditions, RSV can lead to serious complications, like difficulty breathing, which can lead to hospitalization or even death."  
What to Know About the RSV Vaccine
The United States Food and Drug Administration (FDA) has approved two RSV vaccines for adults 60 and older. The CDC recommends that adults age 65 and older get an RSV vaccine. Adults 60 to 64 can get a prescription after talking to their doctor or other health care provider. The CDC recommends that adults 60 and older receive an RSV vaccine after talking to their doctor or other health care provider.  
"Shared clinical decision-making takes into account a person's individual characteristics, values, and preferences," says Beecham Robinson. It's how she works with every patient she sees. In terms of RSV, she says, healthcare providers will also consider each patient's risk of severe RSV disease to decide whether RSV vaccination is right for them. 
A severe RSV infection can lead to serious health problems like pneumonia and bronchiolitis, an inflammation in the lungs. People who have a chronic medical condition, especially heart disease, chronic lung disease, or diabetes, are particularly at risk. And most likely to have an RSV infection land them in the hospital.  
We spoke to Beecham Robinson about RSV and vaccines for older adults.  
---  
Where and How Do You Get RSV? 
You can get RSV everywhere, like the common cold. Most children have been infected with RSV by age two. 
RSV is contagious and spreads when someone infected coughs, sneezes, or touches or kisses someone else. People who have RSV are usually contagious for three to eight days and may be contagious a day or two before they have symptoms. Some infants and people with weakened immune systems can be contagious for up to four weeks.  
RSV can be severe for people, including those with: 
Chronic lung diseases such as COPD or asthma; 
Heart problems like congestive heart failure and coronary artery disease; 
kidney problems, liver disorders, blood disorders, neurological disorders, or other endocrine problems, including diabetes. 
Severe means it can create other health problems and send someone to the hospital because they cannot get well at home. These cases can be life-threatening. 
Most adults hospitalized with RSV have underlying medical conditions. In fact, many have three or more underlying medical conditions. If you are exposed to someone with RSV, you should wash your hands frequently if you are infected or exposed to someone who has RSV. 
Have You Treated Anyone with RSV? 
Yes. Fortunately, most patients have only had mild symptoms similar to a cold, including runny nose, congestion, fatigue, and cough.  
Unfortunately, the infants I've treated had more concerning symptoms, such as wheezing, nasal flaring, decreased appetite, and decreased activity and irritability. In addition to discomfort, which can impact everyone in the home, it's bad for infants to have these symptoms because it means they're having difficulty breathing, which could lead to hospitalization or worse.  
Why Are Adults 65 and Older Eligible for the RSV Vaccine?   
The very young and people older than 65 are at increased risk for RSV complications such as hospitalization, life-threatening pneumonia, and even death.  
What About Everyone Else? Can People Under 60 Take This Vaccine? 
No. There is not yet an approved RSV vaccine for people under age 60.  
There's a maternal RSV vaccine and a monoclonal antibody for infants in development. In the meantime, if you are over 60 and live with a young child or pregnant person, getting the RSV vaccine can help protect them as well as yourself.  
When Will RSV Vaccines for People Older Than 60 Be Available? 
The new RSV vaccines are available now, as are the new flu and COVID vaccines. Like the flu, RSV season peaks in winter.  The CDC says you can get all three vaccines at the same time. If you had side effects from a vaccine in the past, speak with your doctor about what's best for you.
How Effective Are the RSV Vaccines?   
According to the FDA, the Arexvy vaccine reduces the risk of developing RSV-associated LRTD (lower respiratory tract disease) by 82.6% and the risk of developing severe RSV-associated LRTD by 94.1%. The ABRYSVO vaccine reduces the risk of LRTD by 65.1% and severe LRTD by 88.9%. Those are significant statistics. 
Does It Matter Which Manufacturer's Vaccine You Get?  
No. For most people, it does not matter which RSV vaccine you get. If you have concerns, talk to your doctor.  
Where Can Someone Go to Get the RSV Vaccine? 
The same place where you get flu and COVID vaccines. 
Does the Flu Vaccine Protect Against RSV?  
No. Flu vaccines provide protection from certain flu strains. RSV vaccines protect against RSV. 
Does the COVID Vaccine Protect Against RSV?  
No. COVID vaccines provide protection from SARS-COVID strains. RSV vaccines protect against RSV.