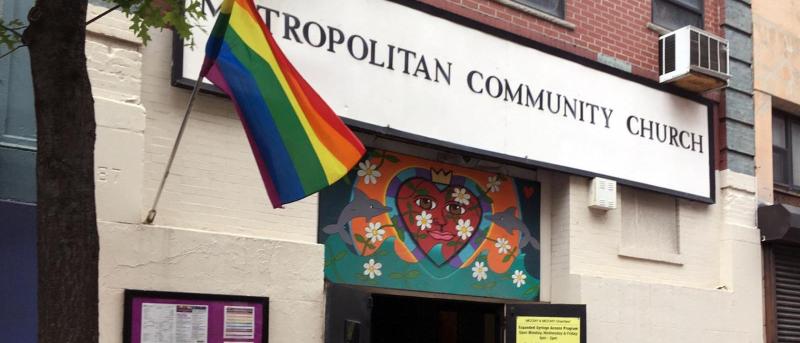 Q Clinic: Where Columbia Med Students Provide LGBTQ+ Care
First-year medical student Isaac Alter has had many rewarding moments as a volunteer clinician at Q Clinic, which offers free, primary care to the LGBTQ+ community in New York. But one example stands out.
"A trans patient came to us who had stopped seeing a previous doctor and taking an important medication because they weren't feeling affirmed," says Alter, one of the seven student clinicians who run Q Clinic. "We were able to provide for this patient a space to re-establish care and feel safe being their whole self. Now they're back on their medication and doing well."
This is just one of many patients who have sought care at Q Clinic since it was established by students and family medicine faculty of Columbia University Vagelos College of Physicians and Surgeons in 2015. Operating out of the Metropolitan Community Church of New York every Wednesday evening and serving patients over age 18, the clinic offers free services, including pre-exposure prophylaxis (PrEP), gender-affirming hormone therapy (GAHT), pelvic exams and Pap smears, health screenings, and referrals for further care (from mental health to ultrasounds). The Q Clinic team has seven first-year medical students and  two attending physicians who provide on-site mentorship.
"There's a real shortage of care for the many uninsured and underinsured patients in New York, especially care that focuses on the LGBTQ+ community," says Alter. "We provide an affirming health care space where patients can access services specific to their needs."
More than just offering prescriptions and physical exams, the students prioritize developing personal relationships with each of their patients, who often visit at regular weekly or monthly intervals to adhere to medication guidelines.
"I've literally spent two hours getting to know a patient, and I love the patients who see me regularly," says Columbia medical student Simran Chand, a Q Clinic volunteer working with Alter. "At the end of the day, even if I figured out the disease and prescribed the right medication, unless my patient walks out the door feeling heard, seen, and understood, they won't feel like they got good clinical care."
Students supporting students
All seven Q Clinic student clinicians have their own story behind their decision to volunteer.
"I'm gay, and although coming out is never fun, I had a pretty easy go of it in a liberal high school with lots of support," says Alter. "But as I've grown up I've seen how little support other people have. So I realized I wanted to address the gap between what people need and what they're getting in this community."
Chand arrived at Q Clinic from a different set of experiences. "I'm the daughter of immigrants, a woman of color, and I was a gender sexuality women studies major. So I came to understand the needs of women, sexual minorities, immigrant populations, and other underserved communities," she says. "I think Q Clinic is this emblem of serving people who are passed over. Women and LGBTQ+ folks are too often neglected by the medical system, and I really wanted to provide care that affirms their identity."
Bringing seven students together with their own backgrounds and motivations makes for a close-knit team. Each Monday, the Q Clinic student clinicians have a planning meeting over lunch. Every Wednesday, they take the subway together, grab a pizza, and start setting up at the church with the partitions, exam tables, and supplies necessary to begin seeing patients at 6:30.
"We're absolute besties," says Chand. "There are so many problems we have to solve together. We lean on each other and support each other through everything we're doing."
Becoming better doctors
Part of the mission of Q Clinic—as with the other four student-run clinics of Columbia's Vagelos College of Physicians and Surgeons—is to provide a training ground for the medical students who run it.
First-year medical students receive mentoring and feedback from second-, third-, and fourth-year students. Attending physicians are on hand to provide support, guidance, and instruction.
"We learn from our patients in terms of their own cases, but we also take something from every encounter to inform how we'll practice in the future," says Alter. "That's the gift we have: Every visit helps us build skills and see people in a fuller way."
Chand couldn't agree more. "There's no doubt Q Clinic is already making me a better clinician for the future," she says. "I think a lot of physicians have a specific view of the 'doctor-to-patient' relationship, but Q Clinic has taught me it's really a 'human-to-human' partnership. We're working together for our patients' wellness."