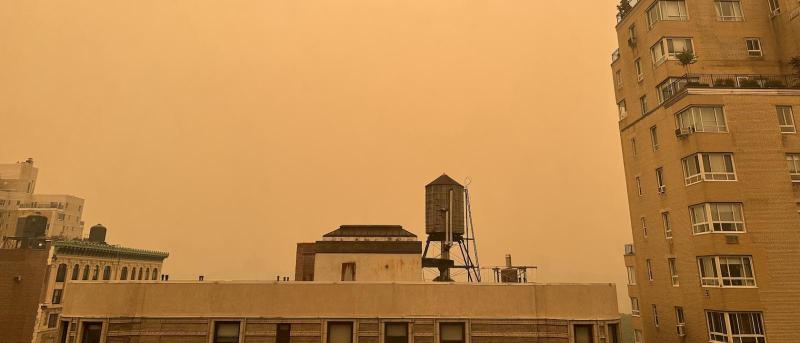 What Wildfire Smoke Does to Our Bodies
Smoke from Canadian wildfires has caused air quality in New York City to deteriorate in recent days, reaching levels that may seriously impact those with respiratory and heart conditions.
"Even those without underlying conditions are feeling some of the effects, your eyes get watery, your throat gets itchy," said Columbia physician Christopher Tedeschi, MD, associate professor of emergency medicine, on WNYC's Brian Lehrer Show this morning.
New York City's Department of Environmental Conservation has issued an Air Quality Health Advisory for June 7, advising that people with heart or breathing problems, children, and older adults may be especially sensitive to the outside air and said that:
All New Yorkers should limit outdoor activity
Adults who need to be outside should wear a high-quality N95 or KN95 mask
Tedeschi expects more people to visit the emergency room today with complaints related to the smoke.
"When the smoke conditions get to where they are now, we see people with exacerbations of respiratory illnesses like asthma or emphysema or COPD," Tedeschi told WNYC. "And we do know that… ER visits for cardiac conditions can increase as well. Anytime that your heart is working harder to get the oxygen it needs, there's certainly a risk of some adverse events."
It's hard to say, Tedeschi added, if there are long-term effects from a short exposure to the smoke. But studies of people who are wildland firefighters, who are exposed year after year, show some decline in lung function over time.
The conditions are particularly concerning for children with asthma, Stephanie Lovinsky-Desir, MD, chief of pediatric pulmonology, told the Financial Post. In the short term, poor air quality can exacerbate asthma, she said, and chronic exposure is linked to smaller lung size.
"This sets our kids up for risk of lung disease well into adulthood," she said. Lovinsky-Desir advised those at risk to keep their windows closed and use air filters if possible.
"We will need to come to terms with the fact that wildfires are becoming more common and more intense; we will see even more effects in the coming years," Tedeschi said. "We need to kind of come up with a systematized plan to address that."
For now, Tedeschi advised New Yorkers to sign up with Notify NYC, the city's official source for emergency alerts and city services.
Photo by Helen Garey / Columbia University Irving Medical Center
References
More information
Darby Jack, PhD, associate professor of environmental health sciences at the Mailman School of Public Health, discussed the health effects of poor air quality in Crain's.