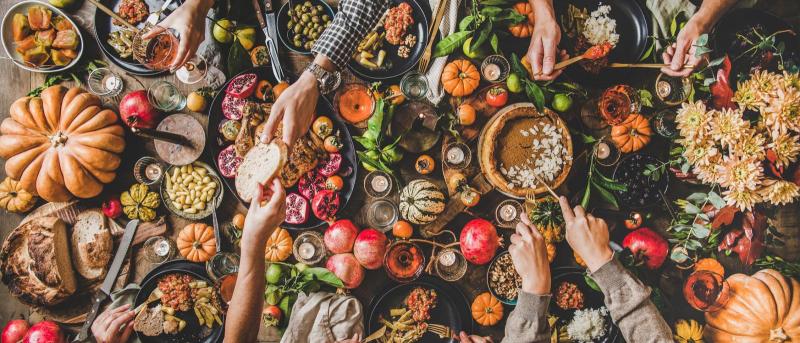 Managing Your Diabetes Over the Holidays
Practical Tips to Help You Round Out the Year
Holiday gatherings can be tricky if you have diabetes. As the cold weather sets in and we gather around family and friends, it can be tempting to overindulge in sugary food and drinks.
"Between traveling, stress, and disruption of usual routines, diabetes management over the holidays can be particularly challenging," says Jacqueline Lonier, MD, assistant professor in the Department of Medicine at CUIMC.
Dr. Lonier, who is also an adult endocrinologist at the Naomi Berrie Diabetes Center, believes the best thing that people with diabetes can do for their health is to enter the season with a clear plan in place before any holiday gatherings.
"Be prepared by making sure you have adequate amounts of your medication and supplies while traveling, a backup plan in case your diabetes technology fails, and a plan for managing holiday meals and events."
She sat down with us to provide some tips for how people with diabetes can make it through the holiday season happy and healthy.
---
How to Plan Meals Around Diabetes
Food may be plentiful at holiday gatherings, but it's often predictable. This can be used to your advantage. Before you arrive, have an idea for how much of each dish you want to eat.
"It's okay to indulge occasionally in a favorite celebratory treat but keep your portion sizes small and keep the rest of your meal balanced and healthy," says Dr. Lonier.
Of course, it's always best to choose healthy food options when possible. Some healthy food options to consider during the holidays and all year round are:
Whole grains: Substitute white rice, pasta, and bread with whole grains like brown rice, whole wheat pasta, whole grain bread, and cauliflower rice, which have a lower glycemic index and provide more fiber to help stabilize blood sugar. Take it easy on the stuffing, too.
Lean proteins: Choose lean protein sources like skinless poultry, fish, tofu, and legumes instead of fatty cuts of meat. Start your meals with protein, as it helps stabilize blood sugar and keeps you feeling full.
Healthy fats: Olive oil, avocado, nuts, and seeds can help improve insulin sensitivity. 
Non-starchy vegetables: Load up on non-starchy vegetables like broccoli, spinach, kale, and peppers. They are low in carbs and packed with nutrients. If there are potatoes or sweet potatoes, make sure they are baked and not fried and coated in sugar.
Fruit portions: Enjoy moderation and avoid lower-sugar fruits like berries, cherries, and melons, and avoid the dreaded fruit cakes if you can.
Beyond Food: More Tips for Diabetes Management
Managing your diabetes isn't just about the food you eat. It's important to stay focused and active throughout the holidays – and you don't have to do it on your own. You can let others know you have diabetes and share your management plan so they can support you and take some of the pressure off to overindulge.
Here are a few more things to keep in mind:
Frequently check blood sugar levels: If you're traveling across time zones for the holidays, be mindful that you may need to reset pumps or injection times. Keep checking your blood sugar levels, especially if you're trying new foods or eating differently than usual.

 

Carb counting:

Estimate the carbohydrates in your holiday dishes and adjust your insulin or medication as needed. Limit sugary desserts and drinks.

Stay hydrated:

 Drink plenty of water or herbal teas throughout the day, as this can help you feel full and reduce the temptation to overindulge.

Alcohol in moderation:

 Be aware of alcohol's impact on lowering blood sugar and if you need to navigate a bar, sparkling water is a good choice if it is available. 

Stay active:

 Hit the park for a classic tradition of Thanksgiving touch football game, or sign up for your local turkey trot.

Stick to your routine:

 Keep your regular meal and medication schedule as much as possible, even during the holidays. If you're traveling or driving, check your blood sugar before you get on the road, and make sure to have some healthy snacks handy if you need to pull over and adjust your blood sugar level. 

Don't stress:

While the holidays are a time to enjoy, they can also be stressful, which can impact your diabetes, as well. Rather than focusing on food, make time for meditation, yoga, deep breathing, and walking.
And remember, your doctors and care team are there to support you as well.
"Diabetes management is complex. Reach out to your diabetes care team for advice when needed," says Dr. Lonier.