For Patients
Columbia University Fertility Center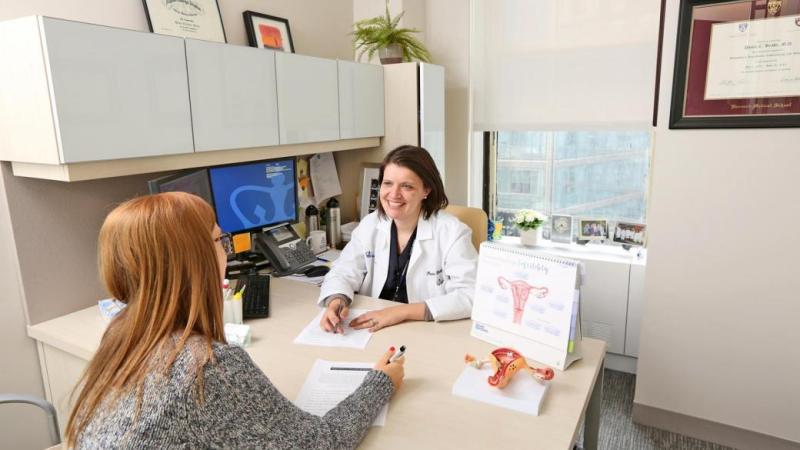 Make an Appointment
Contact our team to learn more about the center or to make an appointment.
As the fertility center for Columbia University Irving Medical Center, we offer superior care to patients with all kinds of needs, from the most basic to the most complex. We will design an individualized treatment plan that is right for you and deliver it in a compassionate, caring, and supportive environment. Our patients are our top priority and we strive to provide them with the best possible care that is specifically tailored to their needs. In every case, our goal is your goal: to have a healthy baby.
Getting Started
Before you begin fertility care at Columbia University Fertility Center, you will meet with one of our physicians to determine which services and treatments are right for you. This initial consultation consists of a conversation with a physician about your relevant medical history and possible treatment options.
Following this discussion, one of our specialized nurses will ensure that all your questions are answered and that you understand your next steps. You can then speak to a financial counselor, who will review the costs associated with your treatment and any insurance benefits you may have. In addition, you can meet with any of the support staff who will help manage your care.
You will then be given a fertility assessment. The fertility assessment will require comprehensive tests to evaluate possible causes of infertility. For female infertility, these tests may include a hormonal evaluation and the examination of the physical integrity and structure of the fallopian tubes and uterus. For males, a semen analysis may be required to determine male infertility. Our physicians will use test results, previous treatment, and medical histories to determine an appropriate course of treatment.
Early Pregnancy Information
Helping our patients achieve a successful pregnancy is our top priority at Columbia University Fertility Center. Early pregnancy is an exciting and sometimes challenging time for those who have undergone fertility treatments, and we continue to offer support to our patients during this stage to ensure their whole family remains healthy. We continue to monitor our patients through early pregnancy by conducting blood tests to measure their beta hCG and progesterone blood levels, and later, pregnancy ultrasounds.
We also understand that patients may have many questions about best practices during these first few months of pregnancy: what you can eat, where you can go, when you can begin exercising, just to list a few. We have prepared an information packet including answers to some of the most commonly asked questions based on the most current medical guidelines and recommendations. We've also included here a list of local community groups that offer support through early pregnancy at no extra cost. If you're interested in private consultations with a therapist, nutritionist or psychiatrist, we have included a list of resources.
For patients who do not already have an obstetrician for pregnancy care, we offer direct referrals to our colleagues in the Department of Obstetrics and Gynecology at Columbia.