Community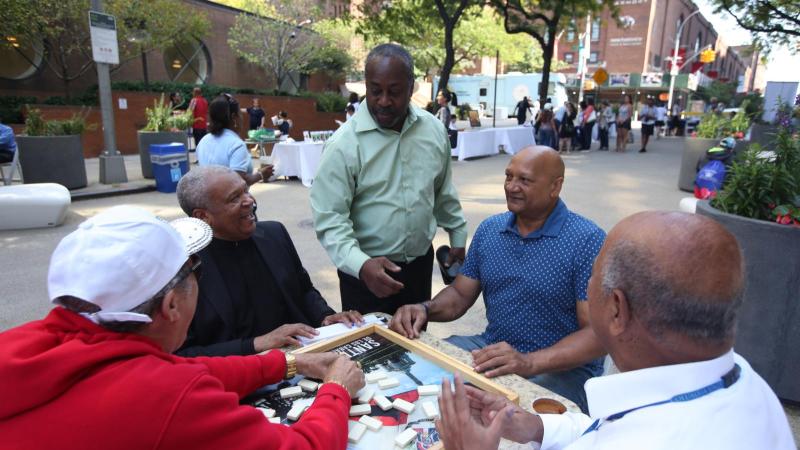 ColumbiaDoctors is proud to be seen as a leader in more than 200 medical specialties and subspecialties, but we're also privileged to be accepted as an anchor within the communities we serve. 
Our actions during the peaks of the Covid pandemic proved we would never abandon our communities during their time of need. However, it's not just in the arena of public health where we want ColumbiaDoctors to be a shining example. 
The neighborhood of Washington Heights is enmeshed in the DNA of CUIMC and ColumbiaDoctors. We stand shoulder-to-shoulder with our community on the issues of the day, including combatting structural racism, celebrating diversity, and eliminating health disparities. 
We recognize that ColumbiaDoctors has an important responsibility to act decisively on these longstanding problems. As a leader, the public will watch to see whether we follow through. That's an obligation we're prepared to meet.
---
Highlights
---
ColumbiaDoctors Is Proud of Our Dedicated Clinicians 
Clinical staff from ColumbiaDoctors were invited to march in the historic Hometown Heroes Parade in lower Manhattan last year to honor and celebrate the essential workers who helped New York City survive the pandemic.
---
Podcast: Leaders Discuss Diversity and Inclusion Efforts
CUIMC's efforts to create a more diverse and inclusive environment are discussed by Anne Taylor, MD, vice dean for academic affairs at Vagelos College of Physicians and Surgeons, and Katrina Armstrong, MD, chief executive officer of Columbia University Irving Medical Center and dean of the Faculties of Health Sciences and VP&S.
---
In Responding to Covid-19, CUIMC Rallied Around Community
CUIMC responded to the pandemic with myriad outreach efforts that leveraged existing partnerships to meet the needs of underserved local patients in the community.
---
LGBTQIA Health: A Q&A with Tonda Hughes, PhD
We caught up with Tonda Hughes, PhD, who discusses Columbia's championing of health equity for the LGBTQIA community as the school educates the next generation of nurses.
---
Faculty, Staff, Students Volunteer at Armory After-School Program
Doctors, staff, and students from CUIMC celebrated White Coat Day at the Washington Heights Armory with children in the armory's CityTrack and Little Feet after-school programs.
---
Inclusive Hiring Efforts Win City Award
The Mayor's Office for People with Disabilities and the Consortium for Customized Employment lauded CUIMC for its inclusive hiring program with a 2022 Customized Employment Award. Project PossABILITY connects workers who have intellectual or developmental disabilities with employment opportunities at the medical center.
---
CUIMC Initiative Receives Federal Project Funding
Columbia's COVID-19 Northern Manhattan Community Mental Wellness Corps, a new initiative to address mental health disparities in Northern Manhattan and parts of the Bronx, welcomed U.S. Rep. Adriano Espaillat to present federal funding, which he secured for the program.
---
New Documentary on Health Disparities Features Columbia Doctor
Dr. Hetty Cunningham's dedication to students and patients, tireless work in educating future generations of doctors, and commitment to ending racism in health care made her a perfect fit for "The Color of Care," a new documentary examining racial health disparities and practices in the United States.
---
Diabetes Center Receives $20 Million Gift to Establish Nonna's Garden Foundation
The $20 million gift that established the Nonna's Garden Foundation recognizes the comprehensive care provided by the Naomi Berrie Diabetes Center to adult and pediatric patients with diabetes. It will ensure that this excellent multidisciplinary care continues, particularly for underserved patients who need the resources of the center.