Innovations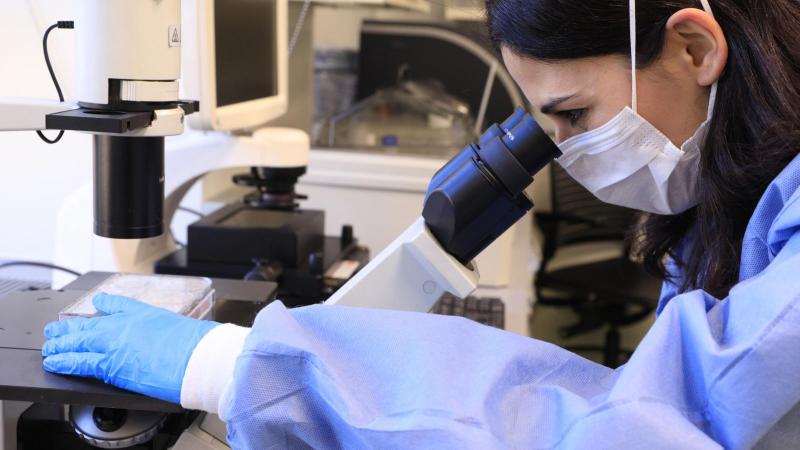 Here at ColumbiaDoctors, some of the best and the brightest minds in the world of medicine are looking beyond today's challenges to see the possibilities unlocked by a greater understanding of a disease or groundbreaking new treatments and therapeutics.
Like everything else we do, ColumbiaDoctors follows its North Star – exemplary patient care. Every innovation is focused on developing meaningful improvements for the health and experiences of our patients. 
This past year our medical school earned nearly $500 million in research funding from the National Institutes of Health, more than all but eight other institutions.  That means our patients are in close proximity to the vanguard of biomedical research, a position that affords them direct access to the people behind the most promising projects designed to help us live longer, healthier lives.
---
Highlights
---
Columbia Launches Clinical Innovation Lab
The Columbia Clinical Innovation Lab takes a multidisciplinary approach to bring cutting-edge approaches to healthcare. The team is dedicated to raising good ideas from seed to plant, and is led by experts in clinical care and healthcare administration.
---
Artificial Intelligence to Predict Treatment Success from Early CT Scans
Columbia University researchers developed a machine learning algorithm that analyzes a patient's computed tomography (CT) scans and creates a biomarker – known as a radiomic signature – that can help predict how well immunotherapy will work for patients with melanoma.
---
Promising Treatment for Deadly Brain Cancer
A clinical trial has found that selinexor, the first of a new class of anti-cancer drugs, was able to shrink tumors in almost a third of patients with recurrent glioblastoma, an aggressive brain cancer.
"Glioblastoma is an incurable brain cancer that needs new therapeutic approaches. Considering that few treatments have any measurable effect on recurrent glioblastomas, the results are encouraging," said the study's leader, Andrew B. Lassman, MD.
---
How Columbia Women Are Changing Medicine
We celebrated Women's History Month by spotlighting Columbia women whose innovative approaches to their work are changing medicine as we know it.
The prestigious list includes Christine Rohde, MD, who became the first Asian-American female plastic surgery chief in the United States last year when she was appointed chief of the Division of Plastic Surgery at Columbia University Vagelos College of Physicians and Surgeons and NewYork-Presbyterian/Columbia University Irving Medical Center
---
Experimental Gene Therapy Reverses Sickle Cell Disease for Years
A study of an investigational gene therapy for sickle cell disease has found that a single dose restored blood cells to their normal shape and eliminated the most serious complication of the disease for at least three years in some patients.
Four Columbia patients participated in the multicenter study, the first to report on such long-term outcomes of a sickle cell gene therapy.
---
ALS Therapy Moves Closer to Clinics
An experimental drug first tried at Columbia University Irving Medical Center as a last-ditch effort to help a 25-year-old woman with juvenile ALS is now being tested in patients in a global, phase 3 clinical trial, based on promising results from a new study at Columbia.
The clinical trial will be pivotal in determining if the drug can slow the progression of the disease.
---
Telemedicine Beyond Covid
Columbia physicians are now working with colleagues in the engineering school to develop new devices for use in several specialties, and with colleagues in the business school to develop algorithms for the efficient flow of patients during in-person and telemedicine visits.
"Telemedicine has great potential to expand the care we can offer our patients," said Shunichi "Nick" Homma, MD, chief medical officer of ColumbiaDoctors. "It is not a different way of providing health care, but an expansion of it. It is a powerful new tool that we have only begun to explore."
---
Columbia Accelerates Research Into Next-Generation Radiation Therapy
A new instrument at Columbia University will help scientists uncover the full potential of heavy ion radiation therapy. The linac (linear accelerator) booster, supported by grants from New York's Empire State Development and the National Cancer Institute, establishes Columbia as the first institution in the United States with an instrument dedicated to research on heavy ion radiation therapy.
Heavy ions could radically improve radiation therapy for treatment of pancreatic cancer and other difficult-to-treat tumors if researchers can better understand how the ions work against cancer.
---
Evans Foundation Grant Forms New Center at Columbia for Myelodysplastic Syndromes
The Edward P. Evans Center at Columbia will expand and create novel MDS programmatic efforts at the HICCC, bringing new opportunities for research and education into the field.
MDS is a malignant disease that attacks bone marrow stem cells. Diseased cells spread through a patient's bone marrow and limit the body's ability to create healthy blood stem cells, which can cause anemia, lowered immune response, and an inability to form blood clots. Each year, more than 40,000 individuals are diagnosed with MDS and roughly one-third will develop acute myeloid leukemia (AML), a severe and rapidly progressing form of blood cancer.