General Dermatology
Expert care for your skin
Make an Appointment
Our team is here to help you make an appointment with the specialists that you need.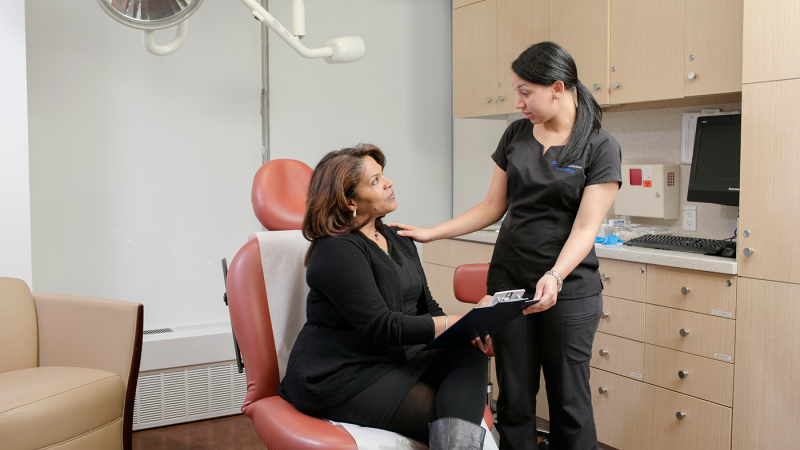 The skin is the human body's largest organ. It serves as a protective barrier from microorganisms, regulates the body's temperature, enables the sense of touch, and protects us from disease by playing an active role in the immune system. Your skin deserves the care of an expert to protect it from disease and infections and retain its radiance and beauty.
At ColumbiaDoctors Dermatology, skin is our life's work. One of the nation's largest and best-equipped centers for skincare, our board-certified dermatologists provide quality, comprehensive care for all skin conditions and a full range of cosmetic treatments.
We use the latest diagnostic and therapeutic techniques for conditions of the skin, hair, and nails, including:
Acne
Psoriasis
Skin allergies
Eczema
Rosacea
Nail infections
Contact dermatitis
Hair and scalp conditions
Sometimes your dermatologist will recommend a closer examination of your skin condition by a dermatopathologist, who examines skin samples at a microscopic level. Our dermatopathologists are some of the best in the country, which means that you'll receive a quick, accurate diagnosis when laboratory testing is necessary. And as part of a world-renowned medical center, ColumbiaDoctors provides seamless, multidisciplinary expertise should it become necessary.
Whether you need routine skin cancer screening, a second opinion, or treatment for acne, our dermatologists are committed to helping you maintain the health and beauty of your skin.
Locations
Herbert Irving Pavilion, 12th Floor
161 Fort Washington Ave.
New York, NY 10032
ColumbiaDoctors Midtown
51 W. 51st St., Suite 390
New York, NY 10019
ColumbiaDoctors Third Avenue Office
880 Third Ave., 3rd Floor
New York, NY 10022