Inflammatory Arthritis Center
Make an Appointment
Our team is here to help you make an appointment with the specialists that you need.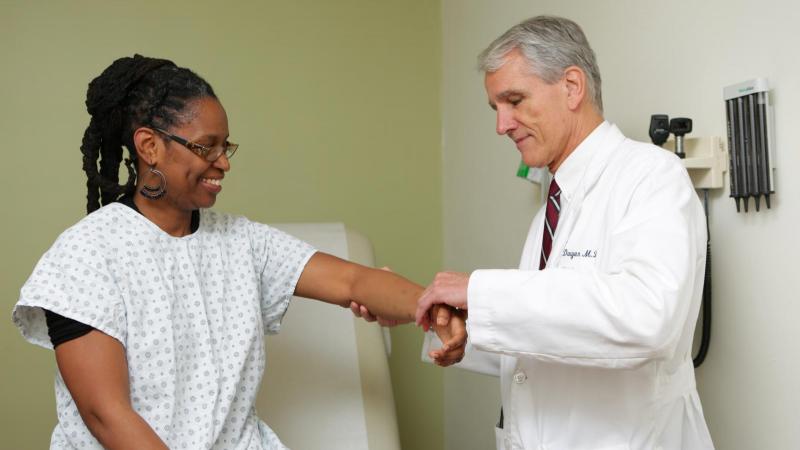 Physician-scientists at the Inflammatory Arthritis Center are committed to improving the lives of people with all forms of inflammatory arthritis.
Inflammatory arthritis is a general term that includes an array of autoimmune conditions that attack the joints of the body and present as stiffness, pain, warmth and swelling in the joints. The most common type of inflammatory arthritis is rheumatoid arthritis. Other forms of inflammatory arthritis include psoriatic arthritis, spondyloarthritis, gout, pseudogout, and others. Left untreated, inflammatory arthritis will progress and result in pain, damage to the joints, and disability. Fortunately, there are more treatments available than ever before to help manage symptoms, slow progression and damage, and preserve quality of life. 
ColumbiaDoctors Inflammatory Arthritis Center
At the Inflammatory Arthritis Center, our goal is to help patients with inflammatory arthritis maintain their quality of life, through individualized care and dedicated research aimed at understanding and better treating the disease. We welcome all patients with joint complaints so that we can quickly and accurately diagnose your condition and start treatment early. Our world-renowned physicians specialize in different types of inflammatory arthritis so that you can receive the best care possible for your particular form of arthritis.
Specialized Treatments
There are now many highly effective non-surgical treatments for inflammatory arthritis that can reduce or eliminate the painful symptoms. In some patients, these techniques successfully slow or halt disease progression. Our physicians will work with you to find the combination of medication, physical therapy, and other techniques that works best for your condition. We can also discuss surgical options when there is severe joint damage.
Research and Clinical Trials
Our goal is to improve the quality of life for patients with inflammatory arthritis. Our physicians are continually developing new research initiatives to improve patient care, and our patients have access to clinical trials for treatments that are not available anywhere else.