Lupus Center
Make an Appointment
Our team is here to help you make an appointment with the specialists that you need.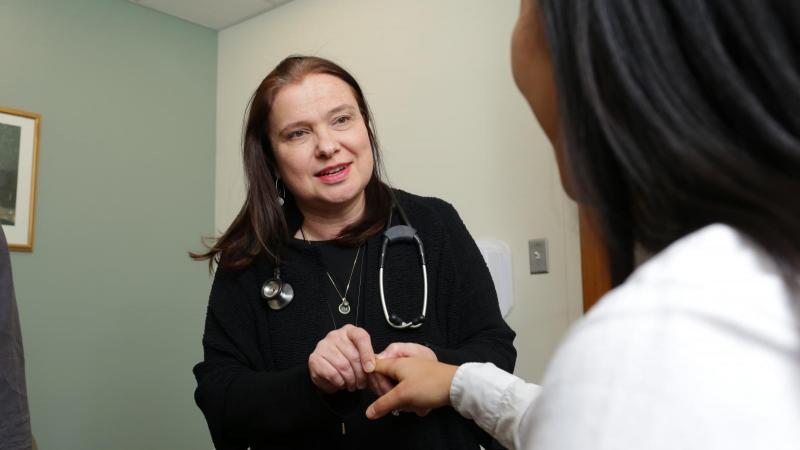 The time for personalized therapies and individualized medicine is now. Treatments that work for the kidneys may not work for the joints, and what works for one patient may not work for another. The better we understand the disease, the better we can tailor the tools to treat it.
Dr. Anca Askanase
Lupus is a chronic autoimmune disease that can affect the skin, joints, or other organs. While anyone can develop lupus, the disease primarily affects women of African, Hispanic, and Asian descent between the ages of 15-45. The severity of the symptoms can vary greatly, from mild to life-threatening.
Lupus is notoriously difficult to diagnose, as its symptoms can mimic those of various other conditions. More than 16,000 Americans a year will develop lupus, and more than 2 million Americans currently have some form of the disease, according to the Lupus Foundation of America. There is currently no cure.
Living with lupus is a tremendous challenge, mainly due to the unpredictable nature of the disease. Our goal at the Lupus Center is to provide all the support you need to manage your symptoms and reduce the impact the disease has on your quality of life. Our world-renowned specialists have years of experience researching, developing, and providing the most effective treatments. At the Lupus Center we understand that as the severity and number of symptoms vary greatly, so must your care.
Multidisciplinary Support at a World-Class Medical Center
Since lupus can affect almost any organ in the body, effective and comprehensive care often calls for cooperation across a variety of medical fields, including neurology, gastroenterology, and dermatology. Our doctors collaborate with experts from all disciplines to ensure that you receive the best care possible. We work closely with the Mothers Center, which provides multidisciplinary care for women with high-risk pregnancies.
Research and Clinical Trials
Lupus is an incredibly complex disease, and exploring new therapies is essential to providing the best possible care. At the Lupus Center, patients have access to some of the newest treatments through participation in clinical trials. Our researchers are dedicated to advancing the understanding of lupus and its causes, and are pioneers in the advancement of new treatments and lupus research. We partner with our patients as we work towards finding a cure for this complex disease.
Patient Education and Support
Lupus presents many challenges, and simply staying informed without becoming overwhelmed can be its own challenge. Our physicians will partner with you to keep you up to date on the latest advances, and navigate the information to help you keep lupus from controlling your life. All members of our team are fully aware of the psychological and physical effects of lupus and are here to help.
Locations
Herbert Irving Pavilion
161 Fort Washington Ave., 2nd Floor
New York, NY 10032
ColumbiaDoctors Midtown
51 W. 51st St.
New York, NY 10019