Pediatric & Adolescent Rheumatology
Make an Appointment
Our team is here to help you make an appointment with the specialists that you need.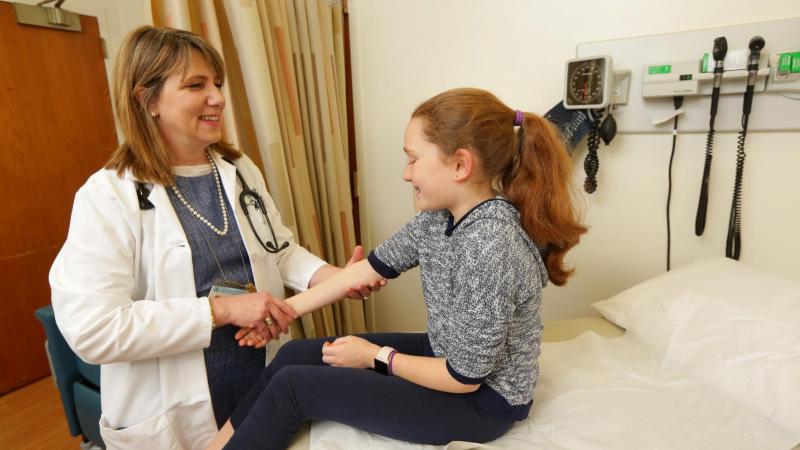 I will work with you every single day to make sure that your child is not forced to skip childhood as a result of autoimmune and inflammatory diseases and will reach adulthood in an abundance of health.
 Dr. Imundo
When your child complains of muscle or joint pain, weakness, or fatigue, you may be referred to a pediatric rheumatologist. Rheumatic disease in children is complicated, and you'll want to see a rheumatologist with the experience and compassion to help your family cope with chronic disease. At ColumbiaDoctors our goal is to find the best treatments available for your child's condition, so that he or she can enjoy a normal childhood.
Comprehensive care is tailored to each child. Our pediatric and adolescent rheumatologist, Dr. Imundo, has unparalleled experience treating childhood rheumatic disease and has treated thousands of patients in the tri-state area. Our staff also includes rheumatology nurses and a clinical social worker. And we collaborate with specialists from across a world-renowned medical center when multidisciplinary care is necessary.
Rheumatology conditions we treat include:
Juvenile Idiopathic Arthritis (JIA)
Juvenile Dermatomyositis (JDM)
Lyme Arthritis/Reactive Arthritis/ARF/Poststrep Arthritis
Systemic and Localized Scleroderma
Autoinflammatory Bone Disorders
Periodic Fever Syndromes / Periodic Autoinflammatory Conditions
Vasculitic Syndromes including but not limited to Henoch Schonlein Purpura
Co-managed diagnoses include:
Inflammatory eye conditions (with Ophthalmology)
Autoinflammory neurologic conditions (with Neurology)
Center for Adolescent Rheumatology
Understanding the needs and minds of adolescents is key to helping them transition into adulthood with rheumatic disease. Through our adolescent rheumatology program – one of a few of its kind in the country – we meet adolescents where they are, helping them take the first steps towards independent management of their conditions. Through research studies, clinical work, and social services, we have developed methods to help teens and adolescents with everything from learning how to manage their own medications to navigating the healthcare system.
Connect Patient Portal
Current patients can count on secure messaging, the use of our online bill payment feature, and 24/7/365 access to their healthcare information through the Connect online portal.
Signing up for Connect is easy. Ask about joining Connect at your next visit.  If you already have an invitation and activation code, visit our sign-up page. If you do not have an activation code, visit our self-sign-up page and follow the directions.
Connect is a joint effort of Columbia, NewYork-Presbyterian, and Weill Cornell Medicine, so a single Connect account links you to all three institutions.
Locations
Herbert Irving Pavilion
161 Fort Washington Avenue, 2nd Floor
New York, NY 10032
(212) 305-4308
ColumbiaDoctors Midtown
51 West 51st Street
New York, NY 10019
(212) 305-4308
ColumbiaDoctors Tarrytown
155 White Plains Road
Tarrytown, NY 10591
(212) 305-4308