Scleroderma Center
Make an Appointment
Our team is here to help you make an appointment with the specialists that you need.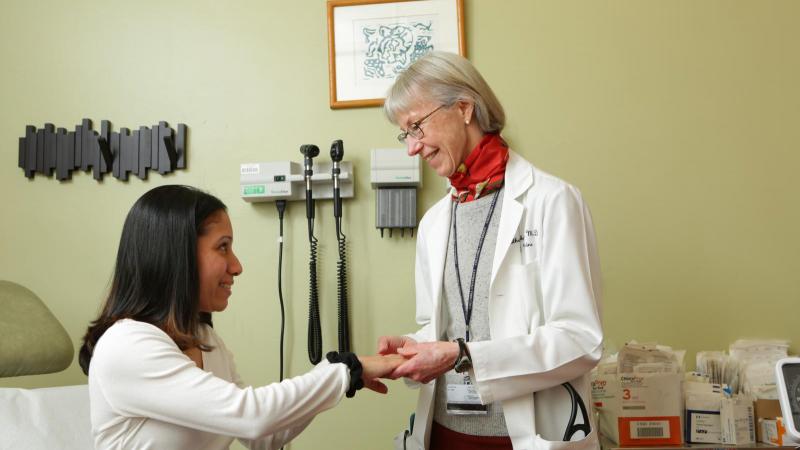 The Scleroderma Center is dedicated to intensive research, the advancement of scleroderma treatments, and the understanding of its causes.
Scleroderma means "hard skin". It is an autoimmune disease that is characterized by the hardening of the skin and other organs, including the lungs, kidneys, gut, and blood vessels. Scleroderma is a rare disease with no known cure. Because it affects many organs, it requires expertise from a range of specialties.
ColumbiaDoctors Scleroderma Center
At the Scleroderma Center, our rheumatologists are deeply committed to scleroderma research and to the discovery of new therapies to help our patients. We provide coordinated, multidisciplinary care that brings together specialists from across a world-renowned medical center. Our patients benefit from long-term, compassionate care from our dedicated physicians, along with support services for families and loved ones.
Multidisciplinary Team Care
Our patients receive coordinated care from a range of specialists, including rheumatologists, pulmonologists, dermatologists, neurologists, orthopedic surgeons, cardiologists, and nephrologists. We have particular expertise in working with patients who develop interstitial lung disease, which is one common feature of scleroderma. Our patients come to one facility to receive all of their care.
Dedicated Scleroderma Research
Our physician-scientists are dedicated to finding better treatments for patients with scleroderma, understanding and identifying the cause of scleroderma, and investigating new techniques to effectively manage this illness. Our patients have access to a number of clinical trials that are available only at the Scleroderma Center. We are continually striving to better understand scleroderma, and translate our discoveries directly into better patient care.
Family Support Services
Autoimmune disorders take a toll on the lives of patients and their families. At the Scleroderma Center, we make sure our patients and their loved ones are connected to the services they need. We believe that understanding your disease is an important part of the treatment process, and we provide educational materials and services to all our patients and their families.
Connect Patient Portal
Current patients can count on secure messaging, the use of our online bill payment feature, and 24/7/365 access to their healthcare information through the Connect online portal.
Signing up for Connect is easy. Ask about joining Connect at your next visit.  If you already have an invitation and activation code, visit our sign-up page. If you do not have an activation code, visit our self-sign-up page and follow the directions.
Connect is a joint effort of Columbia, NewYork-Presbyterian, and Weill Cornell Medicine, so a single Connect account links you to all three institutions.
Location
Herbert Irving Pavilion
161 Fort Washington Avenue, 2nd Floor
New York, NY 10032