Melanoma
Make an Appointment
Our team is here to help you make an appointment with the specialists that you need.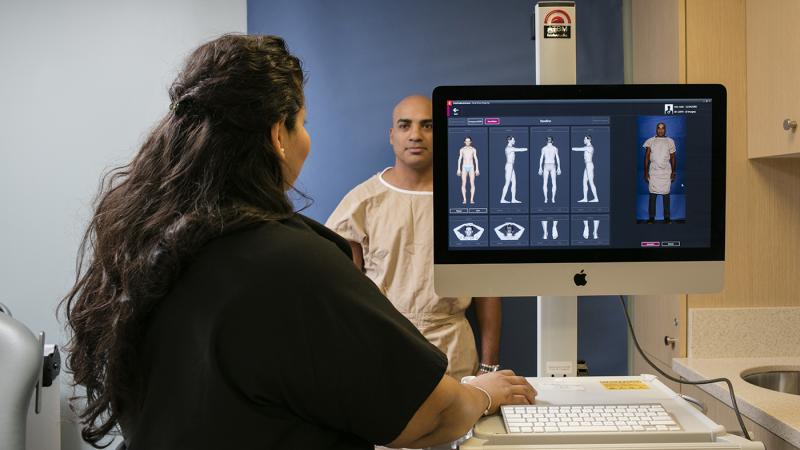 Skin cancer is the most commonly occurring cancer in the United States. It is one the most common cancers in young adults and the deadliest cancer of the skin. Melanoma rates have increased 50% since 1980 in young women. These trends highlight the need for melanoma screening and surveillance.
At ColumbiaDoctors Dermatology, we emphasize prevention and early detection of skin cancers. We educate our patients and referring physicians about the benefits of regularly scheduled dermatologic skin cancer screenings and testing (biopsies) of all suspicious lesions. When found early, before it has invaded deeply into the skin and spread to other parts of the body, melanoma is curable by surgery alone. Although advanced melanoma is more challenging to treat successfully, long-term disease control and cure is possible with the recent development of novel immunological and targeted therapies.
The warning signs for melanoma can be summarized by the ABCDE rule:
A is for ASYMMETRY: One half of a mole or birthmark does not match the other.
B is for BORDER: The edges are irregular, notched, or blurred.
C is for COLOR: The color is not uniform and may include shades of brown or black, sometimes with patches of pink, red, white, or blue.
D is for DIAMETER: The spot is larger than 6 millimeters across (about ¼ inch, or the size of a pencil eraser), although it may be smaller than this.
E is for Evolution (change): This is the most important predictor of malignancy. Change in color, shape, sensation, or bleeding, though any change may be significant.
There is an epidemic of skin cancer and melanoma nationwide. We now know that there are several well-defined risk factors for this form of cancer. Identifying patients who are high-risk for melanoma and maintaining close surveillance will help assure early detection and implementation of treatment as early as possible. Specifically, patients who are high-risk for melanoma may have:
A prior history of melanoma
Family history of melanoma
Atypical/dysplastic moles
A large number of moles
"Atypical mole" syndrome ("dysplastic nevus" syndrome)
Melanoma sometimes runs in families. Some patients may benefit from meeting with a genetic counselor to discuss the risk of developing melanoma and other malignancies. Genetic counselors can also help to create a schedule of skin screenings and discuss other measures to take to reduce your risk of melanoma.
Expert Cancer Care, Seamlessly Coordinated
The best time to treat melanoma is when it is caught early. Our comprehensive skin cancer services include the Pigmented Lesions Clinic (PLC), which has a specific focus on skin cancer surveillance and early detection. We utilize complete digital body mapping for people who have many atypical moles or have a high risk of developing melanoma. This very high-resolution photography provides details of the entire skin surface and creates a body map, which like a world map shows every detail of your skin, including your moles.
We augment the mole mapping by combining it with a detailed dermatoscopic examination for our high-risk patients. For the most challenging moles, we use a digital skin surface microscopy or dermoscopy. Dermoscopy allows us to see the structures under the skin and enables us to distinguish malignant skin lesions, such as melanoma, from benign lesions during long-term follow up. With the help of sophisticated software, we are able to assess the lesions objectively to aid in improved diagnostic accuracy. In addition, patients receive copies of their mole maps to enable them to conduct their own monthly melanoma self-checks. Mole mapping technology allows us to rapidly detect changes in lesions and identify those that may require a biopsy.
The mole mapping service is available at our eastside facility, which is equipped with mole map imaging technology for diagnosis and surveillance.
Appointments for consultation can be scheduled by calling (212) 326-8889.
ColumbiaDoctors comprehensive multidisciplinary team includes dermatologic oncologists, dermatopathologists, dermatologic surgeons (Mohs surgeons), medical and surgical oncologists and plastic surgeons, radiation oncologists, oncology nurses, social workers, dietitians, palliative care specialists, and many others with the compassion and skills to provide our patients with personalized care. The team members collaborate to discuss each patient and to customize a plan of treatment that meets their specific needs.
State-of-the-Art Treatment
ColumbiaDoctors offers the most cutting-edge treatment to people with all stages of melanoma and those at risk for melanoma and in need of surveillance. A full range of treatments includes digital surveillance technologies, surgical management, clinical trials evaluating novel immunotherapies, targeted therapies, and combination regimens for people with metastatic melanoma. Our melanoma care teams include world leaders in melanoma research and therapy, and our patients benefit from their expertise.
Our melanoma center services include:
Mole mapping with digital dermoscopy
Wide local surgical excision
Sentinel lymph node biopsy
Lymph node dissection
Genetic evaluation
Immunotherapy
Targeted therapy
Combination regiments
Vaccine protocols
Chemotherapy
Clinical trials of promising new therapies
A multidisciplinary conference is held weekly to discuss each patient in detail aimed at obtaining consensus on the most appropriate course of treatment.
Cosmetically Sensitive Melanoma Surgery
Our dermatologists and dermatologic surgeons aim to remove as much melanoma tissue as needed to provide the greatest chance of a cure. Today surgeons are able to remove far less tissue, achieving the same survival benefits while leaving you with a much smaller scar, leading to a much better cosmetic result.
Supportive Care
We understand the burden that cancer can place on your life and the lives of your loved ones – physical, emotional, and spiritual – and we do whatever we can to lessen that burden. Our physician experts and support personnel include nutritionists, social workers, palliative care experts, and others who will do whatever they can to meet those needs.
To refer a patient, or for more information about the program, please contact Veronica Sol Ortiz at (212) 305-3625.
161 Fort Washington Ave., Garden Level
United States