Comprehensive Care for Adults With Cystic Fibrosis

Cystic Fibrosis
​​The Gunnar Esiason Adult Cystic Fibrosis and Lung Program
Make an Appointment
Our experienced team is here to help you learn more about our program, to schedule an appointment, or to help with a referral.
The Gunnar Esiason Adult Cystic Fibrosis and Lung Program at Columbia University Irving Medical Center is a premier site for adult cystic fibrosis (CF) care and research in the New York City area. The program offers comprehensive diagnosis and treatment of cystic fibrosis and related conditions in adults. 
The Services and Support You Need—in One Location
The Adult CF Program provides unmatched clinical care for patients 18 years of age and older with cystic fibrosis and related respiratory disorders, including:
Kartegener's disease/ciliary dyskinesia
Bronchiectasis
Mycobacterial lung disease
Patients are seen in a modern, state-of-the-art facility five days per week. We offer on-site pulmonary function testing, glucose tolerance testing, and blood work. 
We pay meticulous attention to infection control to prevent the spread of bacteria between patients.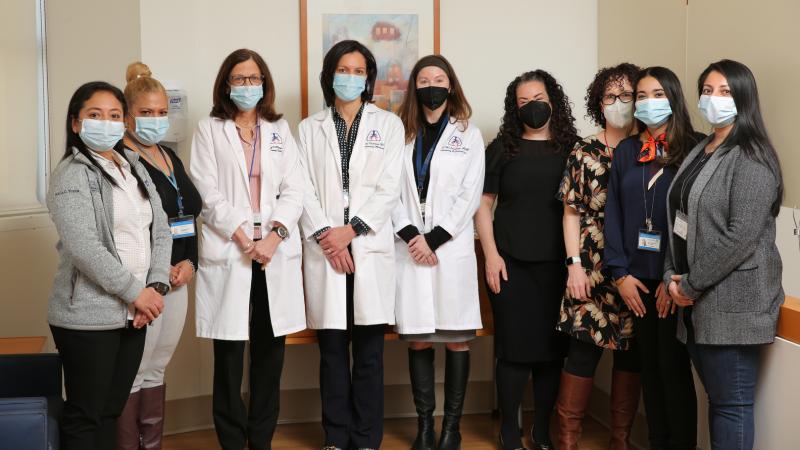 Access to the Latest Treatments
As a Cystic Fibrosis Foundation Therapeutics Development Network (TDN) Center, we are one of the busiest CF clinical trial sites in the U.S., giving patients the opportunity for early access to potential breakthrough therapies. The program actively participates in the latest clinical and basic science research. And as part of Columbia, we train future experts in the care and study of adult CF.
A Multidisciplinary Approach to CF
Our multidisciplinary team approach focuses on enhancing the quality of life and health for all of our patients, including patient education and outreach. The team includes:
Dedicated physicians
Full-time nurse practitioner
Social worker
Nutritionist
Physical therapist
Pharmacist staff
We understand that CF can impact every part of your life. Our team can assist patients with issues such as:
Optimizing their health
Airway clearance techniques
Medication approval
Home intravenous therapy
Home equipment
Short- and long-term disability
Exercise
Work-related restrictions
Coordinated Care at Columbia
Patients also benefit from integrated care and support through other leading Columbia programs. The Adult CF Center teams with the Pulmonary Rehabilitation program to help manage your symptoms. And when necessary, we work closely with the Center for Advanced Lung Disease and Lung Transplantation at Columbia, an established transplant leader for almost 40 years. Following lung transplantation, physicians from the transplant and the cystic fibrosis teams work closely together to provide comprehensive ongoing patient care.