Minimally Invasive Care for Airway, Lung, and Pleural Disease

Interventional Pulmonology
Complex Airway, Lung, and Pleural Programs at Columbia
Make an Appointment
Our experienced team is here to help you learn more about our program, to schedule an appointment, or to help with a referral.
If your airways or lungs become obstructed—by a tumor, scarring, or a foreign body—it can become hard to breathe. Interventional pulmonology (IP) uses minimally invasive procedures and specialized tools to diagnose and treat airway and breathing issues.
Because IP treatments are minimally invasive, patients can benefit from shorter hospital stays, lower risk of bleeding, and faster recoveries. Columbia offers some IP procedures in an outpatient setting.
Interventional Pulmonology at Columbia
The Interventional Pulmonology Program at Columbia operates jointly under the Department of Surgery and the Division of Pulmonary, Allergy, and Critical Care Medicine. We offer expert consultation and sophisticated diagnostic and therapeutic procedures for all types of airway, lung, and pleural diseases, including:
Lung cancer
Airway stenosis/obstruction
Pleural effusions
Lung nodules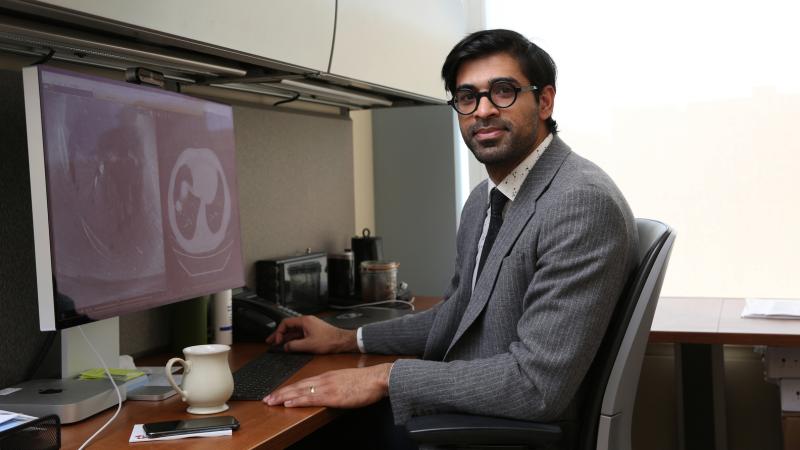 Multidisciplinary Approach to Care
We work closely with multiple specialties across Columbia to provide our patients with a tailored, multidisciplinary treatment plan.
Thoracic surgery
Medical oncology
Radiation oncology
Pulmonary medicine
Interventional gastroenterology
Laryngology
Specialized Care Programs
We offer state-of-the-art diagnosis and treatment and the highest quality of care for patients with advanced airway and pleural disease. 
Conditions We Treat
Lung nodules
Lung cancer
Emphysema
Pleural disease

Pleural effusion ("water on the lungs")
Pleural tumors
Pleurisy

Tracheobronchomalacia
Tracheoesophageal fistula
Airway foreign body
Treatments and Services We Offer
Rigid bronchoscopy
Endobronchial tumor ablation
Airway stents
Navigational bronchoscopy
Robotic bronchoscopy
Endobronchial ultrasound (EBUS)
Tunneled pleural catheter (indwelling pleural catheter)
Tracheostomy
Montgomery T-tube
Photodynamic Therapy
Cryotherapy
Pleuroscopy
Medical Thoracoscopy
Whole Lung Lavage