Comprehensive Evaluation and Care for ILD and Related Conditions

Interstitial Lung Disease (ILD)
Columbia Interstitial Lung Disease Program
Make an Appointment
Our experienced team is here to help you learn more about our program, to schedule an appointment, or to help with a referral.
The Interstitial Lung Disease Program (ILD) at Columbia University Irving Medical Center/NewYork-Presbyterian (CUIMC/NYP) is a multidisciplinary program that provides world-class care for patients with many types of interstitial lung disease (ILD), including:
Idiopathic pulmonary fibrosis
Nonspecific interstitial pneumonitis
Hypersensitivity pneumonitis
Drug-induced ILD
Pneumoconiosis
Pneumothorax
Post-covid fibrosis
ILD-related to connective tissue diseases such as lupus, scleroderma, and rheumatoid arthritis
Coordinated Care in One Location
ILD is a challenging condition to treat, so it is important to work with a care team with a proven record of delivering excellent care. Columbia has been identified as a Care Center of Excellence by the Pulmonary Fibrosis Foundation. As part of the Price Family Center for Comprehensive Chest Care, our ILD program offers convenient access to important services in one location. Our team has experience working with many local providers to coordinate care. For transplantation candidates, we offer direct referral and co-management with the NewYork-Presbyterian Center for Advanced Lung Disease and Transplantation at Columbia University Irving Medical Center.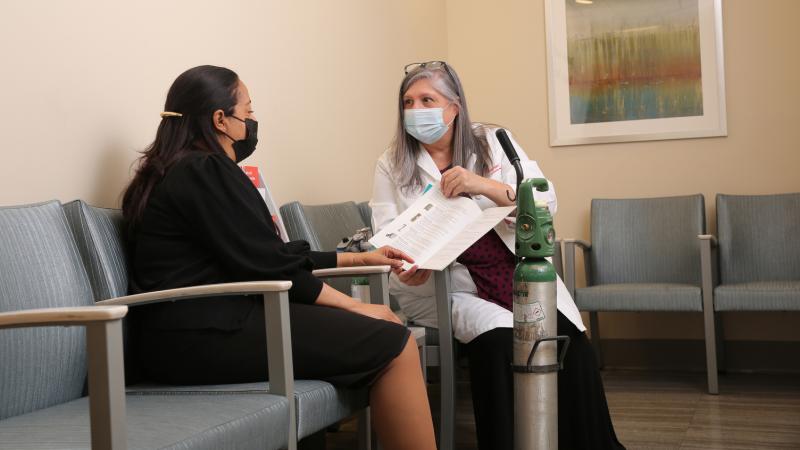 Expert Diagnosis of ILD at Columbia
There are many different types of ILD, and the appropriate treatments will vary. The correct diagnosis is essential for getting the right care. The multidisciplinary ILD team at Columbia has experience diagnosing a wide range of ILD types. Our program includes experts in interventional pulmonology, thoracic surgery, and pulmonary diagnostics. Columbia offers thorough diagnostic evaluation using the most advanced methods and technologies, including:
Envisia Genomic Classifier testing for idiopathic pulmonary fibrosis (IPF)
Telomere length testing for genetic link to pulmonary fibrosis
Genetic testing for familial links to lung disease
Flexible bronchoscopy for biopsy
Once diagnostic testing is complete, each case is presented and discussed at a multidisciplinary ILD conference. Our expert clinicians and researchers work together to determine the correct diagnosis and develop a personalized treatment plan.
Access to the Latest Treatments
As part of Columbia University Irving Medical Center, we are active in the latest clinical research, including clinical trials for new ILD treatments. Our faculty research is exploring the genetic links to ILD and other lung diseases using advanced techniques like next-generation sequencing and bioinformatic analyses. Patients can choose to enroll in our research database to help improve diagnosis and develop new targeted therapies for ILD.