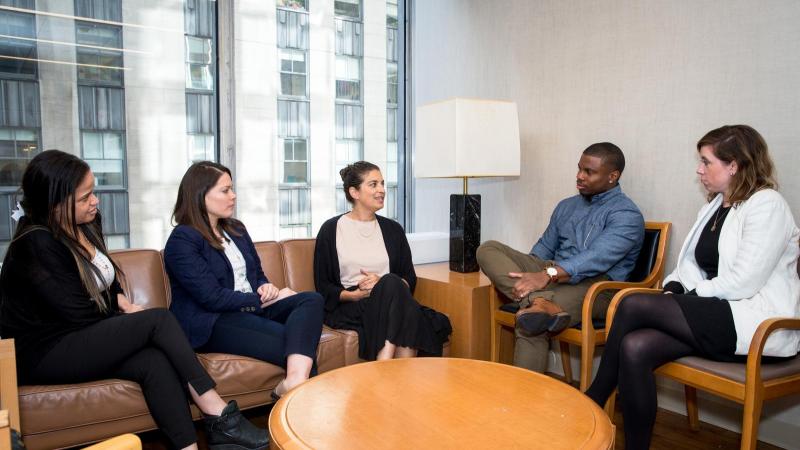 Launching Fall 2019
We are currently screening for evaluation slots for September 2019 and have an estimated start date of October 2019.
---
The Columbia Accelerated Dialectical Behavior Therapy (DBT) Program provides comprehensive treatment over several evenings each week for adults who struggle with emotion dysregulation. DBT, an evidence-based treatment originally developed by Dr. Marsha Linehan, is a behavioral treatment that has been shown to improve issues related to regulating emotions, thoughts, and behavioral patterns. Through the utilization of a DBT approach, our program is designed to help adults acquire and utilize skills to help people develop a life worth living.
Our program was created to help individuals with significant emotional sensitivity and reactivity learn skills related to tolerating distress, regulating emotions, building interpersonal skills, and increasing awareness to the current moment.  Our goal is to help adults learn and use skills at an accelerated pace, while also preserving the quality and efficacy of their care.
Our Patients
We work with adults ages 18 and up who are suffering from significant emotion dysregulation that manifests in behaviors, ranging from emotional outbursts and self-injury to withdrawing from the world. Our patients are adults who have struggled with ongoing thoughts about death and dying and non-suicidal self-injury.
Our program is designed to treat the following difficulties:
Borderline Personality Disorder (BPD)
Adults with chronic suicidal and self-harming behaviors
Post-traumatic stress disorder
Transdiagnostic emotion dysregulation, including severe depression
Impulsivity
Interpersonal difficulties
Anger
Emotional intensity
Our Team
The program is under the direction of Dr. Colleen Cullen and Dr. Zachary K. Blumkin, both DBT-Linehan Board of Certification, Certified Clinicians™. Our providers are expert DBT clinicians who have trained in some of the top institutions with renowned DBT practitioners. They are able to effectively provide support and validation for people who are truly suffering and simultaneously help these individuals make real progress towards their goals. 
Our Program
We offer programming four evenings per week, on Mondays through Thursdays from 5-7 PM.  Our program is specifically geared toward addressing symptoms of emotional dysregulation. Skills training is presented in a format that is accelerated and comprehensive. Our program utilizes Dialectical Behavior Therapy [SRN1] adherently, including skills instruction, diary card, targeted skills review, and behavioral chain analysis. Adults typically participate in the program for 4 months with a possible option to renew once, for a total of 8 months. Upon successful completion of the program, the treatment plan generally entails returning to weekly outpatient treatment.
The accelerated DBT program is an adjunctive group therapy program that can be added to your current treatment team. Our program requires people who are entering the program to have established treatment teams. If a patient needs a therapist or a psychiatrist, we will help you find a provider with either one of our experienced providers or another provider that suits your needs. Once a treatment team is established, the process to enter the program can begin. 
Sample Daily Schedule (for illustrative purposes only)
|   | Monday | Tuesday | Wednesday  | Thursday |
| --- | --- | --- | --- | --- |
| 5:00 pm – 5:05 pm | ADBT Community Meeting | ADBT Community Meeting | ADBT Community Meeting | ADBT Community Meeting |
| 5:05 pm – 6:00 pm | Homework Review | Diary Card Review | Homework Review | Behavioral Chain Analysis |
| 6:05 pm – 7:00 pm | Skills Instruction | Targeted Skills Review | Skills Instruction | Targeted Skills Review |
Fees
$300 daily for the program (does not include cost of individual therapy and psychiatry visits)
 
Insurance Accepted
AETNA
NYU Consolidated
New York Presbyterian Hospital's Employee Plan
Columbia University Employee Plan
Location
51 West 51st Street
Suite 340
New York, NY 10019
Phone: (212) 326-8441