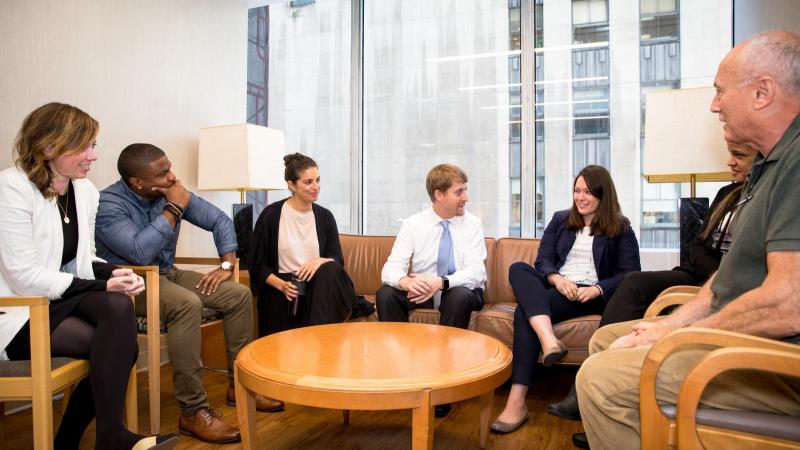 The Columbia Day Program is a unique, intensive group program in Midtown Manhattan for individuals experiencing significant difficulties with school or work due to mental illness and/or addiction. Our patients benefit from our enhanced support to make a confident return to daily life and their educational or professional pursuits.
Founded thirty-five years ago, the clinic offers over 100 therapy groups per week for adults aged 18 and over.  Our patients may experience depression, mood swings, anxiety/panic attacks, eating disorders, substance use disorders, and other psychiatric disorders.
We provide scheduling flexibility for those who want to maintain involvement in school, work or other activities. We collaborate with Columbia's Lieber Recovery Clinic to help patients with executive functioning issues such as memory, concentration, and problem-solving. We work closely with parents, siblings, and partners.
Treatments and Services
Relapse Prevention Therapy
Motivational Enhancement Therapy
Psychodynamic (Exploratory) Therapy
Harm-reduction
Life Skills Enhancement
Psychoeducation
Trauma-focused Therapy
Mindfulness-based treatment
Executive Functioning Support
Insurances Accepted
Aetna including Student Health
Consolidated Health Plan of New York
Our Patients
Our patients are interested in developing new coping skills to help them in school, employment, and relationships. We help individuals who may be facing one or more of the following challenges:
Major functional impairment in life roles (e.g., work, school, and/or home life)
Mood, anxiety, personality disorder, and/or substance use disorders that may have been resistant to prior treatments
Self-defeating behaviors (e.g., substance abuse, abnormal eating, self-harm, or suicidality)
Maladaptive interpersonal behavior, often involving and affecting the family
Our Approach to Treatment
Integrated, comprehensive care
Our clinical philosophy underscores the importance of utilizing patient strengths to improve social, occupational, and educational functioning that is developmentally appropriate. Coordinators collaborate with patients to develop an individualized and comprehensive treatment plan.  Individual referring therapists and psychiatrists can continue to see their patients while they are in the program. The coordinator serves as a liaison to these other treatment providers and the family to ensure communication across the entire team. If a patient needs a therapist or psychiatrist, we can provide a referral to one of our experienced clinicians. Because our program is located within the Columbia Doctors multispecialty practice, we can also refer patients quickly to physicians who can address other health needs.
Group Therapy
Groups foster sharing and hopefulness, teach planning and accountability, encourage confrontation of fears and appropriate risk taking, and enhance compassion and sensitivity to others. They enable members to learn about the impact they have on others, acquire new social skills, develop adaptive behaviors, and consider peers' solutions to common problems and challenges. Groups have the power to question an individual's isolation and pessimism, to challenge the reliance on blaming others and lying, and to confront examples of intolerance and insensitivity. Group therapy can also enhance self-esteem by presenting opportunities to understand and help others.
As groups are most effective when members share life experiences and challenges we have created two tracks: College/Young Adult and Adult.
| | |
| --- | --- |
| College/Young Adult Track | Patients are usually between the ages of 18 and 30 and are struggling with college and/or the initiation of their careers, sometimes requiring a leave of absence. We prepare young adults to return to school or their job, focusing on promoting independence. When patients are ready to return to college, we work with college health services, deans, and administration to make the transition back to school as smooth as possible. |
| Adult Track | Patients are usually over the age of 30. Many have experienced setbacks after starting or ending a relationship, getting married or divorced, finishing school, taking on or leaving a job, having a child, or managing other difficult situations. All are seeking fulfillment both at work and at home. We help them to develop satisfying relationships and to restore their career goals.  |
Involving Families & Family Therapy
Having a family member struggle with a major mental health problem is almost always a time of crisis for families, and illness experienced by one person in the family affects all persons in the family. We include the family during intake and provide multifamily psycho-education groups where families learn together and support one another. Careful attention is devoted to issues of autonomy and privacy. We also offer family therapy and couples therapy.
Location