Columbia Day Program
Make An Appoinment
Our team is here to help you make an appointment with the specialists that you need.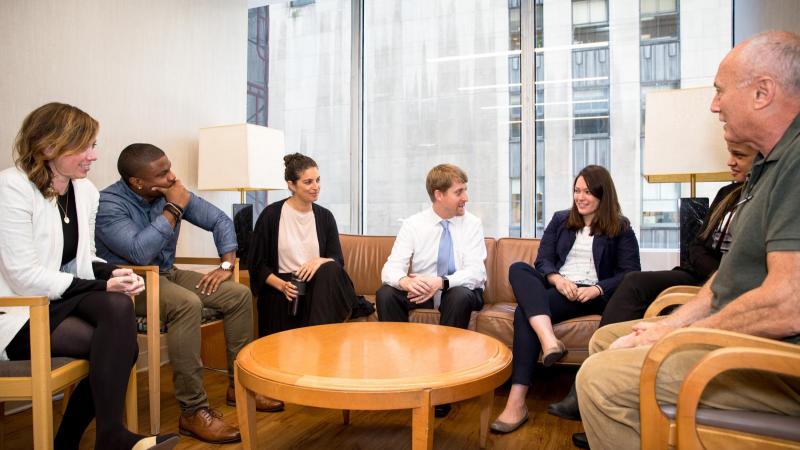 The Columbia Day Program offers structured, evidence-based group therapy, 3-5 days per week for people struggling with a range of psychological issues that are seriously affecting their ability to go to school or work and interfering with their relationships. Our expert providers help people to improve relationship patterns and develop coping skills to return to educational and professional pursuits.
The Columbia Day Program is currently offering services in-person and using secure and encrypted teletherapy platforms. Our goal remains, as always, to help people acquire, utilize, and generalize skills to improve their social, occupational, and/or educational functioning. If you are interested in joining the program, please call 212-326-8437 for more information.
History
Founded over thirty-five years ago, the Day Program offers a multidisciplinary, evidence-based group therapy treatment approach for adults aged 18 and over. Our Department is currently ranked #4 in psychiatry by U.S. News & World Report and our providers are leading clinicians in the New York metro area.
Treatment Philosophy
Integrated, comprehensive care
Our clinical philosophy underscores the importance of utilizing patient strengths to improve social, occupational, and educational functioning that is developmentally appropriate. Our treatment coordinators collaborate with patients to develop an individualized and comprehensive treatment plan. Therapists and psychiatrists referring their patients will continue to see their patients while they are in the program. The coordinator serves as a liaison to these other treatment providers and the family to ensure communication across the entire team.
We require that all of our patients in our program have weekly therapy with an individual provider to incorporate the work they do in the Columbia Day Program, help increase continuity of care, and address issues that may be more personal. Please be aware that your start date in the Columbia Day Program could be delayed if an outside treatment team is not secured by the time your initial evaluation is scheduled.
Group Therapy
Groups foster sharing and hopefulness, teach planning and accountability, encourage confrontation of fears and appropriate risk-taking, and enhance compassion and sensitivity to others. They enable members to learn about the impact they have on others, acquire new social skills, develop adaptive behaviors, and consider peers' solutions to common problems and challenges. Groups have the power to question an individual's isolation and pessimism, to challenge the reliance on blaming others, and to confront examples of intolerance and insensitivity. Group therapy can also enhance self-esteem by presenting opportunities to understand and help others.
For more information, please visit our Group Therapy page.
Our Patients
Our patients may experience depression, bipolar disorder, mood swings, anxiety/panic attacks, substance misuse, and other psychiatric disorders. We collaborate with Columbia's Lieber Recovery Clinic to help patients with executive functioning issues such as memory, concentration, and problem-solving.
Our patients are aged 18 and over and interested in developing new coping skills to help them in school, employment, and relationships. We help individuals who may be facing one or more of the following challenges:
Major functional impairment in life roles (e.g., work, school, and/or home life)
Mood, anxiety, and/or personality disorders that may have been resistant to prior treatments
Self-defeating behaviors (e.g., disordered eating, substance misuse, self-harm, or suicidality)
Maladaptive interpersonal behavior, often involving and affecting the family
What Our Patients Think
Our patients love the care they receive at Columbia Day Program*:
96% of our patients value the treatment they received at the Columbia Day program
98% of our patients would recommend the Columbia Day Program to a family member or a friend
*Data are based on a survey of 55 patients conducted in Spring of 2020.
Treatments and Services
Involving Families
Having a family member struggle with a major mental health problem is almost always a time of crisis for families, and illness experienced by one person in the family affects all persons in the family. We include the family during evaluation (via our multi-family orientation) and provide multifamily psycho-education groups where families learn together and support one another. Careful attention is devoted to issues of autonomy and privacy.
Insurances Accepted
AETNA
NYU Consolidated
New York-Presbyterian Hospital's Employee Plan
Columbia University Employee Plan
---
What is the process to apply for the Columbia Day Program?
Please contact our intake coordinator at 212-326-8437 to request an application be sent to you via email or download the application here. This includes a completed referral form from your individual therapist and/or psychiatrist. 
Complete and submit the application to the email address provided on the application. 
We will take 24-48 hours to review your materials. If appropriate, we will schedule a day and time for a phone screening to obtain additional details to help confirm the Columbia Day Program is an appropriate setting.
Our intake coordinator will schedule an evaluation with one of the Columbia Day Program staff members. The evaluation will help us determine what, if any, services should be recommended going forward.
Please note: Our treatment team balances responding to referrals quickly and taking special care to conduct as thorough an evaluation as possible. As such, the amount of time it takes to join/begin the Columbia Day Program will vary. Nevertheless, we will attempt to work as quickly as possible on your behalf and many people can start the program within 1 – 2 weeks once they have submitted their application.
Columbia Day Program Application Form
Columbia Day Program Referral Form
---
Program Leadership
5 Columbus Circle
6th Floor
United States
Open location in Google Maps