Behavioral Medicine Program
Make an Appointment
Our team is here to help you make an appointment with the specialists that you need.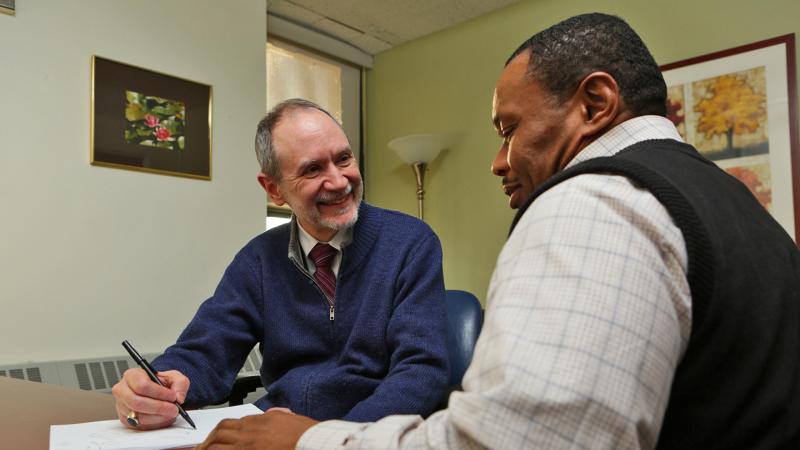 Columbia's Behavioral Medicine Program provides patients of all ages with short-term treatments that are proven to improve coping with medical conditions, insomnia, and stress.
This program is the clinical section of Columbia Psychiatry's Division of Behavioral Medicine, which works to understand the contribution of psychological, psychosocial, and behavioral factors to the onset, progression, and management of physical and mental disease. The Behavioral Medicine Program brings together clinicians who specialize in cognitive-behavioral therapy (CBT). CBT is an innovative, evidence-based, short-term therapy for treating common mental health problems. This type of therapy is especially helpful because it rapidly identifies symptoms and practical strategies from the very outset of treatment.  This treatment benefits patients who may already be taking psychiatric medication as well as those who seek a therapeutic approach without medication. CBT's versatility and efficacy across a broad spectrum of psychological conditions make it one of the most potent psychological treatments available.
The Behavioral Medicine Program offers CBT for specific psychological disorders as well as for stress, habits, and lifestyle concerns that can interact with physical health. Services are available for adults, adolescents, and children. The first step in this treatment is to identify and challenge unhelpful thoughts that are getting in the way of living a fulfilling life. The therapist and patient then work together to decrease detrimental or unhelpful behavior patterns, in favor of developing healthy behavior patterns to improve coping and overall functioning.
Our therapists and psychiatrists use this treatment for a wide variety of health and behavioral issues:
Stress
Coping with medical problems such as heart disease, irritable bowel syndrome, cancer treatment, etc.
Pain management
Bereavement or loss
Anger management
Interpersonal, couples or family conflict
Habits (e.g. hair-pulling, skin-picking, etc.)
Sexual dysfunction
Our therapists and psychiatrists also employ this treatment for those with specific psychiatric conditions:
The Behavioral Medicine Program also conducts important research on the interaction between psychological factors and physical illness, as well as on therapeutic methods for improving illness.
Locations
Columbia University Medical Center
622 West 168th Street
Presbyterian Hospital - 15th Floor
New York, NY 10032
Columbia Psychiatry Upper West Side
10 West 72nd Street, Suite 15
New York, NY 10023