Columbia Gender and Sexuality Program (GSP)
Make an Appointment
Our team is here to help you make an appointment with the specialists that you need.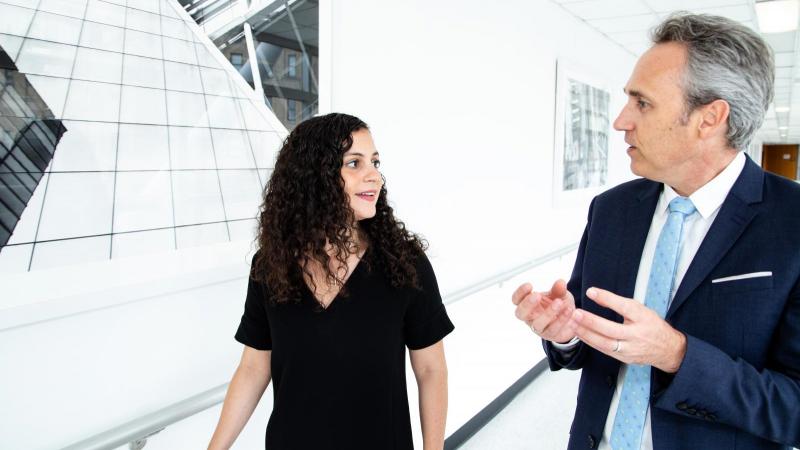 The Columbia Gender and Sexuality Program (GSP) provides compassionate, personalized, and expert care to children, adolescents, adults, and families across the gender and sexuality spectrum.   
Gender and sexual identity are vital to how we view ourselves and present ourselves to the world. Finding an identity that is representative of who we are is not always easy, and it can be especially challenging for those who identify in a way that does not conform to traditional views of gender or sexuality. We are here to help. 
Led by Drs. Walter Bockting and Kareen Matouk, the experts at GSP are known across the country for competent and sensitive counseling and care geared to the needs of transgender, nonbinary, and gender diverse individuals and their families. Everyone's journey in defining their gender identity and sexual orientation is unique and we are here to provide affirming support at every step of the way.
The majority of transgender, nonbinary, and gender diverse children, adolescents, and adults are resilient in the face of prejudice and lead healthy, happy lives. However, for some, stigma attached to nonconformity in gender identity, gender expression, and sexual orientation can lead to significant mental health concerns, such as anxiety, depression, and suicidality.
Our specialized interdisciplinary team across Columbia University Irving Medical Center offers services ranging from psychotherapy and medication management to hormone therapy and surgery. We utilize an evidence-based approach to mental health care that is focused on instilling pride and celebration of gender diversity. Our services are designed to help transgender, nonbinary, and gender diverse children, adolescents, adults, and their families by facilitating identity development, social support, and self-acceptance across the lifespan. Our clinic also serves cisgender, lesbian, gay, bisexual, and queer youth to promote their mental health and wellbeing.
GSP is ready to help parents and family members impacted by a loved one's gender or sexual identity, fostering communication, mutual respect, and support. We work with families from various cultural and religious backgrounds, many of whom are struggling with understanding or accepting their child's nonconformity in gender identity, gender expression, or sexual orientation, and who may be unsure how to proceed. We provide education related to gender dysphoria and thoughtful guidance related to questions that can arise regarding gender identity and role, including social transition and gender-affirming medical interventions. Our family approach also involves direct advocacy to assist in creating safe and affirming spaces in all aspects of an individual's life. Thus, we work collaboratively with schools and other groups and organizations to ensure positive outcomes for individuals who are transgender, nonbinary, or otherwise diverse in gender and sexuality.
The Gender and Sexuality Program team provides a range of services tailored to each patient's needs, including:
Comprehensive psychiatric evaluations to assess gender dysphoria in the context of overall psychosocial development and health
Specialized psychotherapy to engage children, adolescents, and adults in a process of exploring their identity, and find a gender expression that is comfortable
Evaluation and referral for gender-affirming medical interventions, such as puberty suppression, gender-affirming hormone therapy and/or surgery
Tailored treatment planning that involves collaborative input from patient, families, and other health professionals involved in the care of the patient
Individual psychotherapy
Family and couples therapy
Supportive group therapy for individuals and family members  
Medication management for psychiatric conditions
Expedited referral and coordination with other specialty services across Columbia University Irving Medical Center, community partners, and affiliated organizations
Providers