Cosmetic Dermatology
Make an Appointment
Our team is here to help you make an appointment with the specialists that you need.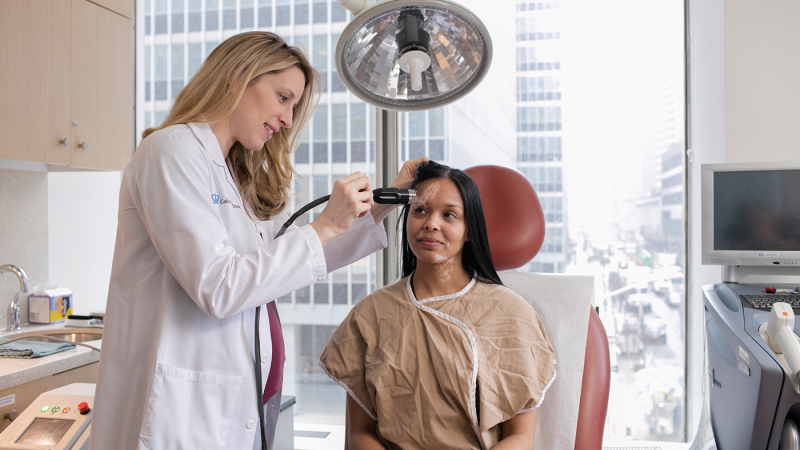 The Skin and Laser Center
At ColumbiaDoctors Skin and Laser Center, you will enjoy the latest technologies for skin rejuvenation and the personal expertise of highly-trained, board-certified dermatologists. Our state-of-the-art cosmetic dermatology center offers a comprehensive, thoughtful, and personalized approach to both medical and aesthetic concerns.
We are committed to providing safe and effective solutions that will address your cosmetic concerns. Your skin is unique and requires an expert and personalized treatment plan.
We provide expert treatment for:
Wrinkle reduction
Acne scars
Rosacea
Skin tightening
Spider veins
Age spots
Hair removal
Tattoo removal
Mole removal
The Skin and Laser Center offers an array of cosmetic treatments including:
Botox® Injections
Botox® is FDA-approved for moderate to severe wrinkles between the brows (caused by frowning) and excessive underarm sweating or hyperhidrosis. It is also commonly used to treat other lines and wrinkles in the upper third of the face, such as the crow's feet caused by contraction of muscles around the eyes while squinting. Botox® Cosmetic temporarily reduces the activity of specific muscles that cause wrinkles to form over time. The procedure is quick and there is no downtime. Reduced lines and wrinkles are noticeable in just a few days. The effect of Botox® is temporary, often lasting approximately four to six months. Repeat treatments are recommended to maintain the softening of facial wrinkles and creases.
Injectable Fillers
Restylane® is a natural, injectable hyaluronic acid filler that is FDA-approved for the correction of moderate to severe facial wrinkles and folds as well as for lip enhancement. Restylane® is commonly used to volumize the corners of the mouth, the lip border, and the lips themselves to provide a fuller but still natural appearance. Hyaluronic acid is a natural particle found in the skin that degrades over time, leading to the formation of folds and creases. Restylane® adds volume and fullness by replacing hyaluronic acid, thereby reducing visible signs of aging. The effects typically last approximately 6 to 12 months.
Juvedérm® Ultra and Juvedérm® Ultra Plus is an injectable hyaluronic acid filler used to re-volumize deep folds and facial lines. Hyaluronic acid fillers like Juvedérm® are the gold standard of fillers used for the nasolabial folds ("laugh lines"), corners of the mouth ("smoker's lines"), vertical lip lines, cheeks, temples, and under-eye area. Accentuation of these areas restores facial balance to create a rejuvenated and natural appearance.
Radiesse® is a dermal filler made of calcium-based microspheres used to correct deep facial folds and wrinkles. Radiesse® is a longer-lasting filler that volumizes immediately with these microspheres and also leads to a long-term effect by stimulating your own skin's natural production of collagen. The immediate effects of the microspheres last approximately 9-12 months. Radiesse® is commonly used to augment and highlight cheekbones, improve definition of the jawline, minimize laugh lines, diminish creases around the mouth, as well as re-volumize the hands to turn back the hands of time.
Laser Treatments
ResurFX is a new FDA-approved fractionated non-ablative laser that resurfaces the skin by creating zones of heat injury. Over time, this promotes collagen production and gradual skin tightening. ResurFX is used to reduce fine lines and wrinkles, fade pigmentation problems, minimize scars, and enhance skin texture and tone. The procedure is nearly pain-free with topical numbing, and downtime is minimal. Unlike older fractionated lasers which required 6-8 passes, ResurFX is completed with a single pass to treated areas. This reduces patient discomfort and treatment time, while still effectively resurfacing the skin to significantly improve the appearance of sun damage and wrinkling of the skin. It is an excellent treatment for acne scarring or brown spots related to chronic sun exposure.
Intense Pulsed Light (IPL) uses gentle pulses of light to treat several conditions including rosacea, melasma, sun spots, broken blood vessels, photodamage, and pink acne scars. IPL is effective in treating brown pigmentation and redness that appears with age and after years of sun exposure on the face, chest, neck, arms, and hands. By targeting red and brown discoloration in the skin, IPL improves skin tone and drastically reduces signs of photoaging. The procedure is completed in just several minutes, and downtime is minimal. ColumbiaDoctors Dermatology uses the latest and most advanced IPL device currently available, which has several filters and multiple settings to customize treatments depending on individual patient concerns. Treatment is efficient and safe for diverse skin types, including those with darker skin.
Dark tattoo removal with the Lumenis Q-Switched Nd:YAG is very effective. It is safe for use on all skin types, including those with darker skin. Treatment is straightforward and comfortable. Numbing medication is injected to avoid any feelings of discomfort. A series of treatments spaced 4-6 weeks apart is recommended, with more treatments typically needed to erase more difficult to treat professional tattoos.
Laser hair removal: We have a variety of treatments for hair removal on both light and dark skin.
Kybella
Kybella is the first FDA-approved, non-surgical treatment for unwanted fat underneath the chin. It is administered as a series of injections spaced out several weeks or months apart. The active ingredient is deoxycholic acid, a naturally occurring molecule that destroys fat cells in the areas injected under the chin. Our body then naturally eliminates this fat to reduce fullness and enhance facial definition. This effect should be permanent. Treatment with Kybella is relatively pain-free with the use of numbing creams or small injections to enhance comfort. The treatment is completed in just several minutes.
Skin Tightening and Nonsurgical Lifting
Ulthera is a nonsurgical, in-office procedure used to lift, smooth, and tighten the skin on the brow, neck, and under-chin areas. Ulthera delivers focused ultrasound energy to penetrate the skin and rebuild your natural collagen over time. Ulthera tightens, adds firmness, and lifts sagging jowls, jawlines, and brows. The treatment takes approximately 90 minutes. There is no downtime. Ulthera is ideal for patients who want lifting but are not ready for a surgical face- or browlift.
Photodynamic Therapy
Photodynamic Therapy (PDT) can be used to treat precancerous spots (actinic keratoses) and sun damage on many areas of the body including the face, scalp, chest, arms, and legs. The procedure begins with the application of aminolevulinic acid (Levulan® Kerastick), a photosensitizing medication selectively absorbed by precancerous cells in the skin and later activated by a light source to destroy these abnormal cells.
Patients feel a mild burning discomfort during the treatment. After the procedure, redness and peeling are expected. Treated areas are more sensitive to sunlight in the immediate 48 hours after treatment, so strict photoprotection or sun avoidance is recommended. For best results, PDT is completed as a series of treatments
ColumbiaDoctors Skin and Laser Center Locations
ColumbiaDoctors Third Avenue Office
880 Third Ave., 3rd Floor
New York, NY 10022
ColumbiaDoctors Midtown
51 W. 51st St., Suite 390
New York, NY 10019
Herbert Irving Pavilion, 12th Floor
161 Fort Washington Ave.
New York, NY 10032