Columbia Co-Occurring Recovery Program (CCRP)
Make an Appointment
Our team is here to help you make an appointment with the specialists that you need.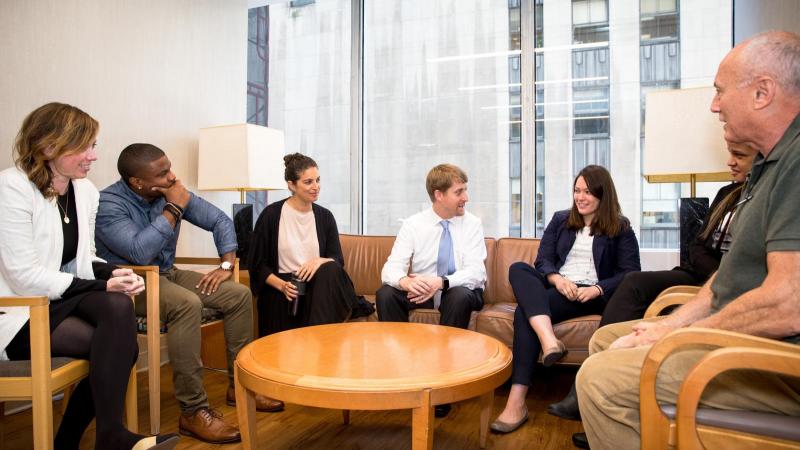 Mission
The Columbia Co-occurring Recovery Program (CCRP) at Columbia Psychiatry is dedicated to helping people achieve recovery from addiction/substances and engage in a meaningful life on their terms. We do this by providing comprehensive, multi-disciplinary, evidence-based treatment. Our team of experts will work together with individuals to develop a tailored treatment program that includes group therapy, and when appropriate, individual therapy, medications, and supports to engage family members in the treatment process.   
Our Patients
We care for adults aged 18 and older who are looking to improve their lives and willing to explore their relationship with substances as well as those struggling with co-occurring mental health conditions. Some examples of issues we treat include:
Cannabis Use Disorder
Benzodiazepine Use Disorder
Stimulant Use Disorder
Co-occurring mental health conditions
Mood Disorders
Personality Disorders
Our Team
Our Medical Director Dr. Elizabeth Evans is a board-certified addiction psychiatrist who completed her training at Columbia. She provides oversight to our staff of clinical psychologists. All of our staff are experts in the field with a specialization in addiction and evidence-based practices.
Our therapists and psychiatrists employ the most effective, evidence-based approaches including:
Our Program
After an extensive evaluation, we will develop an individualized treatment plan with cutting-edge, evidence-based protocols.
Our program offerings include:
Evening groups
Collaboration with current providers OR assignment to individual providers
Consult with a board-certified addiction psychiatrist
Medication-assisted treatment (MAT), including buprenorphine and long-acting injectable naltrexone
Outpatient alcohol and benzodiazepine detoxification 
Induction onto long-acting injectable naltrexone
Medications to treat co-occurring mental health disorders
Family treatment
Parent coaching
Toxicology testing
Aftercare planning
Opioid overdose prevention training
Sample Schedule
 

Monday

Tuesday
Wednesday 
Thursday

5:15– 5:30

Toxicology Testing

Toxicology Testing

Toxicology Testing

Toxicology Testing

5:30– 6:30

Individual therapy session

CRAFT-informed group for parents and partners

Relapse Prevention Therapy (RPT) Group

Dialectal Behavioral Therapy (DBT) / Cognitive Behavioral Therapy (CBT) for substance use disorders skills group

Relapse Prevention Therapy (RPT) Group

6:30– 7:30

Family Therapy

Interpersonal Process Group

Interpersonal Process Group

Interpersonal Process Group
Fees
$300* daily for the program
*Toxicology testing (usually covered by insurance), individual therapy and psychiatry visits not included in program fee.
Insurance Accepted
AETNA
NYU Consolidated
New York Presbyterian Hospital's Employee Plan
Columbia University Employee Plan
5 Columbus Circle
6th Floor
United States
Open location in Google Maps