​Pregnancy and Birth
Make an Appointment
Our team is here to help you make an appointment with the specialists that you need.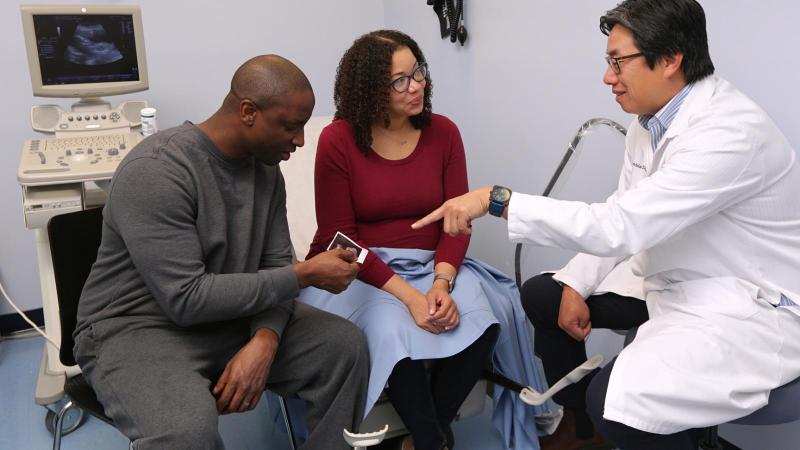 Exceptional Care for Every Pregnancy and Birth
Of all the good reasons to deliver your baby with ColumbiaDoctors, peace of mind may be the best. For over 100 years, our obstetricians have helped to shape the standards for exceptional pregnancy care and delivery services.
We offer mothers-to-be care throughout their pregnancies, from regular prenatal examinations to an array of sophisticated screening and diagnostic procedures which monitor each baby's health and development. We monitor the mother's condition just as carefully, in order to identify and treat any maternal complications that may develop. And with the support of a world-renowned medical center, we can quickly address any needs that arise.
State-of-the-art Labor and Delivery Facilities
NewYork-Presbyterian's Carmen and John Thain Labor and Delivery Unit in northern Manhattan offers a comfortable, family-oriented setting for giving birth, equipped with the technology to handle any situation.
Low-risk patients have the additional option to deliver at the Allen Hospital, which is convenient to Riverdale and Westchester. The obstetrical staff (obstetricians, neonatologists and anesthesiologists, midwives, and nurses) at the Allen Hospital provide the highest quality care, before birth, during labor, and after delivery.
We also deliver at NYP/Lawrence Hospital, located in the Bronxville location of lower Westchester and offer high-risk consultation services and patient education programs.
Convenient Locations for Prenatal Visits
Our obstetricians and gynecologists practice at several convenient locations throughout the New York metropolitan area, making your prenatal, childbirth education, and perinatal care convenient and easily accessible.
Safe Deliveries for High-risk Pregnancies
We offer individualized care and support for expectant mothers who are referred to us with high-risk health conditions or obstetric complications, and for those whose pregnancy is complicated by a fetal structural, functional, or genetic abnormality or a multiple gestation. Our specialists work as a team to ensure the best outcome for mothers and babies, supported by clinical nurses and genetic counselors, all of whom are trained to manage high-risk pregnancies.
Our programs for high-risk patients include:
Center for Prenatal Pediatrics provides comprehensive care for patients with multiple fetuses or whose pregnancies are affected by fetal complications.
Mothers Center coordinates care for patients with maternal complications, including hypertension, diabetes, cardiac disease, seizure disorders and thyroid disease.
Preterm Birth Prevention Center provides personalized medical care for women at high risk for premature birth.