Preterm Birth Prevention
Make an Appointment
Our team is here to help you make an appointment with the specialists that you need.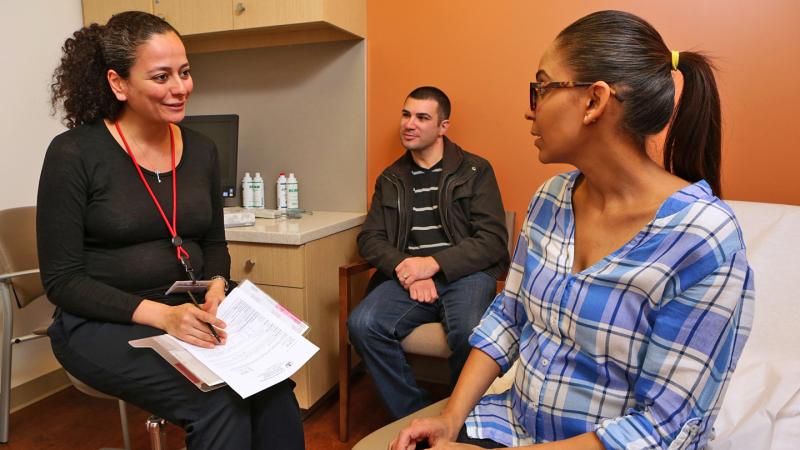 A preterm birth is any birth that occurs before the 37th week of pregnancy. Preterm birth complicates 10 percent of births in the United States and is a leading cause of perinatal mortality and long-term neonatal morbidity.
The Preterm Birth Prevention Center at Columbia University Irving Medical Center was created to improve perinatal outcomes by providing individualized, evidence-based care to patients at risk for preterm birth and promoting cutting-edge, multidisciplinary research.
Our team is available for preconception counseling as well as urgent and non-urgent consultations. Patients for referral include (but are not limited to) those with the following conditions:
History of preterm birth
History of short cervix or cerclage placement in a prior pregnancy
Current short and/or dilated cervix
Our Approach
With decades of experience in preterm birth prevention, our team takes a personalized approach to care for women in high-risk groups. Through review of your records and obstetric history, we will work with you to determine which interventions will lower your risk for preterm birth.
Common interventions include:
Vaginal cerclage: A surgical procedure in which a stitch is placed into the cervix to help strengthen it. This is performed through the vagina and during pregnancy.
Transabdominal cerclage: A surgical procedure in which a stitch is placed into the cervix to help strengthen it. This stich is placed in the cervix through an abdominal surgery, generally robotically, and can be placed before or during pregnancy.
Progesterone supplementation: Vaginal or intramuscular progesterone therapy is used to reduce the risk of preterm birth in women with a history of preterm birth or who have a short cervix.
Cervical length monitoring: Transvaginal ultrasounds that are performed to determine the length of the cervix.
Our team is also involved in clinical, translational, and basic science research designed to understand and decrease the occurrence of preterm delivery.
Navigating risk of preterm birth can take a mental and emotional toll for some patients. In order to support our patients during this challenging time, we offer mental health support including individual and group therapy with the Department of Ob/Gyn's integrated Women's Mental Health @Ob/Gyn program.
Our Team
Our Leadership
Maternal-Fetal Medicine Specialists
Isabel Bogdan, DNP
Bruce Brody Feinberg, MD
Joy Vink, MD
Neonatology
Psychology
Minimally Invasive Gynecologic Surgery
Office Locations
51 West 51st St, 3rd FL
New York, NY 10019
4 Studio Arcade
Bronxville, NY 10708
NewYork-Presbyterian / Morgan Stanley Children's Hospital of New York
3959 Broadway, 12th FL Central
New York, NY 10032
Perinatal Practice
21 Audobon Ave.
New York, NY 10032
Lawrence Hospital
55 Palmer Ave
Bronxville, NY 10708