Urogynecology
Make an Appointment
Our team is here to help you make an appointment with the specialists that you need.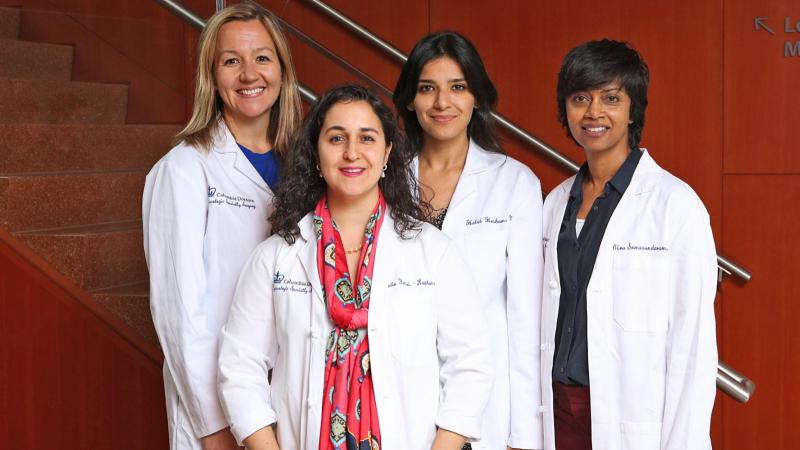 One out of every three women will experience a pelvic floor disorder in her lifetime. Symptoms can include urine leakage (incontinence), organ prolapse (dropped bladder, uterus, or vagina), loss of bowel control, or frequent urinary tract infections. Too often, women think that they simply have to live with the pain, embarrassment, and discomfort caused by these conditions. But many of them are easily treatable.
ColumbiaDoctors urogynecologists are specially trained to provide expert consultation and care to women with pelvic floor disorders. An initial office evaluation and discussion about your condition and goals allows our physicians to tailor a treatment approach specifically for you, including the full range of evidence-based, surgical and non-surgical options. Because our urogynecology team is actively involved in clinical research networks, including the Collaborative Research in Pelvic Surgery Consortium, we are able to provide the latest cutting-edge technology in our patient centered approach.
Conditions We Treat
Our physicians provide expert care for all pelvic floor conditions, including:
Abnormal uterine bleeding
Chronic pelvic pain, including pain that originates in the bladder
Frequent urination
Organ prolapse
Pelvic inflammatory disease
Urinary and fecal incontinence
Vaginal dryness due to menopause
*Treatment with non-hormonal option MonaLisatouch® available
Vaginal fistulas
Minimally Invasive Approach to Surgery
Some conditions can be treated with non-invasive procedures, while others require minor outpatient surgery or inpatient treatment. Our surgeons strive to take the least invasive approach to your treatment whenever possible.
For conditions that require surgery, we specialize in innovative surgical procedures, including advanced laparoscopic procedures and robotic surgery using the da Vinci Surgical System. These minimally invasive techniques decrease recovery time, scarring, pain, and risk of infection. Our surgeons are fellowship trained in female pelvic medicine and reconstructive surgery and are world-renowned for pioneering new surgical techniques. Our goal is to achieve maximum success and minimal discomfort, so you can return to normal life as quickly as possible.
Vaginal Laser Therapy 
Our new MonaLisa Touch CO2 vaginal laser therapy is an innovative, non-hormonal treatment for vaginal and vulvar issues that can cause painful intercourse, vaginal dryness, and daily discomfort. While often termed, vaginal rejuvenation, more and more women are looking for ways to correct these issues as a result of menopause, childbirth, breast cancer, aging, and other lifelong problems.
Meet our Providers
Locations
We currently care for patients at the following locations:
161 Fort Washington Ave, 4th FL
New York, NY 10032
516 Route 303
Orangeburg, NY 10962    
51 West 51st Street
New York, NY 10019
696 White Plains Road
Scarsdale, NY 10583