Routine Gynecologic Care
Make an Appointment
Our team is here to help you make an appointment with the specialists that you need.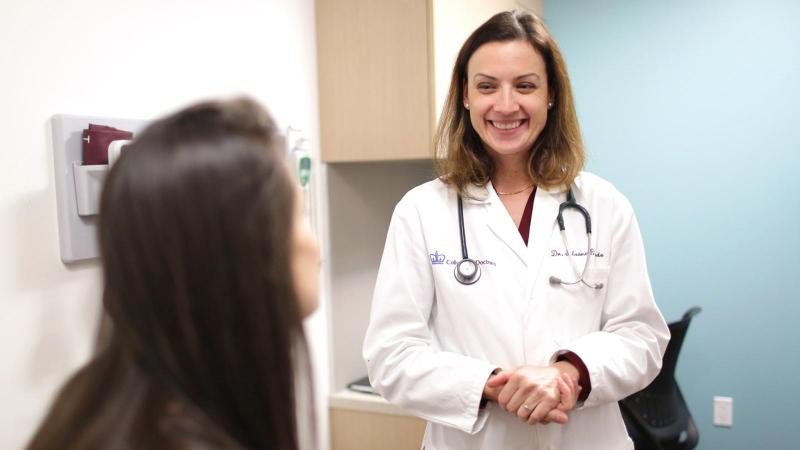 Regular gynecologic exams are important for maintaining good health and addressing any health issues that concern you. ColumbiaDoctors Ob/Gyns offer comprehensive well-woman and preventive services, from routine care to the most advanced diagnosis and treatment of obstetrical and gynecologic problems for women of all ages. Our physicians have special training to treat conditions including hormonal disorders that affect the reproductive organs, and we offer a full range of non-surgical and surgical options to treat abnormal pap smears, sexually transmitted diseases, menstrual irregularities, fibroids, pelvic pain, and menopausal symptoms.
We are dedicated to meeting the changing needs of women at every stage of their lives, from childhood and adolescence, to reproductive years, to menopause and post-menopausal years.
Comprehensive Care in Convenient New York Area Locations
We provide routine care at several locations throughout the New York metropolitan area and Westchester County: in midtown at 51st Street, Columbus Circle, Washington Heights, and Scarsdale, New York, making regular gynecological care convenient and accessible.
All of our physicians are associated with NewYork-Presbyterian Hospital, consistently ranked #1 in New York City and on the Honor Roll nationally, and ranked among the top hospitals for gynecology in US News and World Report.
Preventive Services
Our gynecologists provide comprehensive care for women of all ages. Services include:
Pelvic exams
Breast exams
Sexual health counseling
Human Papillomavirus (HPV) vaccination
Contraception counseling
Pap smears
Preconception counseling
Mammography referrals
Prenatal Care
Expert Treatment For a Full Range of Conditions
We will discuss options and help you find the best treatments for conditions including:
Hormonal disorders
Endometriosis
Abnormal vaginal bleeding
Uterine fibroids
Cysts
Sexually Transmitted Infections
Pelvic Inflammatory Disease
Human Papillomavirus (HPV)
Chronic Pelvic Pain
Menopausal symptoms
Office Procedures
We perform minor surgical, outpatient procedures to diagnose or treat conditions resulting from an abnormal Pap smear, biopsy, or irregular bleeding. Procedures performed in our offices include:
Loop Electrosurgical Excision Procedure (LEEP)
Colposcopy
Cryosurgery
Endometrial biopsy
Hysteroscopy
Office Sterilization