Cardio-Oncology
Make an Appointment
Our team is here to help you make an appointment with the specialists that you need.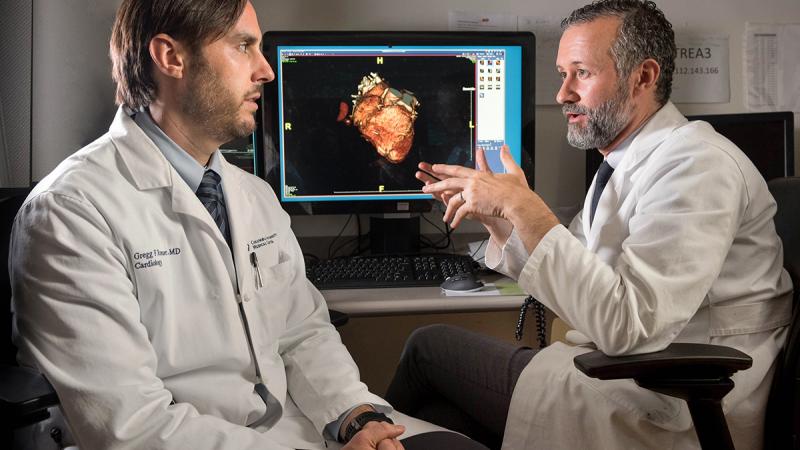 Remarkable advances in cancer therapy have led to improved outcomes and survival for thousands of cancer patients. Unfortunately, some of these treatments, whether traditional chemotherapy, radiotherapy, or newer treatments like targeted therapies and immunotherapies may lead to heart problems.
Cardio-Oncology Program
The Columbia University Irving Medical Center (CUIMC) Cardio-Oncology Program has been established with the mission of ensuring the highest level of cardiovascular care for cancer patients and survivors through all phases of their cancer care.
This multi-disciplinary program has established new clinical pathways for Cardio-Oncology care. It includes a team of cardio-oncologists and imaging specialists that works in close collaboration with the patient's oncology team to develop a care plan unique to each patient's needs.
Our Team
Prevention
The first phase of cardiovascular care for the cancer patient is the prevention phase. This entails ensuring that cardiovascular risk factors, like high blood pressure, diabetes mellitus, and high cholesterol are well controlled at the time of diagnosis and initiation of cancer therapy. The CUIMC Cardio-Oncology program strives to optimize these risk factors before cancer patients embark upon their unique cancer treatment pathway.
Monitoring
The second phase consists of close monitoring of heart function during cancer therapy with the goal of early identification of heart disease and initiation of treatment. The CUIMC Cardio-Oncology program has developed unique protocols to detect and treat cancer patients who develop heart disease during cancer therapy. These protocols utilize modern imaging techniques like strain imaging and cardiac MRI as well as blood tests to detect heart problems at an early stage with the goal of starting treatment early on.
As part of the CUIMC Cardio-Oncology research initiative, these techniques are being studied to optimize care. It is particularly focused on improving the cardiac outcomes of patients undergoing high-dose anthracycline therapy during cancer therapy.
Survivorship
The final phase is that of cancer survivorship. There are over 17 million cancer survivors in the United States. Heart disease due to cancer therapy may manifest itself years after treatment, leading to heart problems like coronary artery disease and congestive heart failure.
The CUIMC Cardio-Oncology program has extensive experience in treatment of cancer survivors who develop heart disease. In particular, the program has one the largest experiences in treating cancer survivors who develop advanced heart failure with therapies like Left ventricular assist devices (LVADS) and heart transplantation. It is actively studying the outcomes of cancer survivors and those with active cancer undergoing these therapies with a goal to expand care to select individuals in this patient population who previously have been excluded from therapy.
COVID-19
The effects of the global COVID 19 pandemic has presented unique challenges for patients undergoing active cancer therapy. The program is studying myocardial injury in patients undergoing cancer therapy during the pandemic to help guide complex clinical decision making in this population.