Inpatient Cardiology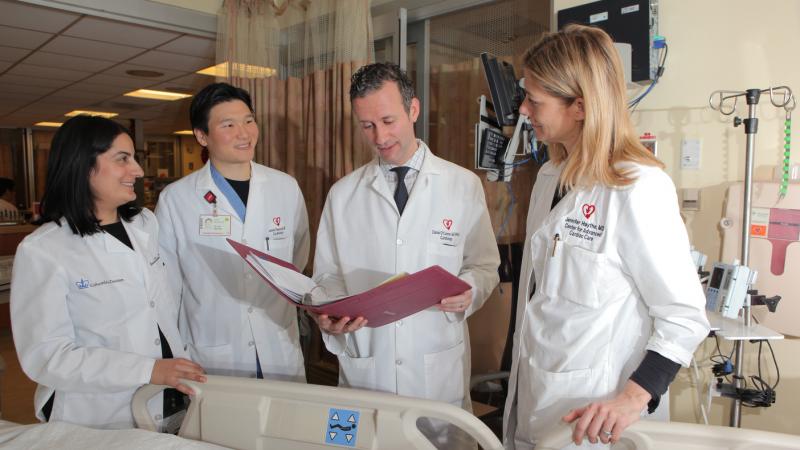 Columbia's inpatient cardiology services are ranked among the best in the nation. For people with heart conditions requiring inpatient care, our state-of-the-art Milstein Family Heart Center offers the latest technology in a warm, welcoming, family-centered environment. The six-story, 142,000-square foot facility features eight new operating rooms and a new diagnostic center. Two of the operating rooms are designed in a hybrid format that permits surgical and catheter-based procedures to be performed in the same room.
The Milstein Family Heart Center and the adjacent Milstein Hospital Building together offer 28 cardiac intensive care rooms, all designed to accommodate the multiple advanced technologies, such as percutaneous left ventricular assist devices (pVAD) and venoarterial extracorporeal membrane oxygenation (VA-ECMO), needed to provide life support in these complex cases. The CICUs are also spacious enough to allow family members to comfortably spend time with their loved ones.
The second floor of the Milstein Family Heart Center and the Milstein Hospital Building is home to eight cardiac catheterization laboratories and two electrophysiology laboratories, as well as a biopsy suite. One of the cath labs has been configured as a specialized facility for adult congenital and structural heart procedures. There are also extensive facilities for inpatient echocardiography, vascular ultrasound, transesophageal echocardiography, stress testing, nuclear stress testing, and cardiac PET imaging.
Our specialized multidisciplinary teams of cardiologists, cardiac care nurses, nurse practitioners, and physician assistants, and cardiology fellows and residents provide cutting-edge inpatient care for patients with a wide range of cardiovascular diseases and syndromes. LeRoy E. Rabbani, MD, a nationally known expert in interventional cardiology and cardiac intensive care, directs the inpatient services and cardiac intensive care units at Columbia. Dr. Rabbani has played a key role in many clinical research studies that have led to new advances in cardiac care.