Heart Failure, VAD, and Heart Transplant Programs
Make an Appointment
Our team is here to help you make an appointment with the specialists that you need.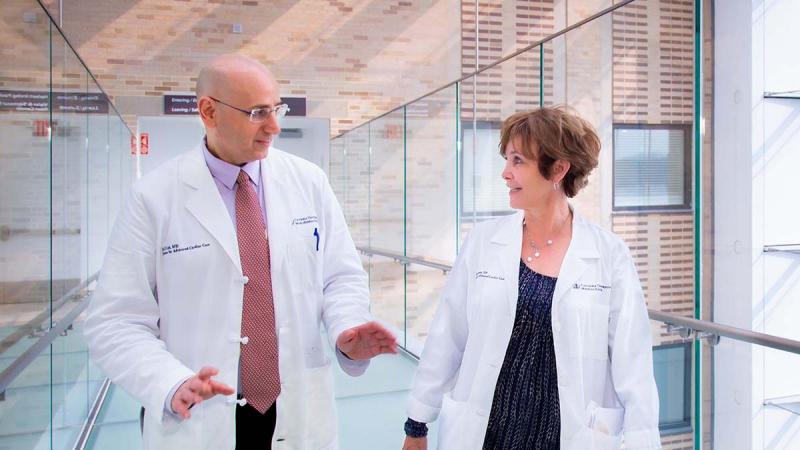 Columbia's Center for Advanced Cardiac Care offers the most advanced medical and surgical options to patients with heart failure. It has three major components: the Heart Failure Program, the Ventricular Assist Device Program and the Heart Transplant Program.
Heart Failure
Our heart failure program cares for people who have many forms of advanced cardiac disease, including genetic abnormalities leading to heart failure, diastolic heart failure, ischemic cardiomyopathy, hypertrophic cardiomyopathy, and valvular disease, as well as patients who have experienced a heart attack. More than 7,000 people receive regular care in our outpatient clinic, from our faculty of more than ten full-time heart failure/transplant specialists.
Learn More About Our Cardiac Transplant Program
Ventricular Assist Devices (VADs)
Columbia has been one of the world's leading centers for ventricular assist devices for more than 25 years. We currently implant more than 80 devices each year, in some cases as a "bridge" to sustain a patient until a heart transplant is possible, and in others as a destination therapy for patients who are not candidates for cardiac transplant. We are a comprehensive VAD program that will provide device placement, follow up care, nutritional and rehabilitation counseling, as well as patient and family education on device maintenance.
Learn More About Our Mechanical Circulatory Support Program
Heart Transplant Management
Columbia's transplant program is one of the largest centers in the world for heart transplant. Our experts have performed more than 1,500 transplants, and we are currently caring for more than 500 post-transplant patients. In addition to transplant surgery we follow our patients through cardiac biopsies, immune status monitoring, and long-term follow-up care.
Conditions We Treat
The Center for Advanced Cardiac Care treats patients with all forms of advanced cardiac disease, including:
Cardiomyopathy
Congestive heart failure
Diastolic heart failure
Heart attack
Heart transplant management and follow-up
Hypertrophic cardiomyopathy
Left-sided heart failure
Myocarditis
Pericardial disease
Pulmonary Hypertension
Right-sided heart failure
Systolic heart failure
Transplanted organ and tissue infection
Request an Appointment