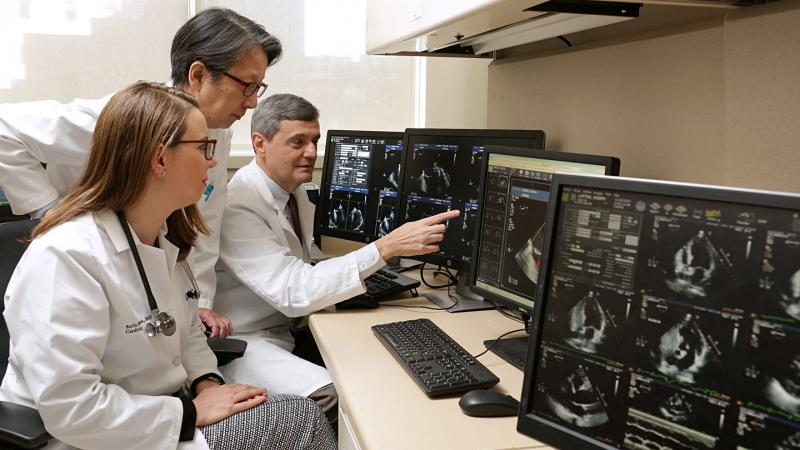 ---

    To make an appointment, please call 212-305-3956 for Echo
or 212-305-5996 for Nuclear Cardiology.
---
Columbia University Medical Center is home to one of the largest and most advanced adult cardiovascular imaging programs in the world and the largest such program in the northeast. Each year, we perform more than 40,000 detailed imaging studies of the heart and vascular system. We are nationally recognized for noninvasive cardiovascular imaging, having pioneered many of the technologies we use today. In 2003, we opened our vascular medicine program, one of the first programs of its kind in the New York region.
Our physicians are cardiologists and other specialists with advanced skills and specialty training in cardiovascular imaging. Together, our doctors comprise a premier group of imaging experts, each with a particular focus in the fields of echocardiography, nuclear cardiology, and vascular ultrasound. Areas of expertise include valve disease, cardioembolic stroke, percutaneous valve procedures, heart transplantation, ventricular assist devices, Cardiac SPECT, and cardiac PET imaging.
We use echocardiography, vascular ultrasound, and cardiovascular nuclear imaging for the noninvasive diagnosis of many disorders of the heart and blood vessels, including:
Atherosclerosis
Cardiac tumors and masses
Cardiomyopathies
Carotid artery disease
Congenital heart disease
Coronary artery disease
Deep venous thrombosis
Diseases of the aorta
Heart failure
Renal artery disease
Valvular heart disease
Vasculitis
State-of-the-art Imaging Services
Echocardiography
2D and 3D transthoracic echocardiography
2D and 3D transesophageal echocardiography
Exercise and pharmacologic stress testing
LV strain imaging
Nuclear
Exercise and pharmacologic stress SPECT and PET myocardial perfusion imaging
Myocardial viability imaging by SPECT and PET
Cardiac Amyloid imaging by SPECT and PET
Cardiac inflammation (focal or diffuse), endocarditis, device infection imaging by cardiac PET
Quantitative coronary flow assessment by cardiac PET
Coronary Artery Calcium Score
Vascular
Carotid duplex ultrasound
Non-invasive flow studies
Upper and lower extremity arterial and venous ultrasound
Abdominal aorta and renal vascular ultrasound
Cardiac CT
Detection of coronary artery disease
Assessment of suspected anomalous coronary artery
CT angiography for annular and vascular evaluation prior to transcatheter aortic valve replacement
Cardiovascular MRI
Assessment of ventricular function, size, wall thickness, mass and valvular pathology
Assessment of congenital heart disease, cardiac masses, and pericardial disease
As part of diagnostic evaluation for arrhythmogenic right ventricular cardiomyopathy
Contrast study for evaluation of myocardial viability, infarction,
cardiomyopathies, myocarditis, and diseases of the great vessels
Our Experts
---
Echocardiogram
---
---
Nuclear Cardiology
---